I had a plan this week and, like all best laid plans, it changed leaving me with a bunch of onions on my counter top.
It's a long story.
So I asked myself, "What would happen if a box of pasta had a love child with french onion soup?"
Something very good, I suspected.
Want to give it a try?
It all starts with caramelized onions, so grab a big pan, a couple glugs of olive oil, and some patience.
Caramelized onions take some time, but it's worth it!
Now for the fun part – see all of those browned bits stuck to the bottom of the pan? You're going to add some white wine and scrape up all that delicious flavor before adding some vegetable stock. Next, add some dried oregano and let it all simmer together until the stock reduces. Add in some hot pasta, a little butter, and toss it all together.
What do you get? A comforting pasta with sweet caramelized onions all coated in a buttery white wine sauce.
Serve it with some toasted bread and salad and suddenly you have a supper that's totally guest-worthy.
Or, if you're like me, grab a fork in one hand and a glass of wine in the other and enjoy it straight from the pan – I won't judge, I promise.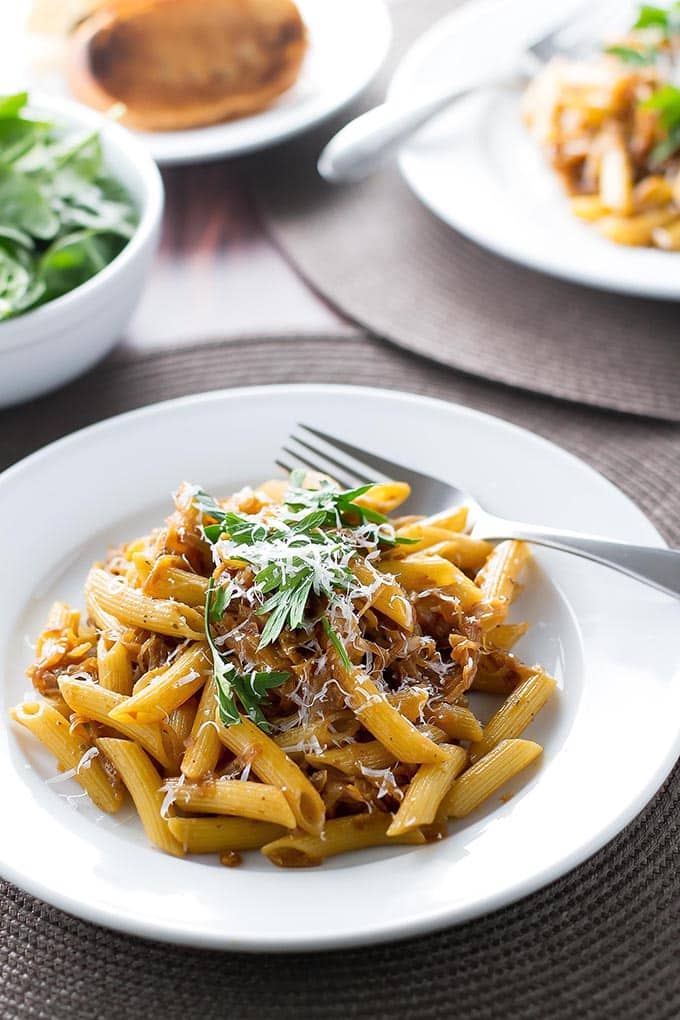 Girl Gone Gourmet
Yields 4
Caramelized Onion Pasta
French onion soup meets pasta in this rich and savory dish. The onions are slow-cooked over low heat until they brown and their natural sweetness emerges. A little white wine, vegetable stock, and butter is added to create a simple sauce that coats the pasta. Serve it up with some toasted bread and salad on the side - it's delicious!
15 minPrep Time
1 hr, 30 Cook Time
1 hr, 45 Total Time
Ingredients
6 medium-sized yellow onions, sliced thin
2 tablespoons olive oil
8 ounces penne pasta
2-3 tablespoons dry white wine
1/2 cup vegetable stock
1/2 teaspoon dried oregano
2 tablespoons butter
1/2 teaspoon salt
1/4 teaspoon pepper
1 tablespoon chopped fresh parsley
1/4 cup grated Parmesan cheese, for serving
Instructions
Coat the bottom of a large pan with the olive oil. Add the slice onions and turn the heat to low. Cook the onions until they are softened and browned all over, stirring them every once in while (see notes for more details about caramelizing onions).
While the onions are cooking bring a large pot of water to a boil and cook the pasta according to package directions. Reserve a quarter cup of the starchy pasta water before draining the pasta.
When the onions have caramelized, turn the heat up to medium and add the white wine to the pan. Scrape up all the browned bits off the bottom of the pan and then add in the vegetable stock and oregano. Stir everything together and bring to a simmer. Let the sauce reduce for a few minutes (it shouldn't be saucy - you want just enough liquid to coat the bottom of the pan). Add the butter to the pan and stir it around so it melts and coats the onions. Add the cooked pasta and toss everything together until the pasta is coated in the sauce.
Top each serving with some grated Parmesan cheese and chopped parsley
Notes
Caramelizing onions takes time - there's just no way around it. For this recipe it's important to caramelize the onions on the stove top because browned bits will stick to the bottom of the pan which adds amazing flavor to the sauce. Depending on the size of your pan (mine holds 4.9 liters) the cooking time will vary. Be sure to cook them over low heat - it will seem like nothing is happening for a long time (the onions won't start to brown until they release most of their moisture) and then they will suddenly start to brown. It's best to let them be and only stir them periodically. As they start to brown you can increase the stirring to ensure they cook and brown evenly. You know they're done when they are softened and they've turned a nice golden brown.
http://www.girlgonegourmet.com/caramelized-onion-pasta/