There are so many ways to put your Instant Pot to good use and so I've rounded up 21 Instant Pot recipes to help you serve up cozy dinners all fall!
Instant Pot Recipes
If you have an Instant Pot you know how easy it makes getting dinner on the table. An electric pressure cooker cooks chicken in mere minutes, turns tough cuts of meat into tender bites in way less time it takes on the stove or in the oven, and cooks cozy batches soup in a flash. So, this time of year, when the leaves are falling off the trees and you're craving something hearty and comforting on a chilly night, an Instant Pot is the answer. Here you'll find 21 different Instant Pot recipes get cozy this Fall. There are big batch recipes and smaller two serving recipes and all of them are ones you'll want to give a try this fall. Click on the photos or recipe links to get all the details for the recipes!
INSTANT BRAISED BEEF TACOS – Girl Gone Gourmet | Tender seasoned beef wrapped up in tortillas with all the toppings, including a simple creamy salsa-inspired sauce, is totally doable on a weeknight thanks to an Instant Pot. These beef tacos are easy to prep and are ready to go in less than an hour.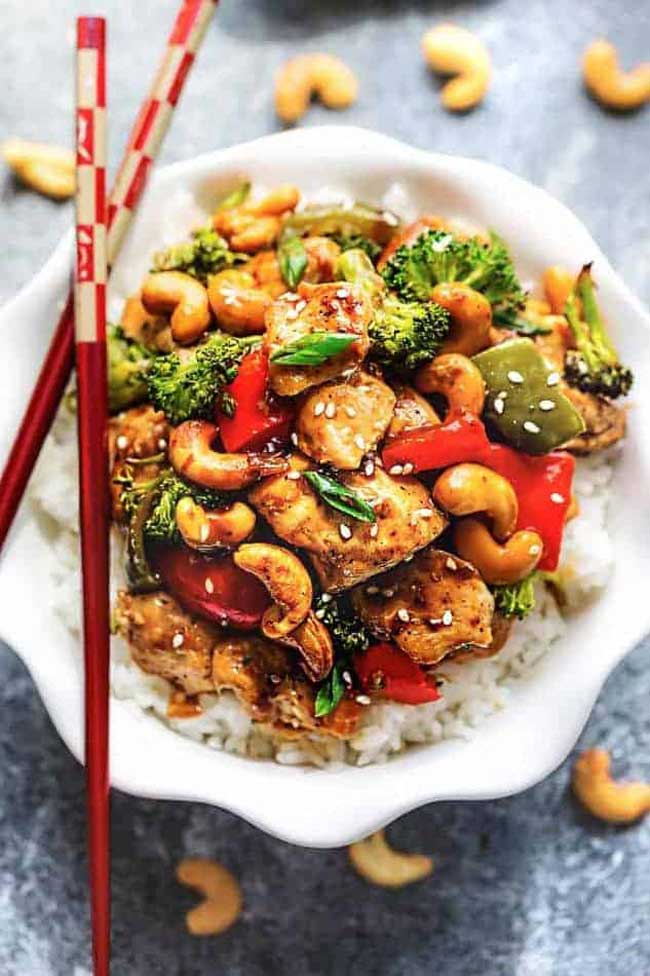 INSTANT POT CASHEW CHICKEN – Life Made Sweeter | If you love a great homemade take-out fake-out this cashew chicken needs to go on your must-make list. You'll put both the high pressure and saute settings on your Instant Pot to good use with this recipe and in about 30 minutes you'll have a classic take-out dinner without having to wait for delivery.
INSTANT POT MEATLOAF – Low Carb with Jennifer | This meatloaf takes about half the amount of time it would if you cooked it the old fashioned way and Jennifer shares all of her best tips so no one would ever guess you didn't crank up the oven to make it.
INSTANT POT BLACK BEAN SOUP – Girl Gone Gourmet | Until I got my Instant Pot I never had the patience to deal with dried beans, but now that's all changed. This hearty and cozy black bean soup takes about an hour which means from-scratch soup on a cold weeknight is totally doable – no cans of beans required.
INSTANT POT BBQ PULLED PORK – Le Creme de la Crumb | These gorgeous pulled pork sandwiches can be yours, too, with just a few simple ingredients and an Instant Pot. Tiffany has all sorts of great suggestions about customizing the recipe to your own tastes including how to combine your favorite store-bought sauces to create your own special BBQ sauce that will leave everyone wondering how you found the time to make your own. Whether you tell them the truth is up to you.
INSTANT POT SALSA CHICKEN – Kalyn's Kitchen | This super simple chicken dish starts in the Instant Pot and finishes under the broiler for an easy low-carb weeknight dinner.
BEST INSTANT POT PORK CARNITAS – Platings and Pairings | Carnitas are generally an all-day affair whether you cook the pork in the oven or the slow cooker and that's all fine and dandy when a) we remember to plan ahead or b) don't mind hanging around for hours on end for dinner. Enter the Instant Pot which takes an otherwise tough cut of meat and, in about 40 minutes, transforms it into succulent pork carnitas. Just don't forget the quick broiler step for best results!
INSTANT POT SHORT RIBS WITH ROSEMARY AND POLENTA – The View from Great Island | Like the carnitas, without an Instant Pot short ribs are a labor of love requiring lots of time until they are falling apart tender. Sue shares how to use your Instant Pot to get them on the table in about an hour along with a creamy rosemary polenta, which sounds like a match made in comfort-food heaven.
SALSA VERDE TACO SOUP FOR TWO – Girl Gone Gourmet | Salsa verde taco soup made with fresh tomatillos, green chile, brown rice, and ground beef. It's a small-batch recipe for two that you can serve with your favorite taco toppings like sour cream and a quick and guacamole.
INSTANT POT MEDITERRANEAN CHICKEN – Primavera Kitchen | There's nothing better than a great pantry dinner that uses simple ingredients you probably already have on hand. Add the Instant Pot in the mix and you get a great Mediterranean-inspired chicken dinner you'll want in your weekly busy-night dinner rotation.
INSTANT POT PORK TENDERLOIN – The Recipe Rebel | I can see serving this tender pork loin for any holiday or special occasion dinner and because it's all done in the Instant Pot saving oven space for all the delicious side dishes you want to serve with it. I'm thinking macaroni and cheese, mashed potatoes, and roasted veggies!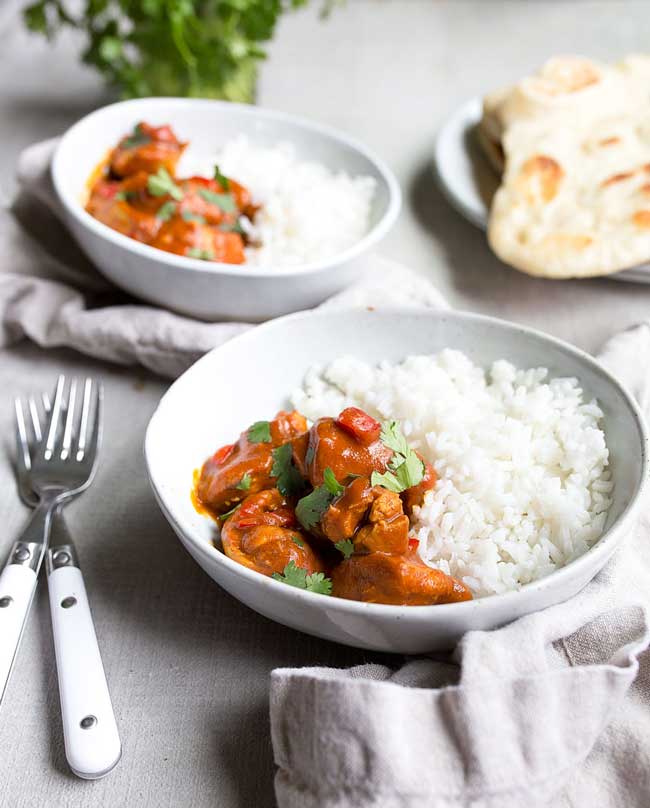 INSTANT POT BUTTER CHICKEN – Dessert for Two | This small-batch butter chicken made with chicken thighs and lots of spices is a quick 20-minute weeknight comfort-food dinner. Serve it with rice or naan on the side to soak up all the delicious sauce.
SPICY CHICKEN RAGU – Girl Gone Gourmet | This spicy chicken ragu for two cooks is an easy Instant Pot recipe for busy weeknights. There's no browning or pre-cooking steps required – everything goes into the Instant Pot and in less than 30 minutes dinner is ready to go.
INSTANT POT TURKEY CHILI – Well Plated | With a quick 15-minute prep time and easy hands-off 20-minute cook time this Instant Pot chili with turkey, sweet potatoes and black beans is a low-maintenance and cozy dinner.
INSTANT POT OLD FASHIONED POT ROAST – Bread Booze Bacon | A classic pot roast is normally an all-day affair, but with an Instant Pot this old-fashioned favorite comes together in just a couple of hours. This Sunday supper of veggies and tender beef topped with a rich gravy has never been so easy.
INSTANT POT ADOBO CHICKEN – Stuff Matty Cooks | This recipe is a meal-preppers dream because you can prep and freeze all of the ingredients ahead of time. When a busy night rolls around all you have to do is pop it all (straight from the freezer!) into the Instant Pot and 25 minutes later dinner is ready. Serve this tangy chicken with rice for a super easy dinner.
BBQ CHICKEN ROLL-UPS WITH PINEAPPLE CILANTRO RICE – Girl Gone Gourmet | One of my favorite ways to use my Instant Pot is to make rice. It's so much easier than making it on the stove because the IP does all the work and there's no need to hover and stir the rice to make sure it doesn't stick. In this case, the rice is flavored with fresh pineapple and cilantro and while it cooks in the Instant Pot you are freed up to prepare the BBQ chicken roll-ups.
INSTANT POT HONEY GARLIC CHICKEN – The Flavours of Kitchen | This honey garlic chicken is so easy to make you'll want to add it to your weekly dinner rotation. It takes less than 30 minutes start to finish!
CHICKEN KABOBS WITH PESTO RICE – Girl Gone Gourmet | Chicken kabobs served with a super simple pesto rice that cooks in the Instant Pot while you prepare the rest of the recipe – the chicken and veggies cook in the time it takes to make the rice! It's a dinner full of fresh flavors.
INSTANT POT VEGGIE STEW – Brand New Vegan | Veggie lovers unite! This veggie-packed stew looks so hearty and comforting despite the fact that it has no meat. You could let it simmer on the stove for hours or you could cook all it in your Instant Pot in 15 minutes. I know which one I'll choose.
INSTANT POT CHICKEN CACCIATORE – Sweet & Savory Meals | If a comforting and cozy pasta dish is what you're craving this chicken cacciatore – otherwise known as a classic Italian comfort food dish – is one to add to your Instant Pot recipes list. Tender chicken in a rich sauce with pasta sounds like a delicious way to warm up on a chilly night.