12 Easy Holiday Side Dishes
Have you been making the same holiday dishes year after year? If you want to try something new here are twelve easy holiday side dishes – emphasis on easy! – to try this year. There are a few classics (hello, cranberry sauce and creamed spinach!) and plenty of new and creative sides that have just a handful of ingredients and don't require a lot of steps and time to get them on the table. I hope you find a new family favorite!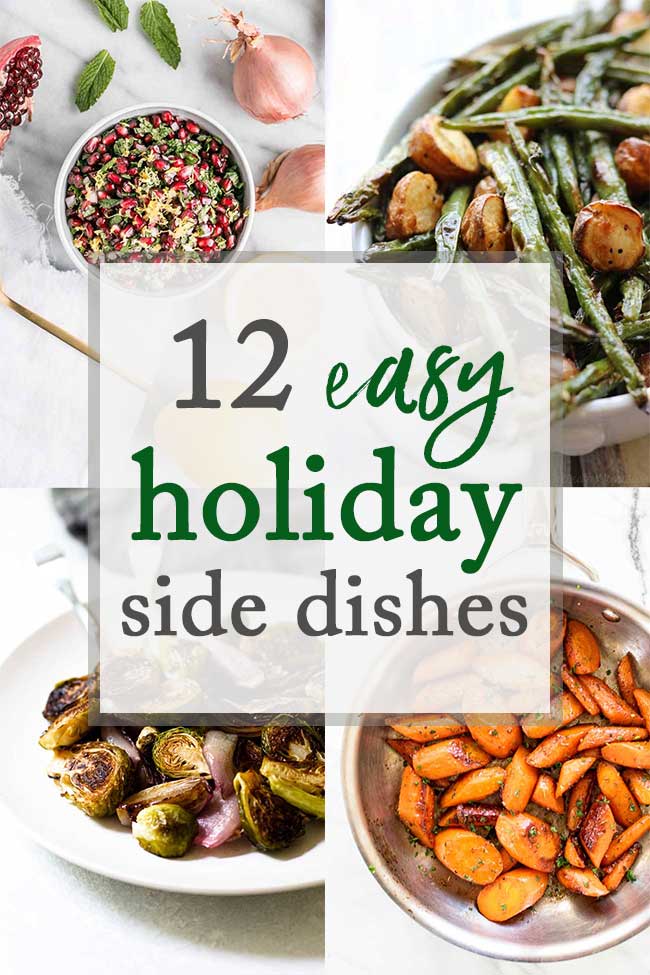 Easy Holiday Side Dishes
Click on the photos or the recipe title to get more details about these easy holiday side dishes!
LEMON-HONEY GLAZED CARROTS – Girl Gone Gourmet | Simple carrots cooked on the stove with some lemon juice and honey, until they're tender and pick up a little caramelization. They don't take up space in the oven and take all of 20 minutes start to finish.
,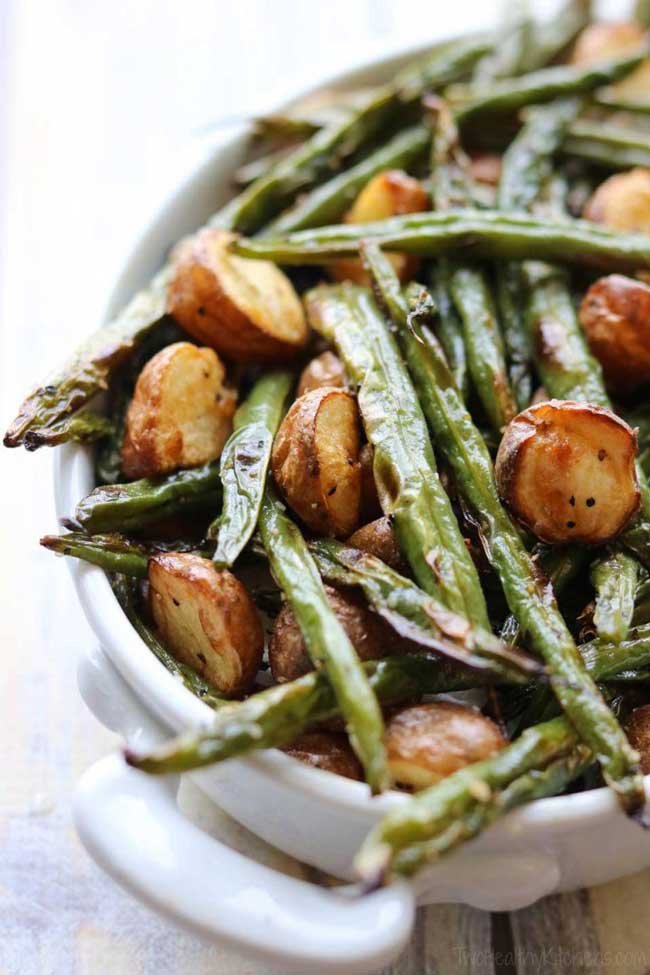 BLISTERED GREEN BEANS WITH POTATOES – Two Healthy Kitchens | Leave the canned green beans on the shelf because these roasted fresh green beans might be your new favorite holiday side dish. Serve them on their own or add in some potatoes for an easy side that goes with any main course. Also, learn how to prep them ahead to make your holiday cooking life easier.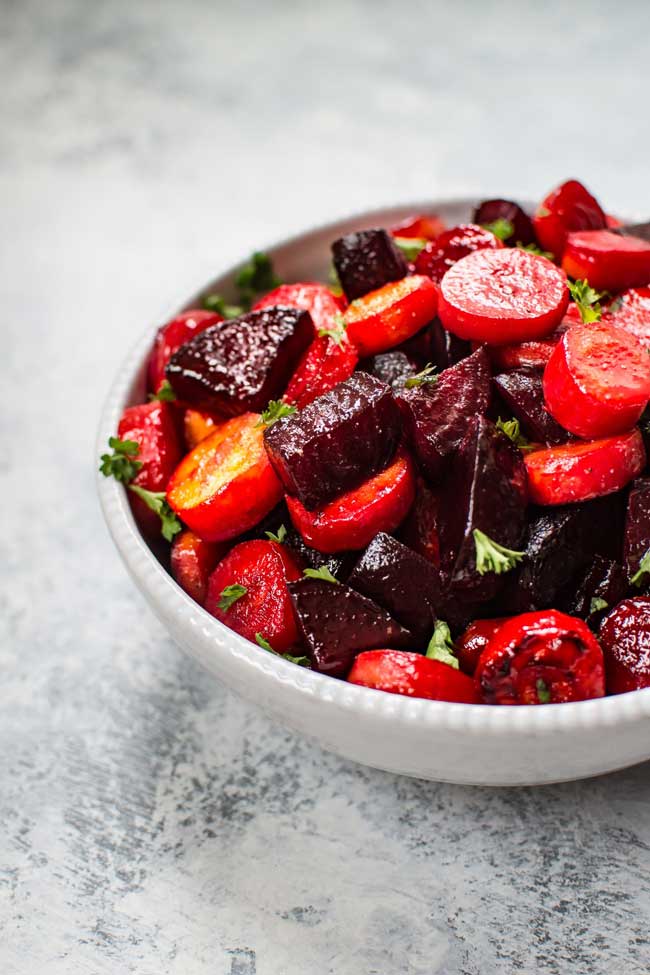 MAPLE ROASTED BEETS AND CARROTS – Salt and Lavender | Holiday dishes tend to be more on the brown side of things – the turkey, mashed potatoes, and gravy need a little pop of color to share the plate. Hello, technicolor beets and carrots! How beautiful is that bowl of veggies? They're simple to make, too. Just roast and toss them in a sweet maple glaze and they are ready to go.
BROCCOLI SALAD WITH BACON – Sugar Spun Run | Broccoli salad is one of those year-round go-to side dishes and for this time of year, dressing it up with some cranberries and nuts makes it a great option for the holiday table.
POMEGRANATE MINT RELISH – My Kitchen Love | I love this creative relish – the color is wonderful and I imagine the pomegranate and mint flavors add a pop of freshness that's a nice contrast to traditionally heavier and richer holiday dishes. Plus, you can make it ahead and just pull it out of the fridge when it's time to eat.
POMEGRANATE PECAN BRUSSELS SPROUTS – Dinner at the Zoo | More pomegranate, but this time it's with brussels sprout and pecans. This easy side has very little prep and takes about 30 minutes start to finish with most of it hands-off time freeing you up to focus on other dishes that need to be made.
CREAMED SPINACH – Savory Tooth | Creamed spinach is a holiday dinner classic and this version cooks up in one pot in about 15 minutes. Top it with shaved parmesan and it's ready to go!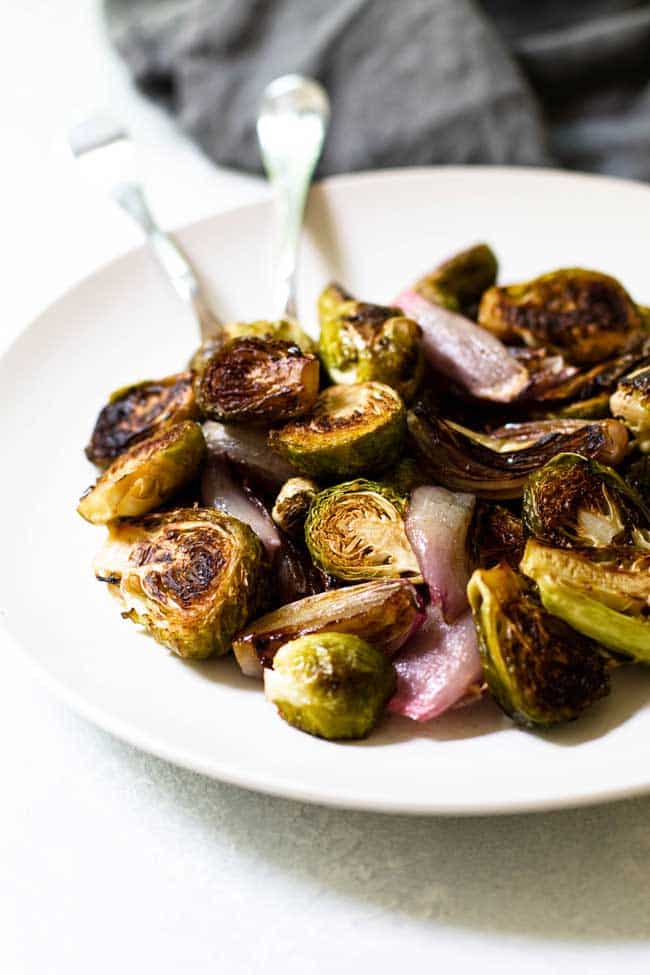 BALSAMIC ROASTED BRUSSELS SPROUTS AND SHALLOTS – Girl Gone Gourmet | When I roast brussels sprouts I like them deeply caramelized and tend to leave them in the oven for an amount of time some might think is too long. But, doing it this way turns them into little veggie candies – they are so sweet and tender. Pair them with some sweet roasted shallots and some balsamic and you get a super easy side dish that is full of flavor.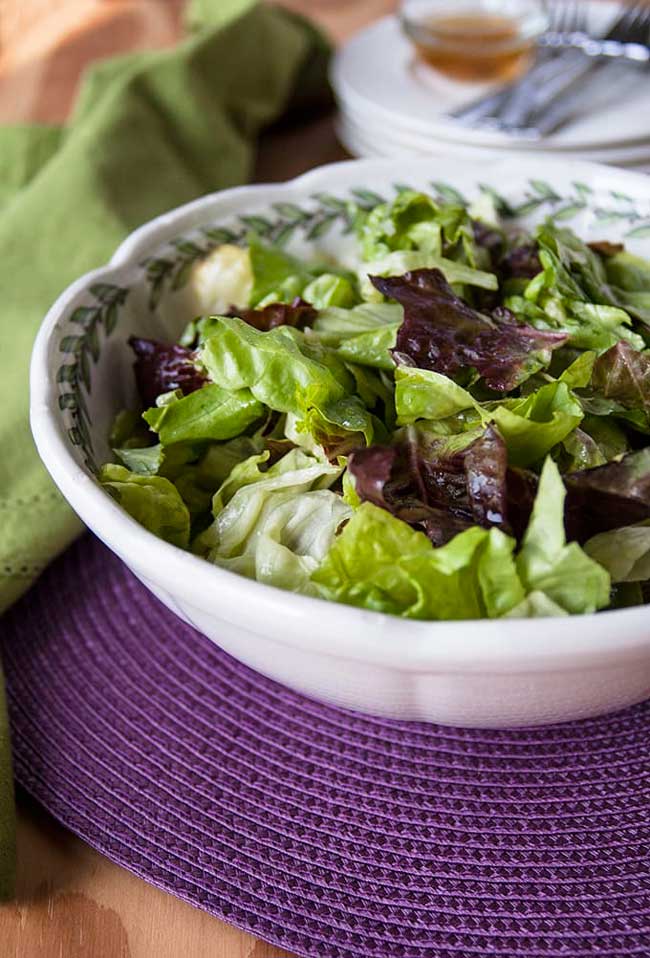 ITALIAN GREEN SALAD WITH HOMEMADE DRESSING – Cooking with Mamma C | With so many rich dishes sometimes it's nice to have something that is crisp and cold and, of course, easy to make like this simple green salad dressed with a homemade Italian dressing.
ROASTED PARMESAN POTATOES – Girl Gone Gourmet | Instead of mashed potatoes how about some roasted potatoes? All you have to do is toss some potatoes in olive oil and salt and let them roast until crispy and hot. Top them with grated Parmesan and serve!
WHOLE BERRY CRANBERRY SAUCE – Beyond the Chicken Coop | Cranberry sauce is another classic and if you've only had the stuff in the can this is the year to try homemade cranberry sauce! This recipe has just four ingredients and calls for less sugar than other recipes allowing the tart cranberries to shine.
PEAS WITH SCALLIONS AND DILL – Veggies Don't Bite | Sometimes we might get tired of our family recipes, so borrowing someone else's old family recipe is a great way to enjoy a new recipe that we know tried-and-true. Sophia shares her mom's simple peas with scallions and dill, a beloved family side dish, which might just end up being your family's new favorite side dish.