This sautéed green beans recipe is an easy side dish full of flavor. Fresh green beans are sauteed in a skillet with garlic, butter, and fresh herbs until they are crisp-tender. It's easy enough for a weeknight dinner and great for holiday dinners, too.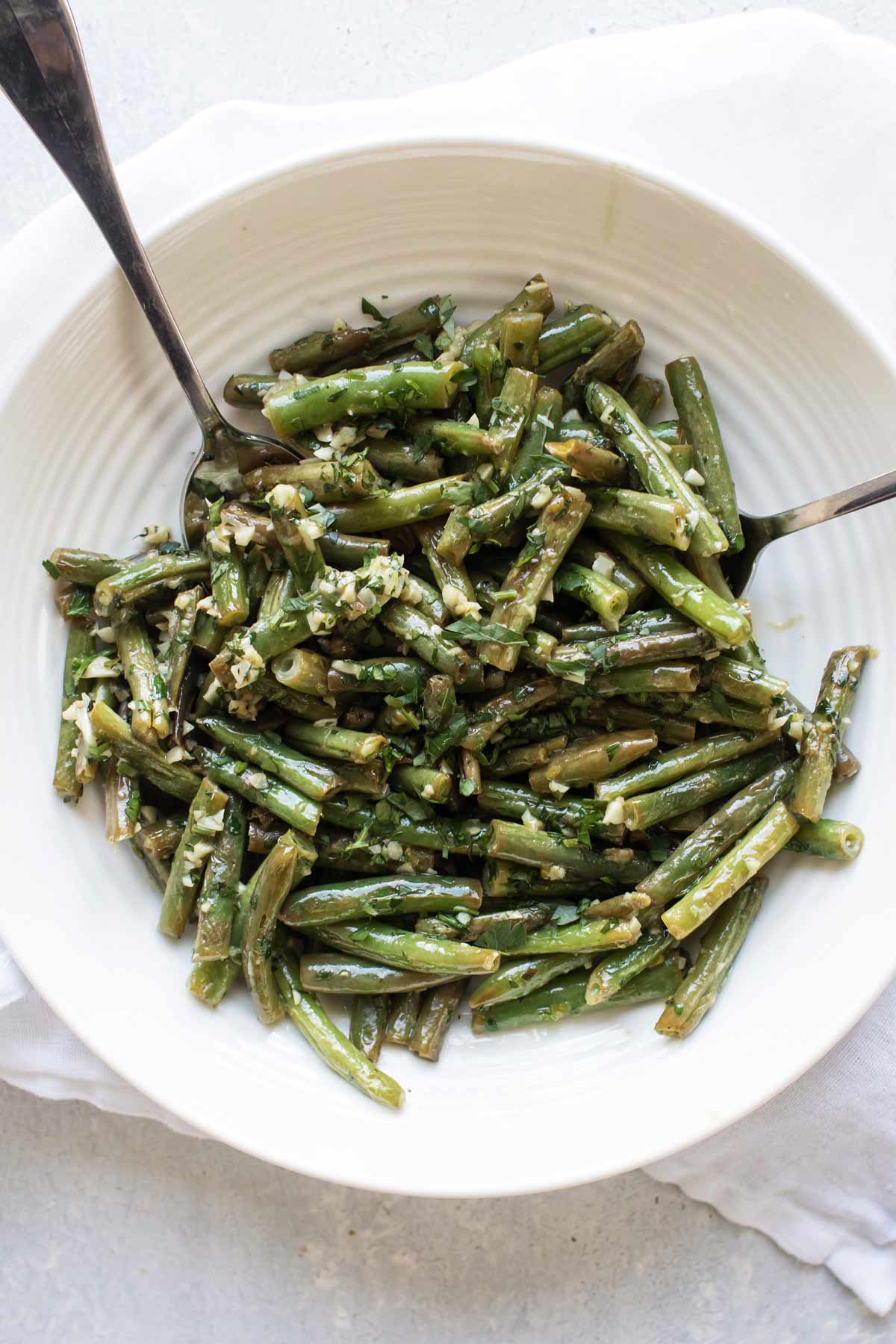 I like to think that these sautéed green beans are like the little black dress of side dishes: simple, classic, and perfect for any occasion from weeknight dinners to special occasion meals. It's a green bean recipe that goes with everything.
And they combine three of my favorite things: garlic, butter, and lemon. But with veggies! So that we can feel good about the butter part! It all balances out.
Altogether it's a fresh, easy side dish that takes less than 30 minutes to make.
Ingredients
Fresh green beans
Olive oil
Butter
Fresh garlic
Salt
Lemon zest and juice
Fresh parsley
Remove the stems from the green beans and cut them in thirds. You can gather a bunch at a time and chop, chop!
Mince the garlic. Chop the parsley. Zest the lemon. Zip, bam, boom.
To make things easy, I like to buy the packaged French green beans – the stems are usually removed making the prep easier, but you can use any string bean or haricot vert.
How to Cook Green Beans
Heat the oil in a large skillet or saute pan and then sauté the green beans in it for 10 minutes. Stir them often so they don't brown too much.
After 10 minutes, add the butter, garlic, lemon zest, lemon juice, and salt. Stir to coat the green beans evenly. Cook them for five to ten minutes or until they are crisp-tender.
Right at the end, add the parsley give them a good stir and they are ready to serve.
FAQs
Main Dish Ideas
Looking for some main dishes to go with your garlic butter green beans? Here are some weeknight-friendly recipes you might like:
The garlic butter green beans would also go great with roast turkey and baked ham for holiday dinners.
I hope you give this recipe a try! Butter, lemon, and garlic is a flavor match in heaven with the green beans. It's the perfect side dish for any occasion.
Happy sautéing!
More Easy Side Dishes
Looking for more veggies to make for dinner? Here are a few more side dishes you might like to try:
Print