If you've ever tossed out celery then this recipe is for you! Braised celery is a simple and delicious way to use up celery that might otherwise go to waste.
If you've ever been annoyed by recipes that need just one stalk of celery, leaving the rest of the bunch to languish in your vegetable crisper, then this recipe for braised celery is for you. Haven't we all been there? I always think I'll make stock, but most of the time the sad celery gets tossed out. It's a such a shame considering how much I depend on celery for recipes and, until recently, I never thought celery could be the star of its own show. It's always played the sidekick or best friend in my recipes – it's never the leading lady.
Poor, celery. Always a bridesmaid, never a bride.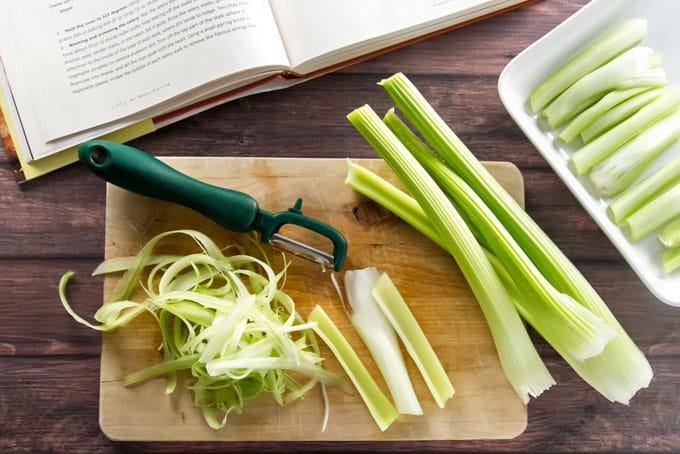 All this changed a few weeks ago after I snagged a pristine copy of Molly Steven's All About Braising at our local used bookstore. The book has won all sorts of recognition, including the coveted James Beard Award, and for good reason; it's the quintessential "how-to" for braising and a must-read for anyone who loves the art of slow-cooking. As I flipped through the pages one recipe jumped off the page and grabbed my attention: braised celery.
The recipe is the answer to my celery dilemma and, it turns out, the answer is simple. Some garlic, shallot, and white wine along with crispy breadcrumbs and gruyere cheese are all you need to take your celery from D-list celebrity to matinee idol.
When left to slow-cook in the oven celery turns from a crispy bitter green into a tender, savory side dish. Topped with some breadcrumbs and nutty gruyere cheese it shines as a comforting gratin and pairs well with a meaty main dish – think pan-seared steak or pork chops.
So, tuck this gem away and the next time you have some celery hanging around give it a try and let it be the headliner of your dinner. Trust me, you can count on it to carry the show.
To get the recipe check out 101 Cookbooks – Heidi Swanson was lucky enough to meet Molly Stevens and wrote a lovely post about this delicious braised celery.