This post is sponsored by Babbleboxx.com. I received free products and monetary compensation in exchange for sharing with you three summer-ready products for effortless summer entertaining.
Summer Entertaining Essentials
If you've been following along you already know my goal for the summer is to "keep it simple" especially in the kitchen. When it's hot and humid, as is the case in North Carolina, I look for any excuse to not turn on the oven and so the box of summer entertaining treats I got from Babbleboxx a few weeks ago perfectly aligned with my summer goals. Crunchy chips, lightly sweetened ice tea, and high-quality meat for the grill set the stage for effortless (and delicious!) warm-weather entertaining all summer long.
I'm pretty particular when it comes to chips and tend to shy away from ones deemed "healthy" in favor of ones that aren't so healthy, which is why I don't often indulge in fried bagged snacks. I was given three flavors of Popchips to try and I was hooked after just a few chips. They're crispy and light with just the right amount of seasoning and if I didn't already know it I wouldn't have guessed that they belong in the "healthy" snack aisle. Because they're popped they have about half the fat of regular potato chips. Plus, they come in a whole bunch of flavors, including spicy buffalo spicy ranch, zesty jalapeno cheddar, and my favorite, barbecue. Serve them alongside burgers or sandwiches at summer BBQs or potlucks or snack on them straight from the bag with a cold drink.
Depending on where you live Popchips may be just around the corner! Use their store locator or shop now and get free shipping for orders over $39.
During the summer you really can't go wrong with a simple grilled steak or pork chop hot off the grill. Fareway Meat Market has been helping customers do just that for 60 years with their quality Mid-West hand-cut meat products that are delivered to your house. Delicious beef and pork products delivered to my house is basically a dream come true – no waiting in line at the butcher or meat counter and no need to worry about where the products have come from or how they were handled before you bought them.
The pork and beef arrive frozen in a special container along with a quality guarantee from Fareway Meat Market. What I love best about the whole process is that you can order all the products you want, pop them in the freezer, and pull them out as you want to enjoy them. The Date Night Bundle ($59.99) is great for folks who aren't cooking for a crowd and includes two Iowa pork chops, two America's cut pork chops, and two beef ribeye steaks. Season them with salt and pepper, fire up the grill and serve them with some veggies on the side for an easy summer-night dinner.
Browse all of the Fareway meat bundles or create your own – they have a wide variety of beef and pork products to choose from!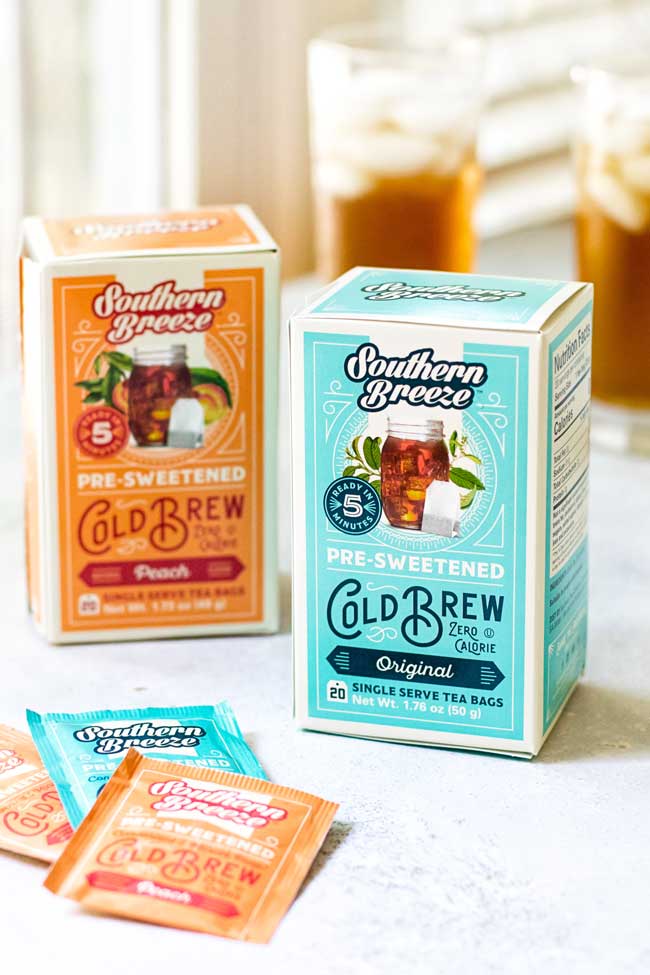 SOUTHERN BREEZE COLD BREW SWEET TEA
Until I moved to the South, I didn't fully appreciate iced tea. There's a reason people drink it by the gallons here – there's nothing more refreshing on a hot and humid day. And, at least in the South, you can bet if you're served a glass of iced tea it will be sweetened. I'm not a fan of dumping white sugar in my iced tea, so I was intrigued when I got some Southern Breeze Cold Brew Sweet Tea to try. First, you don't have to boil water, steep the tea, and cool it before serving because the tea is formulated to brew in cold water in about five minutes. There's also no need to bring out the sugar bowl – each tea bag is sweetened with a touch of Splenda so everything you need for a refreshing (and calorie-free) glass of iced tea is right in the package.
Their single-serve cold-brew iced tea comes in four flavors including original, peach, half and half (a lemonade/iced tea mash-up(!)), and raspberry. Use their store locator to find their products near you or shop now and use the code FREE SHIPPING on your order of $30 or more.