15-Minute Bacon Orzo Pasta with Crab
This light and lemony bacon orzo pasta with crab is a quick and easy summer dinner. It calls for mostly pantry ingredients along with a few fresh ingredients and comes together in the time it takes to boil the pasta.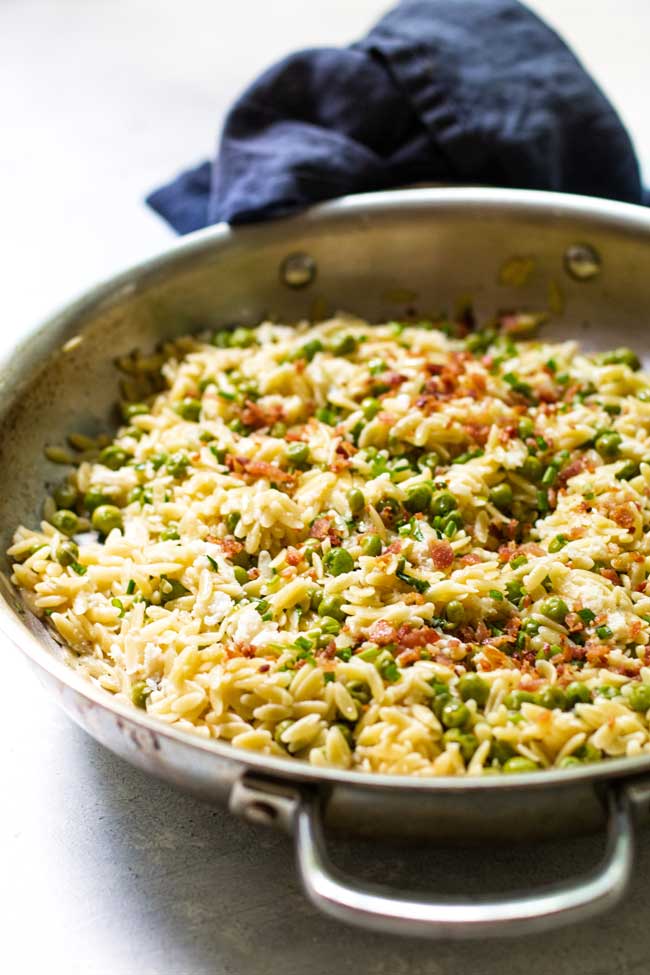 I know I've hit rock bottom in the writing department when the only words I can summon to the page are ones that have to do with the weather. I have sat here for no less than twenty minutes typing and deleting only to type and delete some more until I, with a sigh, succumbed to the "write about the weather" trick to get some sentences going. Normally, talking (or writing, in this case) about the weather is as about appealing to me as watching paint dry but given the epic and oppressive weather we've been experiencing here in North Carolina the last few weeks (which, by the way, somehow feels like a lifetime) I could think of nothing else to tappity-tap-tap out on my keyboard.
And the weather has sapped more than just my words. With a heat index of 100ish, my energy for the kitchen is practically non-existent lately and I find myself whittling recipes down to their most basic parts. There's a lot of pantry dinners with simple ingredients these days. Things like pasta with sauce, tuna salads, simple tacos made with leftover odds and ends, and egg salad sandwiches require only the smallest amount of focus. Tucked in between some of those less-inspiring dinners I played around with this bacon orzo pasta with crab and it proved to be a summertime winner: fast and simple and definitely a step-up from some of the other aforementioned dinners that have been gracing my table.
Bacon Orzo Pasta with Crab
And while it does require turning on the stove, the amount of actual cooking time is practically nothing because this light and lemony-bacon pasta dish is ready in the time it takes to cook the pasta. It starts with some bacon and finishes with a sprinkling of fresh chives and all the rest in between is a snap to pull together.
Some Ingredients You'll Need
I used orzo pasta, a little tiny rice-shaped pasta, that cooks in about ten minutes.
Thick-cut bacon
Frozen green peas
Lemon
A splash of vegetable stock
Crabmeat: When I started playing around with this recipe I considered using fresh lump crabmeat, but after learning it was $25(!) for four servings I turned to good quality canned crabmeat instead.
A pat of butter adds a touch of richness and fresh chives add a pop of freshness.

More Easy Recipes
Print
Bacon Orzo Pasta with Crab
This is a quick and easy warm-weather dinner that starts with bacon and ends with a sprinkling of fresh chives. I used good quality canned crabmeat, but if you're feeling fancy (and willing to hand over the dollars) use fresh lump crabmeat instead.
Author: April @ Girl Gone Gourmet
Prep Time:

5 minutes

Cook Time:

10 minutes

Total Time:

15 minutes

Yield:

2

servings

1

x
Category:

Dinner

Cuisine:

American
1 cup

orzo pasta

2

slices thick-cut bacon

1 cup

frozen peas
Juice of

1

lemon

1/4 cup

vegetable stock

1

(6-ounce) can crabmeat, drained

1 teaspoon

kosher salt

1 tablespoon

unsalted butter

2 tablespoons

fresh chives, chopped
Instructions
Bring a pot of water to a boil and cook the orzo according to package directions. Prepare the rest of the recipe while the orzo cooks.
In a 10-inch non-stick skillet, cook the bacon over medium heat until it's crispy. Transfer the bacon to a plate lined with a paper towel. Reserve one tablespoon of bacon fat in the pan and discard the rest. Finely chop the bacon and set it aside.
Add the peas, lemon juice, and stock to the pan. Bring the liquid to a simmer and stir the peas for a couple of minutes, scraping up the browned bits off the bottom of the pan.
Add the crabmeat and salt and stir to combine. Adjust the heat to low while the pasta finishes cooking. Drain the pasta and transfer it to the skillet with peas. Adjust the heat to medium and add the butter and chives. Stir until the butter is melted. Garnish the pasta with the chopped bacon and serve.
Nutrition
Calories:

505

Sugar:

5.9g

Sodium:

1986mg

Fat:

18.7g

Carbohydrates:

53.3g

Fiber:

5g

Protein:

29.9g
Keywords: bacon orzo pasta