Today it's all about quick and easy! As in, open some jars, boil some pasta, and stir it all together – seriously, it doesn't get any easier than this 15-minute Mediterranean pasta with olives, artichoke hearts, sun-dried tomatoes, and feta.
Today we're using some simple pantry ingredients and taking 15 minutes (!) to make a pasta dinner loaded with flavor and so easy you'll want it in your pocket for those times when there's just no time to cook. Or, as is the case during the summer, you don't want to cook (guilty as charged).
In the time it takes to boil the pasta, the whole thing comes together in a delicious tangle of spaghetti with sun-dried tomatoes, marinated artichoke hearts, Kalamata olives, and feta cheese. The sauce is practically a "no sauce" pasta sauce – just a light lemony garlic olive oil that coats the pasta and ties all the flavors together.
It's an easy pasta dish, friends, but don't let its simplicity fool you. We might be using pantry ingredients, but this Mediterranean pasta recipe is bursting with fresh flavors.
Ingredients
Pasta – I use spaghetti but pretty much any pasta shape will work in this recipe so use what you have.
Smashed garlic clove – You don't need to chop it, just smash and peel it. It cooks in the olive oil to flavor it and then you toss it.
Olive oil
Fresh lemon juice
Halved Kalamata olives
Roughly chopped sun-dried tomatoes – I like to use ones packed in oil.
Marinated artichoke hearts
Chopped fresh parsley
Kosher salt
Crumbled feta cheese
Make It In Three Easy Steps
Boil the pasta until it's al dente. While it's cooking, you can get everything else ready.
Sauce: Warm the olive oil in a skillet. Add the smashed garlic and cook it in the oil. Keep the heat on the lower side so the garlic doesn't brown quickly. You're basically extracting the flavor and infusing it into the olive oil. After about 10 minutes, discard the garlic.
Once the pasta is done boiling, drain it and place it back in the pot. Add the garlic olive oil and all of the other ingredients. Toss to combine and that's it!
Serve it hot, warm, or at room temperature. If you have leftovers, store them in an airtight container and keep them in the fridge. They're delicious cold or you can reheat them.
Substitutions
This is an easy recipe to adjust so feel free to make substitutions based on what you have on hand. Here are some ideas:
Roasted red peppers, roasted grape tomatoes, or fresh cherry tomatoes work great in place of the sun-dried tomatoes.
Olives: Not into them? Feel free to omit them or use green olives instead of Kalamata.
Cheese: The feta works really well, but I think grated Parmesan cheese would be delicious.
Fresh herbs: Instead of parsley try fresh basil leaves instead.
Lemon: If you have red wine vinegar on hand, you can use that instead of lemon juice. Just a splash will work.
Sauce: A simple marinara sauce would work great instead of the olive oil sauce. I'd use a light hand and just add enough to lightly coat the pasta.
Heat: If you want some spice, add a few pinches of red pepper flakes when you warm the olive oil.
Protein: If you want to make it more filling add some cooked chicken or shrimp.
Use whatever pasta you have on hand. Whole wheat pasta is also an option.
Stock your pantry with the ingredients and dinner is just 15 minutes away! This Mediterranean pasta will be your best friend when life gets crazy. Enjoy!
Happy quick cooking,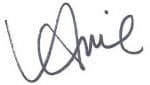 💌 Sign up for the Girl Gone Gourmet Newsletter and get recipes delivered straight to your inbox!
More Quick and Easy Recipes
📣 Do you love this recipe? I would love to know! Leave a comment below the recipe along with your recipe star rating.
Print
Photos and post updated from the archives. First published in October 2015.
The nutrition is an estimate only. It was calculated using Nutrifox, an online nutrition calculator.