Today it's all about quick and easy! As in, open some jars, boil some pasta, and stir it all together – seriously, it doesn't get any easier than this 15-minute Mediterranean pasta with olives, artichoke hearts, sun-dried tomatoes, and feta.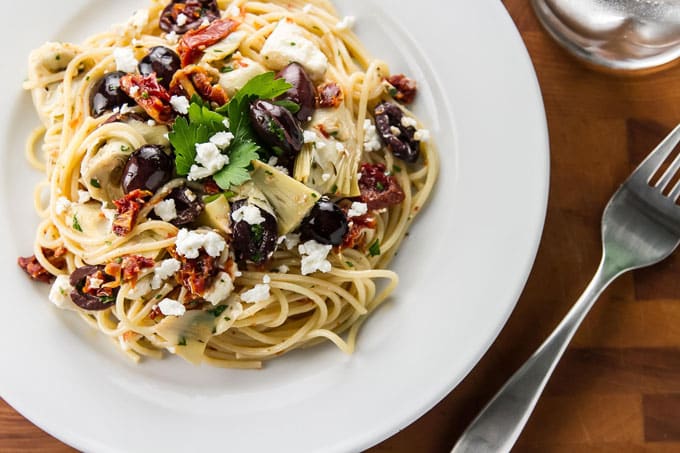 I think I've mentioned that, for some really strange reason, we got a puppy.
We got a puppy. Those words have finally sunk in two and half weeks after Feynman, our little bundle of golden retriever puppy joy, arrived home.
Right now, as I type this, he's sleeping and I'm really hoping the gentle clickity-clack of my typing doesn't wake him because I am enjoying the peace – I love, love, love when he sleeps. When his little eyes are closed and he's laid out flat on his tummy with his little puppy legs splayed out (is there anything cuter?) it means he's not running around, nipping at our clothes, legs, fingers, or my ponytail.
Sleep means I can take my eyes off him and not worry about looking up and seeing random things hanging out of his mouth, the sight of which sends me flying ready to retrieve whatever foreign object has made its way into his mouth. I'm like the Jaws of Life for puppies – I can get in there and retrieve the object before he even knows what happened.
Sleep means I can power down the newly discovered internal radar that alerts me (most of the time) when it's time to go outside. "Outside? Outside?" I'm pretty sure he thinks that's his name because I when I call him Feynman it barely registers, but "outside?" gets him all excited and wiggly. Gotta work on the name recognition. And walking on the leash. And the nipping, although he is getting better thanks to our "ow, ow, ow!" technique. Yes, it's a thing.
Oh, but there's so much good stuff, too – we taught him to share "kisses", which is basically little puppy licks on our hands instead of sharp puppy bites. He sits on command unless he's totally distracted, which is about 80% of the time, but – yay! – progress! And, of course, the cuteness. His cute, happy, curious little self makes our hearts melt.
I promise I won't turn this blog into Our Puppy Update, but I needed to share because – wow – life sure is different. With all this change we've struggled to maintain our own routines, one of which is dinner. As in, what the heck are we having tonight?
Let's turn our attention back to this 15-minute Mediterranean pasta: it's quick, it's easy, and it's full of delicious things like olives, sun-dried tomatoes, and artichoke hearts – all sorts of good things that can just hang out in the pantry until you need them on those crazy busy nights. There are a few fresh ingredients – stuff I think is always good to have on hand like garlic, parsley, feta cheese and lemon – and when you put it all together you get a dinner that hits the spot without taking up tons of time.
We all can use some time, right?
Um.. yes, please!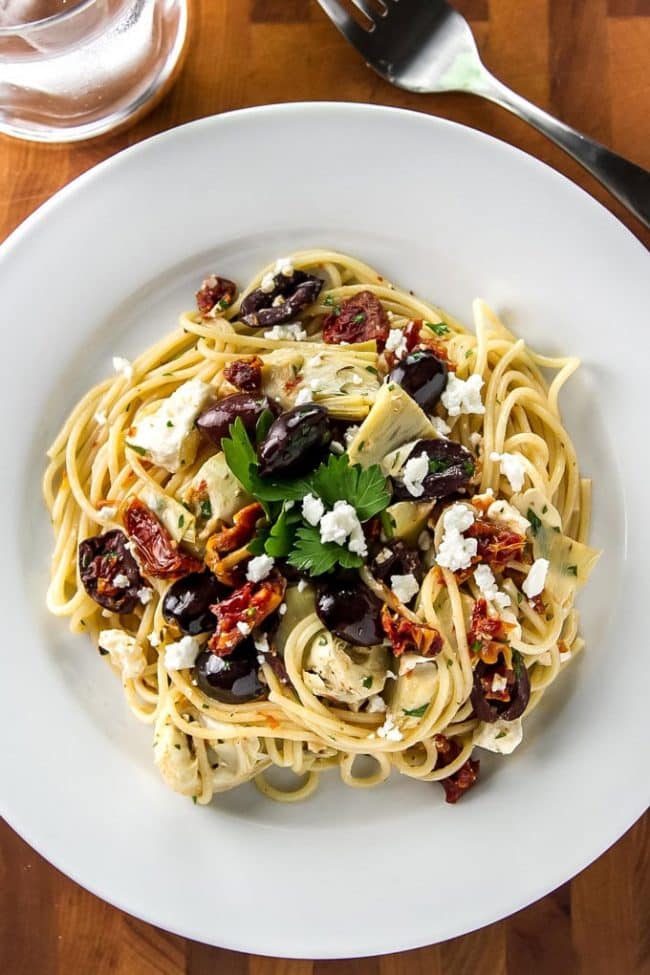 More Quick and Easy Recipes
Dinner for One: Easy Pasta with Olive Oil and Garlic
15-Minute Bacon Orzo Pasta with Bacon
Ravioli with Asparagus and Mushrooms
Print
15-Minute Mediterranean Pasta
---
Description
It doesn't get any easier than this Mediterranean-inspired pasta. With just a few simple pantry ingredients, a couple of fresh ingredients, and 15 minutes this easy dinner is ready to serve.
---
8 ounces

spaghetti

1

garlic clove, smashed

1/4 cup

olive oil
Juice from

1/2

a lemon

1/3 cup

halved Kalamata olives

1/2 cup

roughly chopped sun-dried tomatoes (packed in oil)

1

(10-ounce) jar artichoke hearts, drained and quartered (use the kind marinated in herbs)

2 tablespoons

chopped fresh parsley

1/2 teaspoon

kosher salt

1 cup

crumbled feta cheese
---
Instructions
Bring a large pot of water to a boil. Add the spaghetti and cook it according to package directions.
While the spaghetti is boiling, add the garlic and olive oil to a small pan. Heat the oil over medium-low heat and let the garlic gently cook in the oil, for about ten minutes. Adjust the heat to maintain a low simmer, you don't want the garlic too brown too quickly. After ten minutes discard the garlic and turn off the heat.
Once the spaghetti is cooked, drain it and return it to the pot. Add everything, except the feta cheese, to the pot with the spaghetti and toss it all to combine. Add 3/4 of the feta, reserve some for serving, and give it one more gentle toss. Serve right away with the extra feta on the side.
Prep Time:

5 minutes

Cook Time:

10 minutes

Category:

Dinner

Cuisine:

American
Nutrition
Calories:

503

Sugar:

3.8g

Sodium:

978.8mg

Fat:

26.7g

Carbohydrates:

53.7g

Fiber:

5.7g

Protein:

15.1g
Keywords: Mediterranean Pasta