If you need an excuse to buy some Oreo cookies, consider these Cookies and Cream Cookies your license to indulge. What I love about this recipe is you can eat half of the package of Oreos just as they are and still have enough left to crush so you can make these cookies. They're easy to make, freezer-friendly, and have the best soft and chewy texture.
And they are so soft and chewy with chunks of Oreos in every bite – the perfect companion for a cup of coffee, hot chocolate, or a cold glass of milk.
The recipe makes 18 cookies you can bake all in the same go or, and this is what I do, freeze the cookie dough balls to bake later. The cookie monster in me can't handle a whole lot of fresh-baked cookies on hand, so baking them in smaller batches helps in the impulse control department. Not to mention, there's nothing better than a fresh-baked cookie on demand.
Ingredients
Softened butter
Granulated sugar
Large egg
Pure vanilla extract
All-purpose flour
Baking powder
Crushed Oreos
How to Make Cookies and Cream Cookies
For this recipe you'll need two sheet pans lined with parchment paper. One to chill the cookie dough balls and another to bake them on.
Cream the butter in a large bowl with an electric mixer. Mix until the butter is nice and creamy which should take about two minutes. Add the egg, vanilla, and mix until well combined. The mixture should pale yellow.
Add the flour and baking powder. Mix just until the dough comes together and then mix in the Oreo cookie chunks.
Scoop two tablespoons of dough to form each dough ball – a cookie scoop makes this easy. Place them on one of the sheet pans and place the pan in the freezer for about 15 to 20 minutes. During this time the butter will firm up so your cookies don't spread to much when you bake them.
While the cookies chill, preheat the oven to 350°F.
Transfer the cold dough balls to the other sheet pan. Space them about two inches apart. If you are baking all of the cookies you will need to bake them in batches.
Bake them for 15 to 17 minutes or until they are set on top and around the edges. They should be a very light golden brown on the bottom. Carefully transfer them to a cooling rack.
Freezing Tips
As I mentioned, you can make the cookie dough and freeze it for later. Frozen unbaked cookies will keep in the freezer for up to three months.
Freeze the cookie dough balls on a sheet pan first and then transfer them to a freezer-safe bag. When you're ready to bake them, place them on a parchment-line baking sheet and bake them as instructed. They will need a couple extra minutes in the oven when you bake them from frozen.
A Few Extra Tips
Flour: When you measure the flour, use the spoon and level method. I like to stir the flour in the container first and then lightly spoon it into the measuring cup before leveling it off. This way of measuring takes longer than scooping with the cup, but ensures you don't add too much flour to the dough. Too much flour will make your cookies cakey and dense.
Butter: Don't forget to leave the butter out to soften. Depending on how warm your kitchen is, this can take a few hours.
Oreos: I like to crush the cookies in a resealable bag with a kitchen mallet or rolling pin. This gets you crushed pieces of varying sizes that give the cookies a great texture. You can also use a food processor but only pulse a few times otherwise you might end up with crumbs instead of chunks of Oreo cookies.
Baking: Don't overbake these cookies. For the best texture you want them set and lightly crispy around the edges but still soft in the middle. So, keep an eye on them while they're baking.
Storage: Baked cookies will keep in an airtight container at room temperature for two to three days.
I hope you enjoy these cookies and cream cookies!
Happy baking,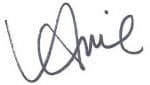 More Cookie Recipes
Here are more of my favorite cookies you might like, too!
📣 Do you love this recipe? I would love to know! Leave a comment below the recipe along with your recipe star rating.
Print
The nutrition is an estimate only. It was calculated using Nutrifox, an online nutrition calculator.