Looking to lighten things up? I've rounded-up 23 different vegetarian recipes you'll want to add to your dinner rotation. There's everything from comfort food-inspired dishes to quick and easy recipes to light and fresh dinner ideas. So many great vegetarian meals to choose from!
Vegetarian Recipes
I'm a meat-loving girl, but sometimes I like to pull it back and go vegetarian for dinner so I've gathered some delicious vegetarian recipes to share. There are 23 different dinners – everything from pasta to casseroles, hearty chili, and simple wraps that are so full of flavor you won't miss the meat. Click on the photos or recipe titles to get more details about each of these easy vegetarian meals.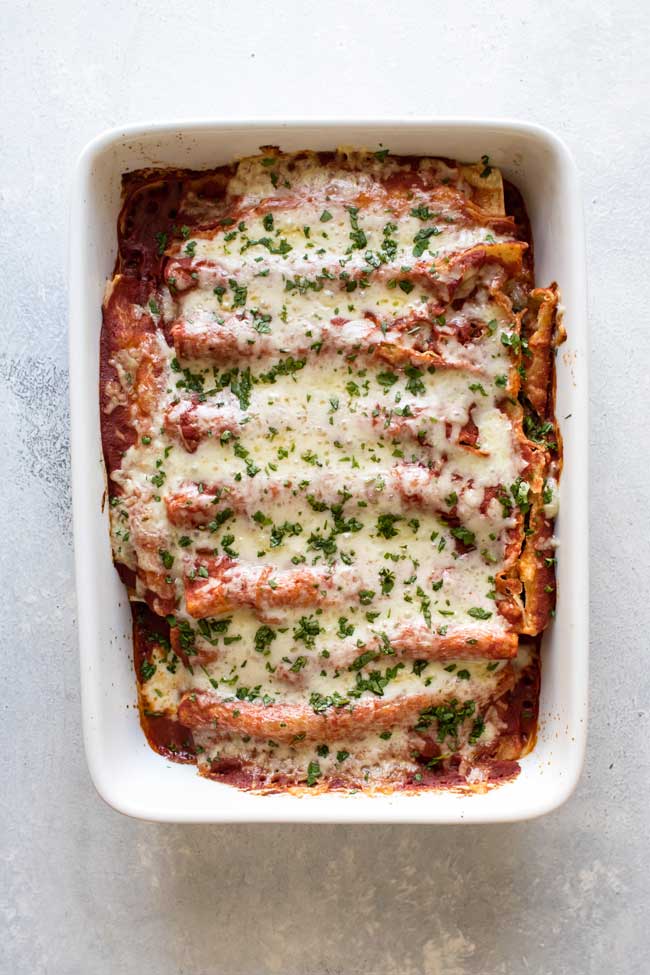 EASY ENCHILADAS WITH BLACK BEANS & SPINACH – Girl Gone Gourmet | There's no pre-cooking required for these vegetarian enchiladas with black beans and spinach. Just wrap, roll and bake!
ENCHILADA STUFFED PORTOBELLO MUSHROOMS – Sweet Peas and Saffron | These easy stuffed mushrooms are what to make when you're craving enchiladas but can't handle turning on the oven. Denise shares her tips for grilling them (no watery mushrooms!) and these cheesy enchilada mushrooms are ready to go in about 20ish minutes.
SMALL-BATCH SPINACH LASAGNA – Girl Gone Gourmet | This rich and cheesy spinach lasagna has fresh summer herbs and layers of spinach, cheese, and white sauce. It's a cozy vegetarian dinner that takes less than an hour to get on the table.
SWEET POTATO CAULIFLOWER PATTIES – Cotter Crunch | If you're feeling okay about turning on the oven – and these sweet potato patties are a very good reason to do so – click on through to learn how to make this delicious plate of goodness. They're crispy vegetarian patties that are great as an appetizer or add a salad on the side to make them dinner.
ORECCHIETTE WITH CHICKPEAS AND FETA – Girl Gone Gourmet | This is a quick 20-minute vegetarian pasta dinner that uses mostly pantry ingredients like sun-dried tomatoes, chickpeas, and orecchiette pasta. Some lemon, herbs, and feta cheese add a fresh bite. It's a summery dinner that's perfect on a hot night.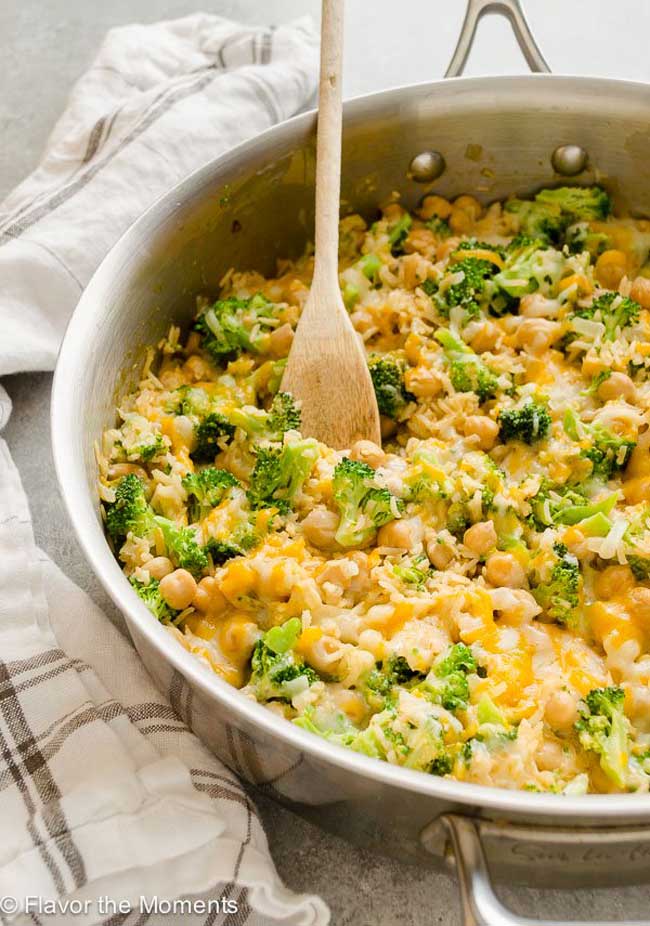 ONE POT CHEESY BROCCOLI CHICKPEA RICE CASSEROLE – Flavor the Moments | This one's right up my alley because I can't resist a pan of comfort food. This broccoli casserole has plenty of protein from the beans and enough cheese to make you feel good about life. Plus, it's a one-pan wonder which means there's very little clean-up.
SKILLET ARTICHOKE PASTA – An Italian in My Kitchen | Italians do it right and keep everything very simple. Rosemary shows you how to prep fresh artichokes and from there it's as simple as cooking some pasta and tossing it with olive oil and spices. Add some crusty bread and a glass of cold white wine and dinner is ready to go.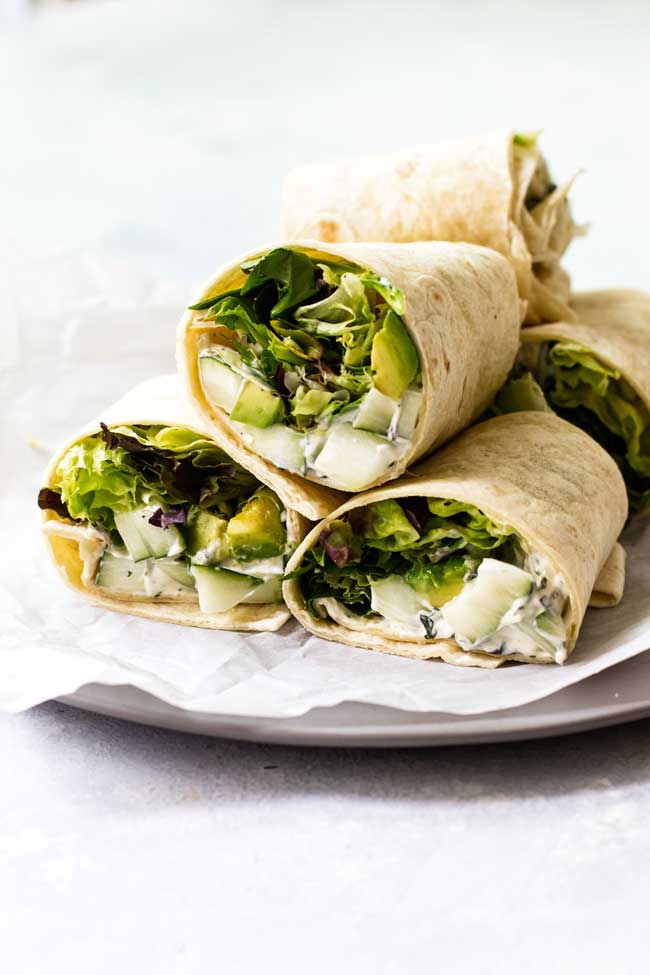 CUCUMBER AVOCADO WRAPS – Girl Gone Gourmet | It really doesn't get any easier than these wraps. Inspired by a classic cucumber sandwich they are stuffed with cucumber, avocado, and a pesto cream cheese. Add a bowl of soup (like my 10-Minute Tomato Basil Soup) on the side for a light and easy dinner.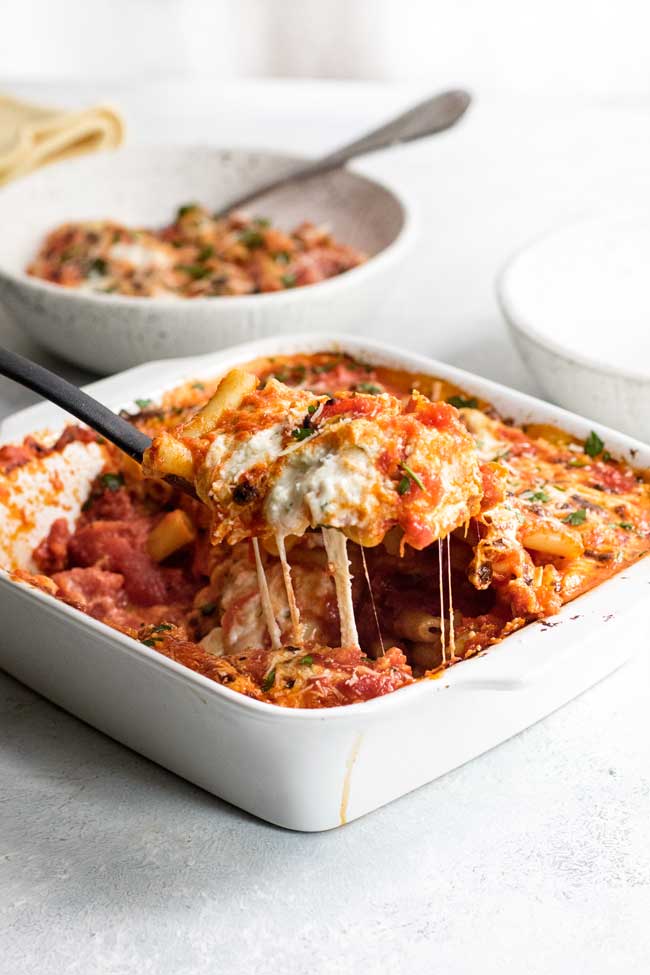 FOUR CHEESE BAKED ZITI – Girl Gone Gourmet | This comforting four cheese baked ziti is a go-to favorite recipe! In the time it takes to parboil the pasta (about five-ish minutes) you can prep the rest of the dish thanks to a smart shortcut. Pop it in the oven and 20 minutes dinner is ready to go.
HATCH GREEN CHILE EGG CASSEROLE – Cotter Crunch | This one has a few steps (including roasting your own chiles, but you can substitute canned ones to make it easier), but I had to include it because A) it's gorgeous and B) I'm pretty sure you can make and assemble it ahead of time. I love eggs for any meal and this beautiful casserole pulls double-duty as breakfast and dinner.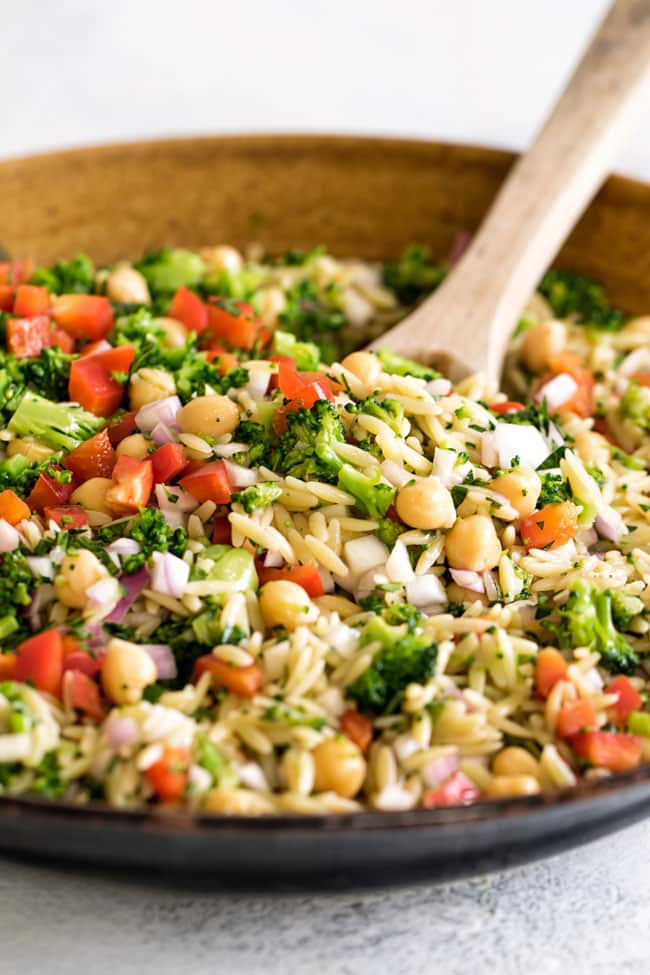 ORZO PASTA SALAD – Girl Gone Gourmet | This vegetarian salad doubles as a light summer dinner or as a side dish. It's loaded with fresh veggies and chickpeas with tender orzo pasta. It's all tossed in a tangy mustard dressing.
VEGETARIAN TACO SALAD – Taste of Lizzy T. | When I think of taco salads, I can't help but think of sad iceberg lettuce topped with gloppy beans, meat, a few flavorless tomatoes slices, and cheese served in a greasy taco shell. Sort of defeats the point of a salad, doesn't it? This vegetarian taco takes away all the bad about taco salads and replaces it with vibrancy, freshness, and flavor.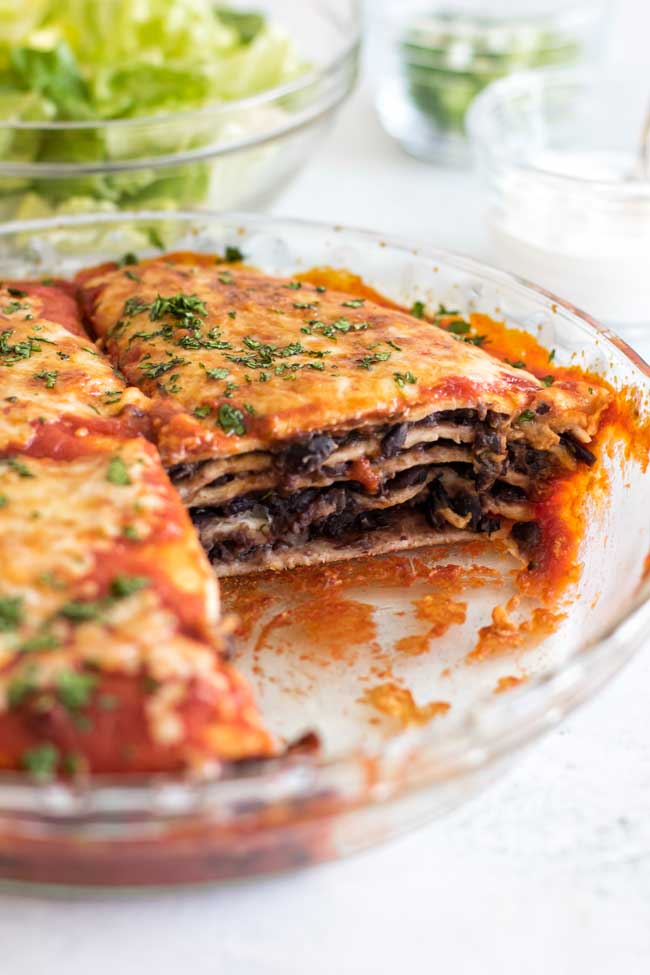 BLACK BEAN ENCHILADA PIE – Girl Gone Gourmet | Layers of flour tortillas, black beans, and sauce is a fun twist on traditional enchiladas. Serve it with all of your favorite toppings for an easy-to-make weeknight vegetarian dinner.
PASTA WITH ROASTED FENNEL AND LEMON – Sprinkles and Sprouts | I love a dinner that's easy enough for a weeknight, but fancy enough for guests and this pasta dish checks both of those boxes. Caramelized roasted fennel, fresh lemon, and a crispy breadcrumb topping (called pangrattato) with pasta is a quick and beautiful 30ish-minute dinner.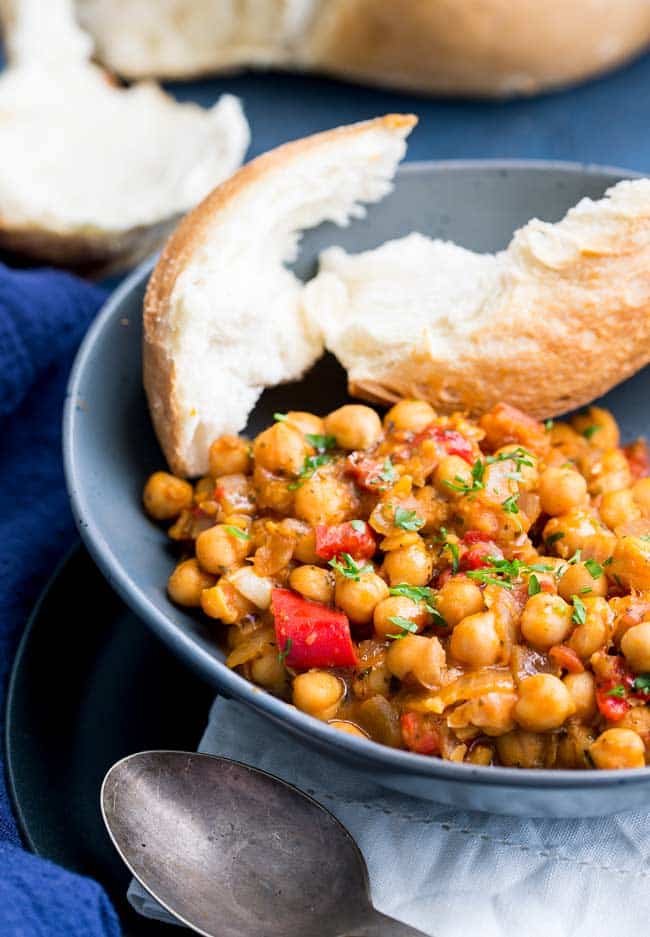 ITALIAN-INSPIRED TOMATO CHICKPEA STEW – Sprinkles and Sprouts | Another delicious vegetarian dish from Claire and this time it's a hearty chickpea stew brightened with sun-dried tomatoes. Serve it with bread on the side for a cozy supper.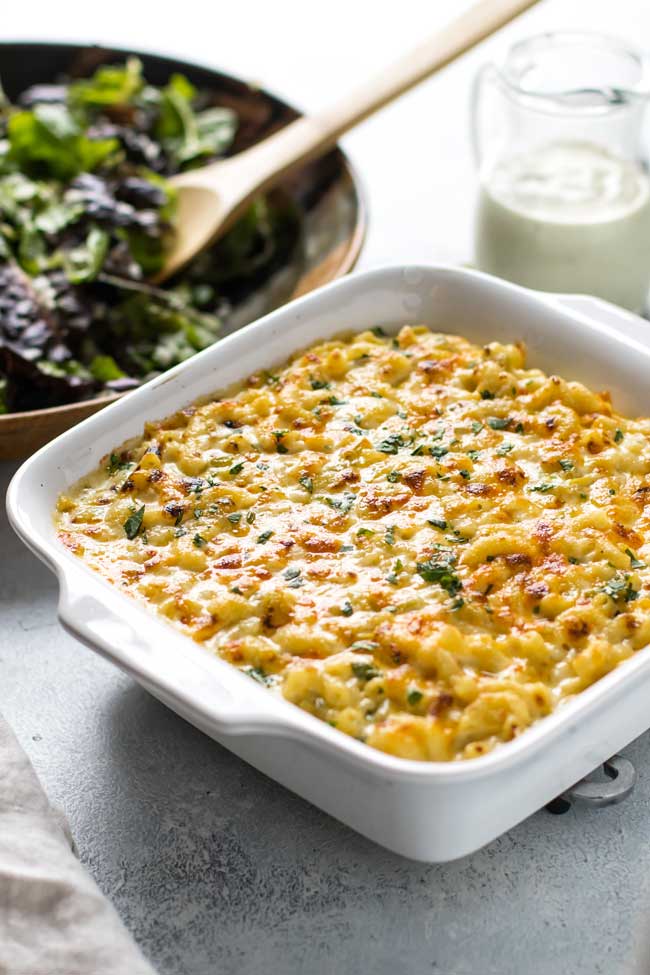 GREEN CHILE MACARONI AND CHEESE – Girl Gone Gourmet | This creamy green chile macaroni cheese with mild cheddar and Monterey jack cheese starts on the stovetop and finishes under the broiler and is the best kind of comfort food.
BAKED EGGS FLORENTINE – The View from Great Island | Another deceiving dish that looks more complicated to make than it actually is. Eggs nestled in some spinach flavored with garlic and herbs, topped with cream, and baked just until the whites are set, but the yolks are still runny. It's a beautiful vegetarian dinner for two.
BALSAMIC MUSHROOM MARINARA – Girl Gone Gourmet | Sauteed mushrooms infused with tangy balsamic vinegar simmered with tomatoes, onion, and garlic. Serve this mushroom marinara with your favorite pasta for an easy dinner that takes less than an hour start to finish.
ROASTED CHICKPEA GYROS – Live Eat Learn | There have been a few chickpea recipes in this round-up so far and for good reason: they are a great ingredient for vegetarian dishes because you can do so much with them. In this case, they're roasted and served up gryo-style with creamy tzatziki and veggies.
CREAMY GOAT CHEESE SPAGHETTI – Girl Gone Gourmet | Save this recipe for those nights when only a plate of cheesy pasta will do. Spaghetti tossed in a creamy goat cheese sauce with spinach is a decadent vegetarian dinner for two.
ZUCCHINI BRUSCHETTA BOATS – Wholesome Yum | All of the deliciousness of bruschetta without the bread! These zucchini boats stuffed with tomatoes, herbs, and cheese are a low-carb dinner idea with a lot of fresh flavors.
SUMMER SQUASH TORTELLINI BAKE – Girl Gone Gourmet | Tortellini baked with roasted summer squash and a creamy goat cheese sauce with pops of fresh basil. This is a small-batch recipe for two.
VEGETARIAN CHILI – The Endless Meal | Hearty vegetarian chili made with beans, corn, lots of veggies, and pantry spices. It's a one-pot vegetarian meal that you can make ahead for easy dinners during the week. Kristen shares a lot of tips for switching it up to suit your own tastes, so be sure to check it out!