I usually save the soul-searching for late night drinking fests, but there's something I need to address before I get to this creamy pesto tortellini recipe.
A week or so ago I received a comment from a user on Pinterest about my Parmesan Garlic Fries: "Gourmet? Laughing my head off right now!" Well, happy morning to you, too!
Obviously, that commenter doesn't think frozen French fries align with the name of my blog. Hand-cut, deep fried French fries dusted with truffle shavings might have been a better match.
It's not the first negative comment I've gotten and it won't be the last, for sure, but it made me pause a moment and think about this blog and what I'm trying to achieve. It's timely with the seven (!) year anniversary of my first post coming up in a few weeks and all I can say is, things change.
When I first started I had my own idea of what it means to be "gourmet" and I tried out all sorts of things in the kitchen. I joined a CSA, I shopped at farmer's markets, I cooked complicated recipes with lots of ingredients. I learned a lot.
Fast forward seven years.
I don't belong to a CSA anymore and, while I still like farmer's markets, I buy most of our groceries at our local grocery store. I use a lot of simple ingredients in my recipes and find it fun and challenging to use those ingredients in new and different ways. I don't look down my nose at convenience foods and take advantage of them if it makes things easier. I still love kitchen projects, but mostly I want to share simple recipes that don't need a ton of effort to get to the table, like this creamy pesto tortellini recipe I'm sharing today.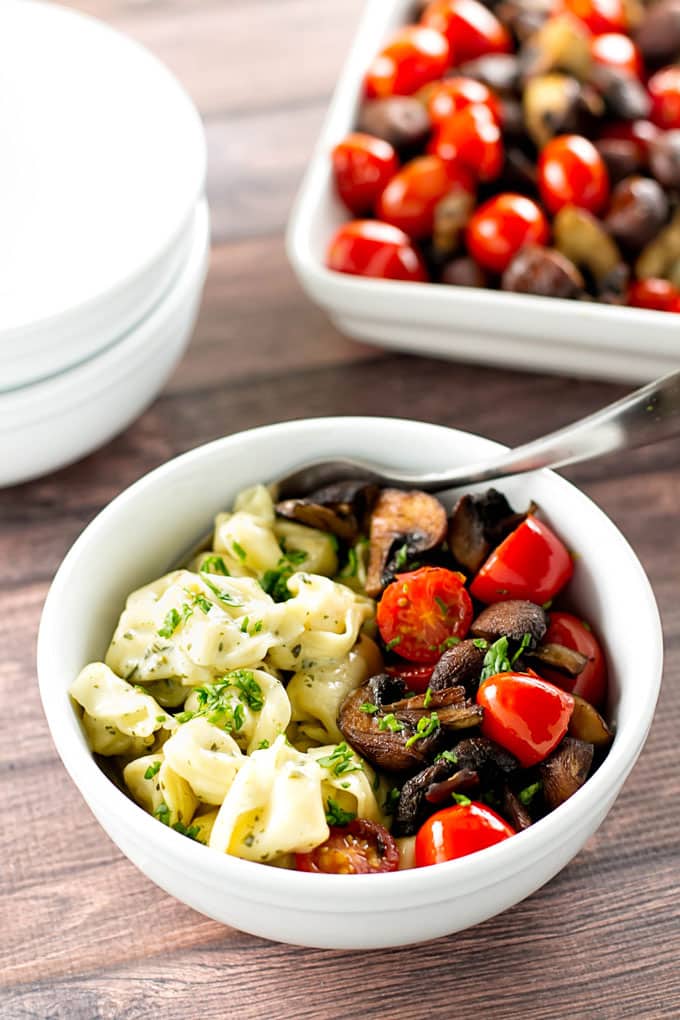 This is the sort of stuff I crave and love to share with all of you. Simple tortellini tossed in a creamy pesto sauce and served up alongside some roasted mushrooms and tomatoes. It's easy and satisfying.
So maybe it's not all gourmet around these parts now, but does it really matter? I'd like to think that those of you that keep coming back do so, not because what the name of the blog might imply, but because the recipes I share work, taste great, and help you get dinner on the table.
Even if dinner is served with a side of doctored up frozen fries.
Print
Creamy Pesto Tortellini with Roasted Mushrooms & Tomatoes
---
16 ounces

whole cremini mushrooms, large ones quartered or halved

1 tablespoon

olive oil

1 teaspoon

kosher salt, divided

20

-ounce package cheese tortellini

1

-pint grape tomatoes, large ones halved

1/3 cup

store-bought pesto

1 cup

heavy cream

1/4 cup

grated parmesan cheese
---
Instructions
Preheat the oven to 425 degrees.
Spread the mushrooms in a single layer on a large baking sheet lined with tin foil. Drizzle the olive oil over them and give them a light toss. Sprinkle 1/2 teaspoon of salt over them, as well. Roast them for 15 minutes. After 15 minutes, remove the pan from the oven and add the grape tomatoes. Return the pan to the oven and roast them for another 15 minutes.
While the vegetables are roasting, boil the tortellini for approximately half of the recommended time on the package. Reserve 1/4 cup of the starchy pasta water.
While the pasta is boiling, warm the pesto over medium heat in a medium saucepan. Once heated, pour in the heavy cream and add the parmesan cheese and remaining 1/2 teaspoon of salt. Stir until the cream is heated through and the cheese has melted.
Drain the pasta and return it to the same pot. Pour the pesto cream sauce over the pasta (it will be very thin). Gently stir to combine the pasta with the sauce. Over medium heat, cook the pasta with the sauce until the sauce has thickened, about five minutes. If needed, added a splash or two of the starchy pasta water to help thicken it.
Serve the pasta with the tomatoes and mushrooms.
Prep Time:

10 minutes

Cook Time:

30 minutes

Category:

Main Course