These baked black beans with smoky bacon are a great side dish for BBQs, potlucks, and other summer get-togethers! Canned black beans make this recipe so easy. The beans cook in a sweet and smoky sauce made with a generous amount of bacon, chili powder, apple cider vinegar, and brown sugar. Serve these beans with all of your favorite BBQ dishes.
Corporate life, also known as that other life I live outside this blog, is often measured by how long it is until the next company recognized holiday and, for me, the long trek between MLK Day in January to Memorial Day weekend is the equivalent of crossing the Pacific Ocean in a paddle boat.
Are we there yet?
Thankfully, we are almost there and our corporate holiday drought will end with a celebratory long weekend, sunshine (fingers crossed), and a BBQ to welcome the start of summer. There'll be hot dogs, hamburgers, Lays Original potato chips, ice-cold beer, and the most important BBQ side dish of them all, baked beans.
In this case, sweet and smoky baked black beans.
Despite everything I know about dry beans, I can never quite get organized enough to use them in recipes. Let's face it, cooking with dried beans takes planning and a serious time commitment, both of which I'm not into right now, so I'm happy to use good-quality canned beans instead, which means this is an easy baked black bean recipe.
Ingredients
Thick-cut bacon
Diced bell pepper
Chopped onion
Minced garlic
Chili powder
Dried oregano
Ground mustard
Kosher salt
Brown sugar
Black pepper
Apple cider vinegar
Molasses
Canned black beans
Recipe Steps
Except for a little bit of veggie chopping, this recipe is mostly a dump and stir. It starts on the stovetop where all the smoky bacon, onion, garlic, and bell pepper cook together in a large pan or Dutch oven.
Apple cider vinegar, molasses, brown sugar, chili powder, and a few other pantry spices make up the sauce. Drain the beans and then add them before the whole pot goes in the oven where it bubbles and reduces for an hour or so.
Thanks to the black bean short-cut there's no waiting around for three to four hours for this side-dish deliciousness. After about an hour in the oven, they're ready to serve.
Recipe Tips and Tricks
This recipe works will all kinds of beans so switch them up if you like. Pinto beans, white beans, even chickpeas or lentils would work although the last two aren't the usual suspects in baked beans.
You can add other ingredients to dress it up – try adding some chopped cilantro or parsley, chopped jalapeno, or ground cumin to up the smoky factor.
These baked black beans keep really well, so if you have leftovers just pop them in an airtight container and keep them in the fridge. They will keep for several days.
The first time I made a big batch of these wonderful beans, they were even better the next day after all the flavors married together overnight in the fridge. I may or may not have heated some the next morning and piled them on a tortilla with a fried egg. It was delicious.
You can also make the dish ahead. Do everything a day in advance but don't bake them. Cover them and refrigerate them instead. When you're ready to bake them pop them in the oven – you may need to add a little extra cooking time.
I hope you love this black bean recipe! It's a nice change from classic baked beans and the flavors go with all the summer main dishes. Enjoy!
Happy Cooking,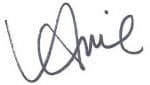 More Side Dishes
Print
Post and photos updated from the archives. First published in May 2016.