This comforting baked ziti has pockets of cheese for a delicious, cheesy baked pasta dish. It's easy to make in less than an hour, or you can prep it ahead and keep it in the refrigerator to bake later. This is a vegetarian ziti, but you can easily add Italian sausage, ground beef, or chicken to make it even heartier.
Easy Baked Ziti
This baked ziti recipe is one of my all-time favorite baked pasta recipes – it's rich, cheesy, and easy enough for weeknight dinners. Or, you can prep it ahead to bake later.
What I love best about it is the cheese – instead of mixing ricotta and other cheese into the sauce, you drop dollops of a four-cheese mixture, so you get pockets of cheese in the pasta and sauce when you serve it.
I've made it countless times since I first made it in 2014. The inspiration came from The Amateur Gourmet – Adam shared a meatier version, but I make mine a meatless ziti.
As Adam mentions in his post, everyone needs a great baked ziti recipe, and this is it for me. Try it, and it might just be the recipe you didn't know you were missing.
Recipe Highlights
I've mentioned the cheese pockets, and I'm mentioning them again because it's what makes this recipe for me.
It's easy to make when you use a good quality marinara sauce. I'm a Rao's Homemade Fan but choose your favorite brand.
My recipe is scaled-down compared to the inspiration. So, it generously serves four, but I've doubled it before to serve more, and it works great.
It takes about 20 minutes to get it in the oven – parboil the pasta and, while it's cooking, mix up the cheese part. Layer the pasta, cheese, and sauce in a pan and bake. 30 minutes later, it emerges from the oven hot, bubbly, and cheesy. Have I mentioned the pockets of cheese and how good they are?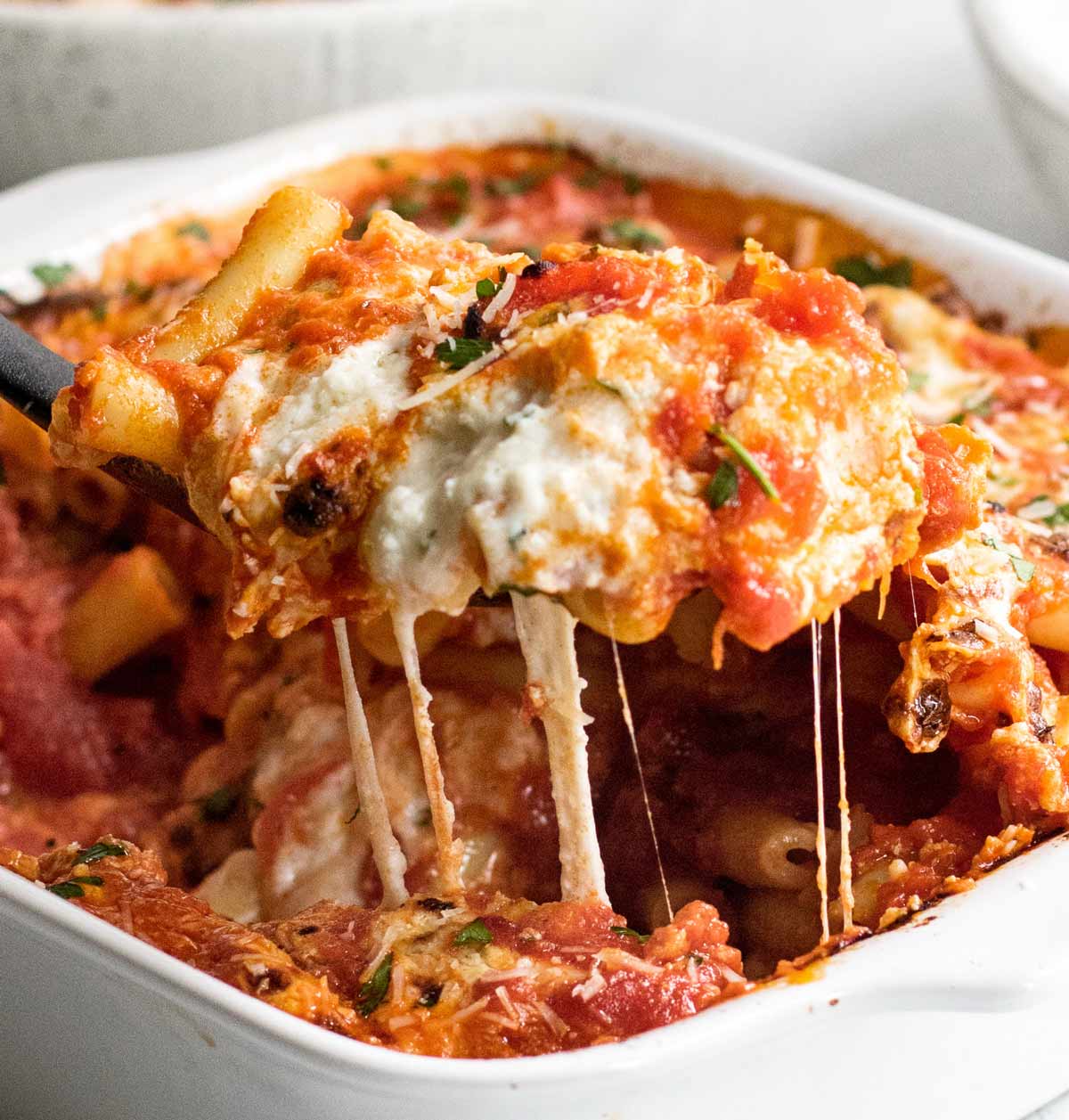 Ingredients
Ziti
Ricotta cheese
Shredded provolone cheese
Cubed fresh mozzarella
Grated Parmesan cheese
Black pepper
Chopped fresh parsley and basil
Jarred marinara sauce
Recipe Steps
Boil the ziti for about five minutes. This gives it a head start, so once it's baked, it will be a perfect al dente. While it cooks, you can mix the cheese mixture with the herbs and seasonings in a bowl.
Once you have your parboiled pasta, cheese mixture, and sauce handy, you can assemble the ziti. You layer it like a lasagna, except it's easier.
Start by coating the bottom of an 8×8″ baking dish with sauce. Add 1/3 of the pasta and top it with some of the sauce. Drop scoops half of the cheese mixture on top – I usually do five to six tablespoon scoops spaced apart.
Top the cheese with another layer of pasta followed by more sauce and more scoops of cheese. The last layer will be pasta, more sauce, and shredded mozzarella and provolone cheese.
Cover and bake the ziti for 15 minutes. Remove the foil, and bake it for five to ten minutes more or until the cheese on top is melted and the sauce is bubbling hot.
Very Important Questions Answered
I hope you love this baked ziti as much as I do! It's such a cozy comfort food dinner.
Happy Cooking,
More Pasta Recipes
Love pasta recipes? Me, too! Here are a few more you might like to try:
Print
Post updated from the archives. First published in September 2014.