Chorizo Breakfast Burritos
These hearty chorizo breakfast burritos are made with cheesy scrambled eggs, Mexican chorizo, and potatoes.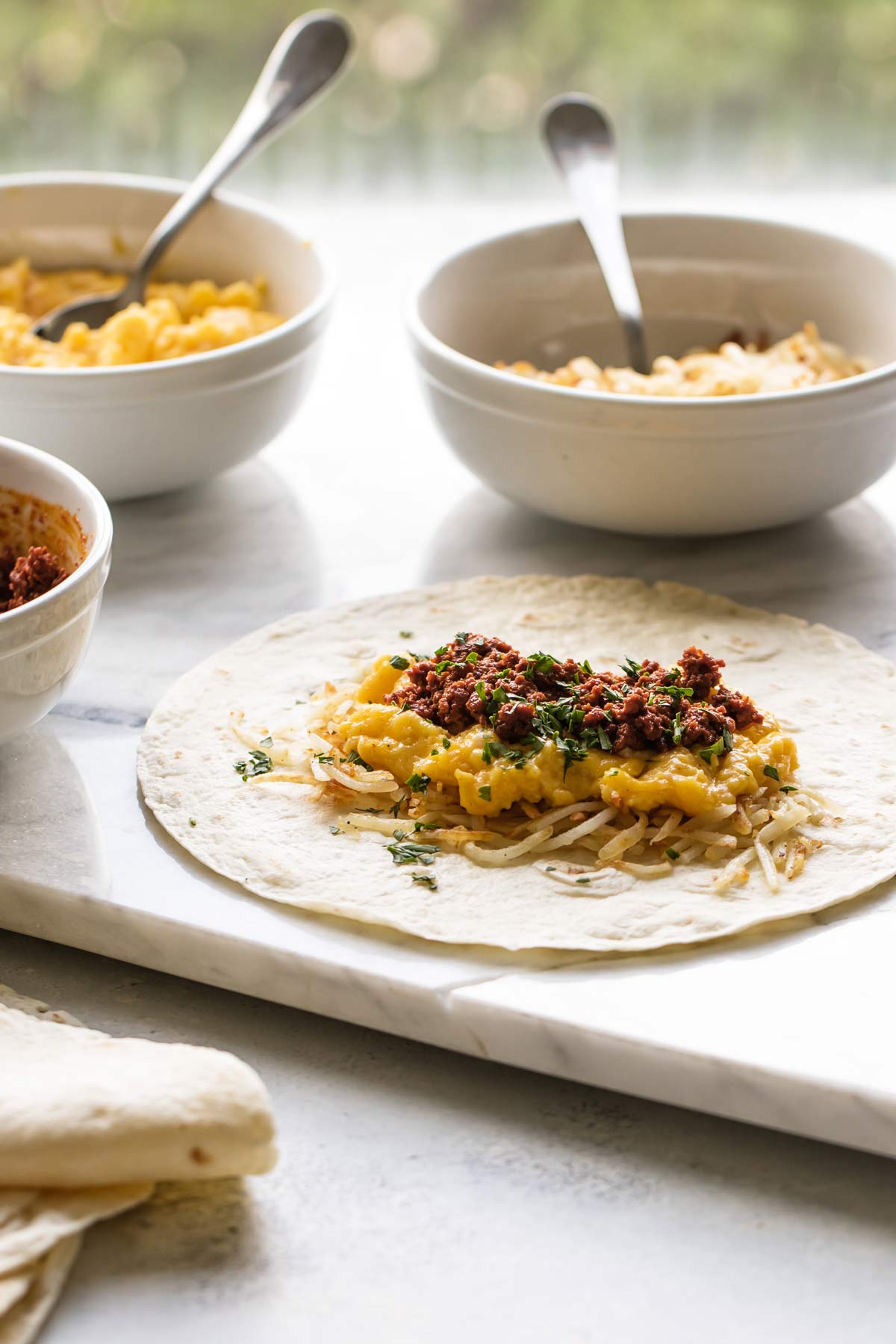 There are a lot of wonderful things in life and one is a complete breakfast wrapped up in a warm tortilla. In this case, a complete breakfast includes cheesy scrambled eggs, savory Mexican chorizo, and tender potatoes.
They're not your average run-of-the-mill breakfast burritos – they're pretty decadent. The kind of thing you might crave after a night of a little too much fun when you need something savory and delicious to take the edge off.
It's the chorizo – it really takes them over the top.
I first started making these in ye olden days of 2009, and I still love them. Savory, cheesy, and a little rich. Not gonna lie – you'll probably need a nap after having one. But that's what Saturdays are for, right?
Ingredients
Mexican chorizo
Eggs
Shredded potatoes
Cheddar cheese
Monterey jack cheese
Butter, salt, and pepper
Fresh cilantro or parsley
Burrito-sized flour tortillas
Have you tried Mexican chorizo? It's ground pork that has been heavily seasoned with paprika, salt, and garlic. Unlike Spanish chorizo, which is a smoked sausage, Mexican chorizo needs to be cooked first. I love Mexican chorizo (I've used it to make frittatas, too), and it's delicious in these breakfast burritos.
For the potatoes, you can either shred your own russet potato or buy a bag of pre-shredded uncooked potatoes (the kind for hashbrowns), which you can find in the refrigerated section at the grocery store.
I like to use a mix of cheddar and Monterey jack cheese, but you can use one type of cheese. Or, you can switch out either for pepper jack cheese, which would work well, too.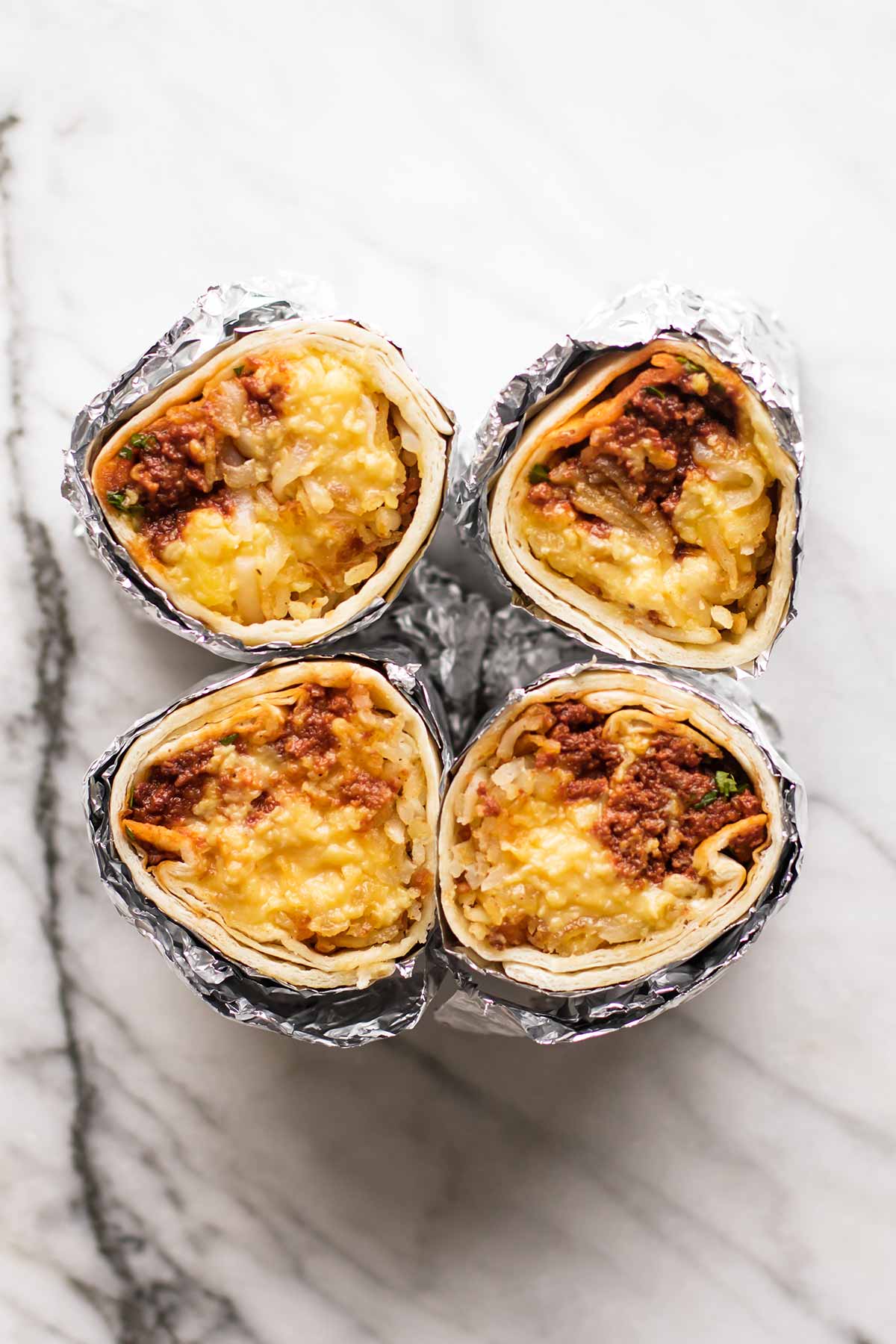 Tips for Making Breakfast Burritos
There are three main parts for these chorizo breakfast burritos: the eggs, the chorizo, and the potatoes. Once your ingredients are prepped and cooked it's just a simple assemble and roll operation.
I like to cook the chorizo first in a non-stick pan. Mexican chorizo is very fatty and, as it cooks, you'll have a lot of fat in the pan. I like to drain some of the fat and leave some (about a tablespoon or so) behind to cook the eggs in.
I prefer soft scrambled eggs for the eggs, which just means they're creamier because they're a little less done than hard scrambled eggs. Before they're done, I like to add the shredded cheese, so it melts into the eggs.
After cooking the eggs, I spread the potatoes in an even layer in the pan, so they brown and turn crispy as they cook.
To assemble the burritos, place the cooked potatoes on the tortilla, followed by the eggs and the chorizo. Sprinkle some chopped cilantro or parsley over the top, and then roll it all up with the ends of the tortillas tucked in.
If you're serving the burritos right away, I like to wrap them in tin foil and pop them in the oven for a few minutes to warm them through. Serve them with some blueberry buttermilk muffins or easy mini cinnamon rolls for a delicious weekend breakfast or brunch.
Recipe Tips
You can freeze them but it's not the most ideal way to store them. When you reheat them, the tortilla can get a little chewy at the ends. This is a small inconvenience in my world, but just keep that in mind if you opt to make them ahead and freeze them.
They will keep well in the refrigerator for several days and they reheat better when they're not frozen. So, if you do freeze them you can always thaw them in the fridge overnight instead of reheating straight from the freezer.
Whether you refrigerate or freeze, fully cool the breakfast burritos before storing them. Tightly wrap them with plastic wrap or foil before popping them in the freezer or fridge.
To warm them up – you can either microwave them either in the plastic wrap or wrapped in a paper towel (beware chewy tortillas if you do this with frozen ones) or warm them up in the oven. The oven works best if they are refrigerated and not frozen.
Ready to make some breakfast burritos? I hope you enjoy them!
Happy burrito-making,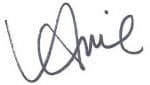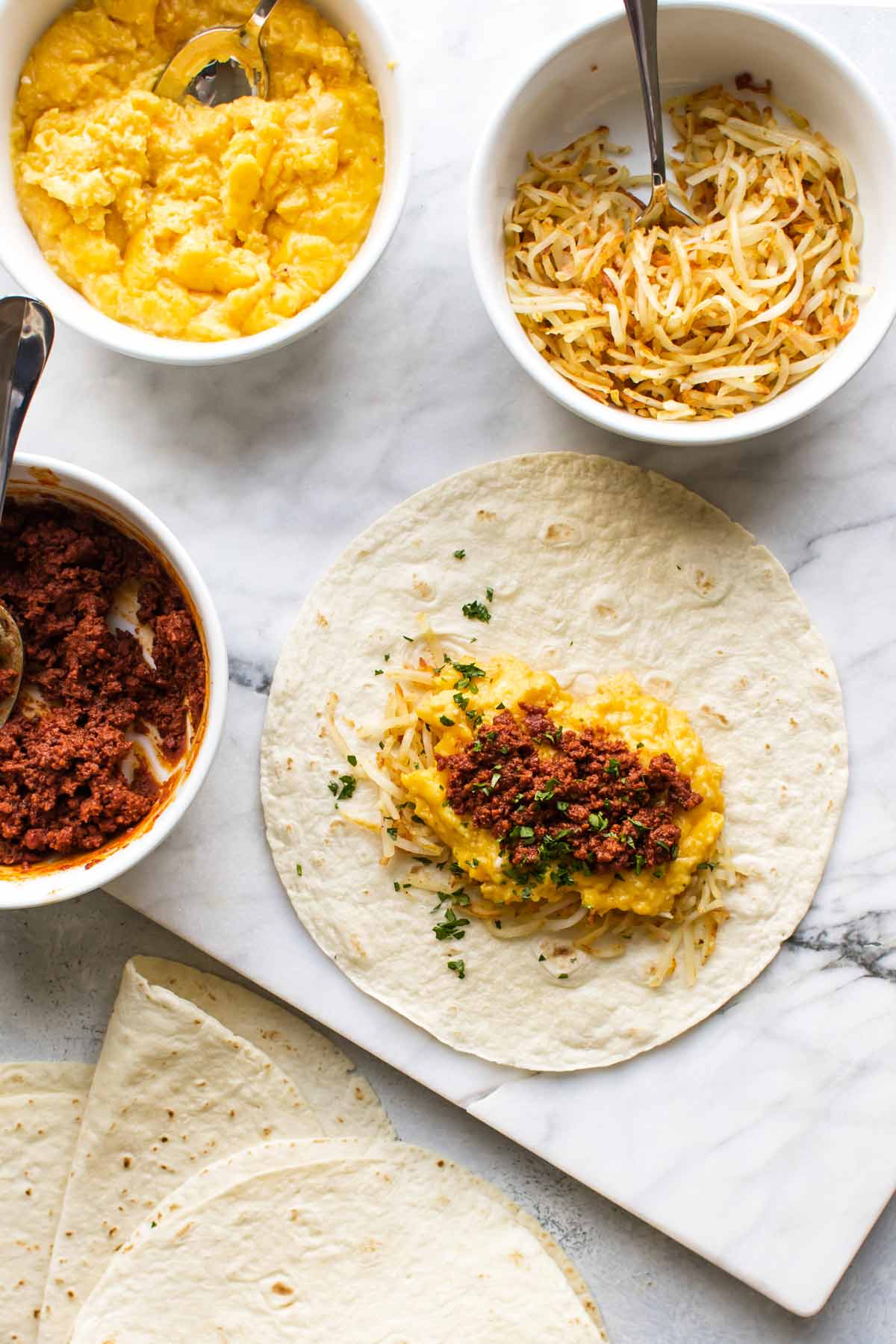 More Breakfast Recipes
Looking for more breakfast or brunch ideas? Here are a few of my favorites or check out my round-up of Make-Ahead Breakfast Recipes for more ideas.
📣 Do you love this recipe? I would love to know! Leave a comment below the recipe, along with your recipe star rating.
Print
Chorizo Breakfast Burritos
These hearty chorizo breakfast burritos are made with cheesy scrambled eggs, Mexican chorizo, and potatoes. They are hearty and filling – perfect for a lazy weekend.
Author: April Anderson
Prep Time:

20 minutes

Cook Time:

30 minutes

Total Time:

50 minutes

Yield:

4

large burritos

1

x
Category:

Breakfast

Method:

Stovetop

Cuisine:

American
1

(8-oz) package Mexican chorizo

2 tablespoons

unsalted butter, divided

8

eggs, whisked

1 teaspoon

salt, divided

1/2 teaspoon

black pepper, divided

1/2 cup

shredded cheddar cheese

1/2 cup

shredded Monterey jack cheese

10 ounces

shredded potatoes (see note)

1 tablespoon

chopped parsley or cilantro, optional

4

burrito-sized flour tortillas
Instructions
Heat a large non-stick pan over medium heat. Cook the chorizo, breaking it apart with a spatula, for eight to ten minutes or until it's cooked through. Drain off all but 1 tablespoon of the fat. Remove the chorizo from the pan (leaving the reserved fat in the pan) and transfer it to a bowl.
In the same pan, melt one tablespoon of butter. As it melts, stir to combine it with the reserved fat from the chorizo. Pour the whisked eggs into the pan and add 1/2 teaspoon of salt and 1/4 teaspoon of black pepper. Cook the eggs, frequently stirring, for about ten minutes or until the eggs are cooked but still very soft. Add the shredded cheese and stir until it melts into the eggs. Transfer the cooked eggs to a bowl.
In the same pan, melt one tablespoon of butter over medium-high heat. Add the potatoes and spread them into an even layer in the pan. Sprinkle 1/2 teaspoon of salt and 1/4 teaspoon of pepper over the top. Cook the potatoes, occasionally stirring, until they start to turn golden and crispy, about 10 minutes. Remove the pan from the heat.
To assemble the burritos: It's helpful to microwave the tortillas for about 30 seconds to warm them up before you fill them – they will stretch a lot easier. Evenly divide the potatoes, eggs, and chorizo among four tortillas. Sprinkle the chopped herbs over the top of the chorizo, if using.
To roll, fold the edge of the tortilla over the top of the filling and tuck in the sides. Roll the burrito up. Repeat with the remaining tortillas and filling.
Wrap the burritos in tin foil and place them on a baking sheet. Pop them in a warm oven for five to ten minutes to warm them through before serving (see notes if you want to make them ahead).
Notes
I use store-bought pre-shredded uncooked potatoes for this recipe, which you can find in the refrigerated section at the grocery store. 
If you want to make them ahead, they will keep in the refrigerator for three to four days. You can warm them in the microwave or oven when you're ready to have one. You can freeze them, but when you warm them from frozen in the microwave, the tortilla will get a little chewy in spots.
Nutrition note: It's difficult to estimate the nutrition for this recipe since a lot of the fat is drained from the cooked chorizo. The nutrition estimate includes all of the fat from the chorizo, so please keep that in mind. 
Nutrition
Serving Size:

1 burrito

Calories:

819

Sugar:

3g

Sodium:

2186.2mg

Fat:

50.6g

Saturated Fat:

21.8g

Unsaturated Fat:

22.8g

Trans Fat:

0.2g

Carbohydrates:

50.3g

Fiber:

2g

Protein:

40.5g

Cholesterol:

463.8mg
Keywords: breakfast burritos, chorizo burritos, make-ahead burritos
The nutrition is an estimate only. It was calculated using Nutrifox, an online nutrition calculator.
Post updated from the archives. First published in August 2009.