A festive grapefruit mocktail made with ginger beer, fresh-squeezed grapefruit juice, and fresh rosemary is a refreshing drink to sip on. It's a quick and easy alcohol-free drink great for the holiday season.
The holiday season is great and all, but if it gets a little too merry, this festive grapefruit mocktail is a great way to take a break from the excesses of the season.
The flavor is fresh and bright with fresh-squeezed juice, and a twist of rosemary adds herbal goodness. Add in some fizzy ginger beer, and you get a festive alcohol-free grapefruit ginger fizz that will keep you appropriately merry, if you know what I mean.
And don't worry, you can easily change it up with a shot of booze if you want to turn up the festiveness of the season. It's a delicious drink either way.
Ingredients
Fresh rosemary sprigs
Granulated sugar or simple syrup
Fresh grapefruit juice
Ginger beer
How to Make It
In a tall glass, muddle the rosemary and sugar together until the rosemary is fragrant and broken down a bit.
Fill the glass with ice and pour the grapefruit juice over the top. Stir to combine.
Top the drink with ginger beer and add a sprig of rosemary and grapefruit wedge for garnish. For an extra touch, sugar the rim of the glass before mixing the drink.
Make It Boozy
Turn the mocktail into a grapefruit cocktail, omit the sugar, and add one ounce or so of vodka. This essentially turns it into a grapefruit Moscow mule.
Recipe Tips
You can swap the rosemary for fresh mint leaves or thyme for a different taste.
You can use pink grapefruit juice from a carton (instead of fresh), but you may want to reduce the added sugar if the juice is sweetened.
There are tons of options for ginger beer – some are spicier, sweeter, ginger-y, so have fun experimenting with different ones to make your perfect drink!
If you don't like ginger beer, skip it and use soda water or sparkling water to make a sparkling grapefruit mocktail.
A squeeze of fresh lime juice would be a great addition, too.
Make it mocktail-style or boozy – either way, it's a refreshing drink for the holiday season. I hope you enjoy it!
Happy sipping,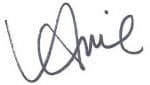 More Drink Recipes
📣 Do you love this recipe? I would love to know! Leave a comment below the recipe along with your recipe star rating.
Print
The nutrition is an estimate only. It was calculated using Nutrifox, an online nutrition calculator.