A childhood favorite gets an upgrade! These sloppy joes are just what you remember having as a child only with a grown-up taste.
Grown-Up Sloppy Joes
I'm an expert at distraction when there are pressing things to do and, for me, there's no better distraction than thinking about food. So last weekend, with a to-do list burning a hole on my countertop, I sat at my table happily distracted with thoughts of favorite childhood dishes. Top of the list? Sloppy joes.
As a kid, nothing got the tummy rumbles going better than the sizzle of ground beef hitting a hot pan. My mom would add all sorts of stuff to it – a secret blend of tomato sauce and special spices – and not long after we were digging in. Oh, how I loved piling the sweet and tangy ground beef mixture onto a soft hamburger bun. My mom's sloppy joes made me feel all warm and cozy inside.
It's been years since I've made sloppy joes because what I once loved about them as a child – a cloyingly sweet sauce – doesn't hold true today. At some point, I moved sloppy joes over to the "kid's meal" column and, having no children myself, didn't give it much more thought.
Then I remembered my grown-up beefaroni from last year. With a couple tweaks I took what was a kid-orientated dish and dressed it up a bit for someone with a little more grown-up taste. Why not apply the same principle to sloppy joes?
Before you grab the pan and turn on the stove, crank your oven up and roast the vegetables first. Roasting brings out their natural sweetness and a depth of flavor you wouldn't get by just sauteing them in a pan. Once they're soft and caramelized give 'em a good ol' chop with the knife and add them to the ground beef browning on the stove. Those roasted vegetables plus a splash of red wine are all you need to elevate your sloppy joes – maybe we should call them sloppy josephs?
But we don't want to take our sloppy joes too seriously, so let's fashion some homemade toothpick flags out of post-its. You know, because sloppy joes need flags.
They might be grown-up, but these sloppy joes are still fun.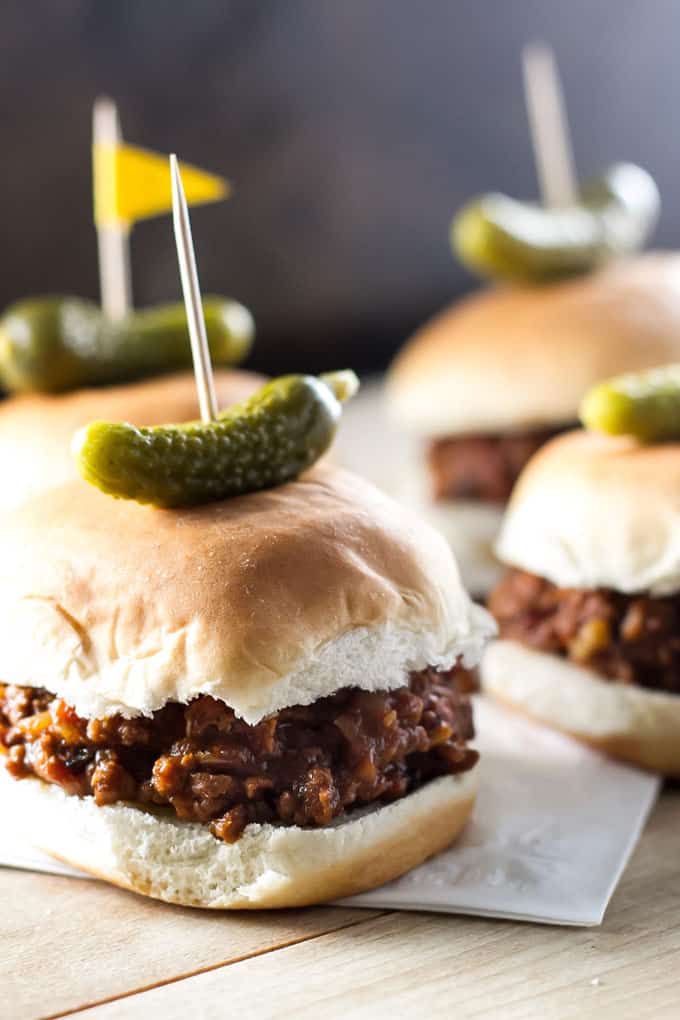 More Hot Sandwiches
Slow Cooker Shredded Beef Sandwiches
Hot Roast Beef Sandwiches with Cheddar Cheese Sauce
Print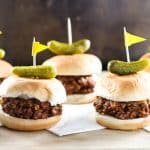 Grown-Up Sloppy Joes
---
Description
A childhood favorite gets an upgrade! These sloppy joes are just what you remember having as a child only with a grown-up taste.
---
1

yellow onion, cut into large chunks

1

celery stalk, cut into large pieces

1

bell pepper, cut into large chunks

1

head of garlic

1 tablespoons

tomato paste

2 tablespoons

olive oil

1

pound ground beef

1 teaspoon

Italian seasoning

1/4 cup

red wine (I used Pinot Noir)

1/4 cup

chicken stock

1 cup

tomato puree

1 tablespoon

Worcestershire sauce

1/2 tablespoon

brown sugar

1 teaspoon

kosher salt

1/4 teaspoon

black pepper
---
Instructions
Preheat oven to 400 degrees. Line a baking sheet with tin foil.
Spread the onion, celery, and bell pepper evenly on the baking sheet. Drizzle the olive oil over them and drop the tablespoon of tomato sauce on the baking sheet. Lightly toss the veggies with the tomato paste (the oil will help it spread around) until they are evenly coated.
Carefully slice off the very top of the garlic so that most of the cloves are exposed. Drizzle a 1/2 tablespoon of olive oil over the top and then wrap the garlic in tin foil. Place it on the baking sheet with the rest of the veggies. Roast all of it for about 40 minutes or so. Remove them from the oven to cool.
While the veggies are cooling, heat another tablespoon of olive oil in a large pan over medium heat. Add the ground beef and Italian seasoning and cook, breaking the beef apart with a spatula, until browned. Add the red wine and boil until most of the liquid has evaporated.
Once the veggies are cool enough to handle, chop them up until they are in small pieces. Add them to the pan with the ground beef and stir.
Gently squeeze the garlic to extract the roasted cloves. Run your knife through the cloves until they are in a paste-like consistency (use the back of your knife to mash them if needed). Add them to the pan and give it all a good stir.
Add the chicken stock, tomato puree, Worcestershire sauce, and brown sugar to the pan. Bring it to a strong simmer and reduce the heat to medium-low. Let is simmer for at least 20 or 30 minutes, or until the sauce has thickened. Check for seasoning and add salt and pepper to taste (I added about 1/2 teaspoon of salt and a few turns of the pepper mill). Serve on hamburger buns.
Notes
This is totally optional, but I noticed the flavors really deepened and married together after the beef mixture sat overnight in the refrigerator. You can easily make this ahead and reheat the day you want to serve.
The nutrition estimates don't include the buns.
Prep Time:

30 minutes

Cook Time:

30 minutes

Category:

Burgers & Sandwiches

Cuisine:

American
Nutrition
Calories:

395

Sugar:

7.8g

Sodium:

737.6mg

Fat:

26.9g

Carbohydrates:

16.3g

Fiber:

2.9g

Protein:

22.5g