Salsa Verde Taco Soup for Two
Salsa verde taco soup made with fresh tomatillos, green chile, brown rice, and ground beef. This is a small-batch recipe for two that you can make on the stovetop or in an Instant Pot. It's garnished just like tacos with a dollop of sour cream and a quick and easy guacamole.
[cmtoc_table_of_contents]
More often than not these days I make soup in smaller batches. I've tried in vain for years to store and reheat leftovers with every intention to leverage the leftovers for easy dinners and lunches only to not do this and end up tossing it all out months later when I can't figure out what, exactly, I put in those storage containers. So, small-batch soups that serve two to three seem to be my sweet spot. Enough for today with maybe some leftovers for lunch tomorrow.
And this salsa verde taco soup is just that: a small three-serving pot of goodness topped with a quick guacamole and dollop of sour cream.
Just like tacos except in soup form because the next best thing to a taco is a dish inspired by tacos. Plus, I am including on the stovetop instructions and instructions for making it in an Instant Pot (!), also known as the newest addition to my kitchen gadgetry collection, but more about that in a moment. Let's talk ingredients first.
Some Ingredients You'll Need
This taco soup takes the best of salsa verde including fresh tomatillos, diced green chile, lime juice, and fresh cilantro and marries it with ground beef.
There are some other things, too, like vegetable stock, fresh red onion, garlic, and a touch of olive oil.
I added some long grain brown rice that cooks right in the soup while it soaks up all the salsa verde and beef flavors.
The soup is seasoned with a few pantry spices like ground cumin and chili powder.
And what is a soup without a garnish? Sad, I say, so I topped this soup just as I would a taco: with a generous dollop of guacamole. I mashed an avocado with some fresh lime, salt, and cilantro. Or use your favorite store-bought guacamole instead – my favorite brand is Wholly Guacamole. Or if you want to keep it really simple, as I did once or twice while testing different versions, some diced avocado all on its own works well, too.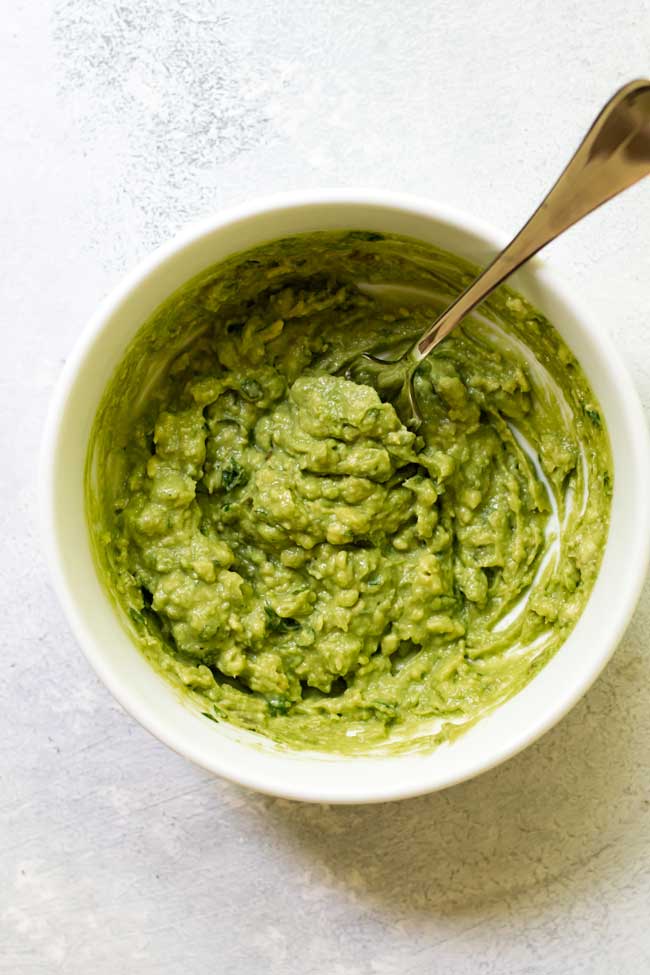 How to Make Salsa Verde Taco Soup
This taco soup is about an hour-long adventure with most of that time being of the low-maintenance type while the soup simmers or pressure cooks depending on the method you choose. There's some chopping involved to get the ingredients ready to go, but from there it's a one-pot dump and stir operation.
And, really, the steps involved are mostly the same whether you choose to go with the stovetop steps or the Instant Pot ones up until you add the rice. From there the road forks and the experience is different depending on which route you choose.
On the Stovetop: With the stovetop, we are in familiar soup-making territory following a similar pattern:
Brown the beef, add the veggies and stock and bring it all to a strong simmer.
Add the brown rice and cook it in the soup until tender, which takes about 45 to 50 minutes, stirring occasionally. Because you don't want the rice to stick to the bottom of the pan, taco soup on the stovetop requires a bit of babysitting in the form of a few stirs every so often.
I like to add the fresh lime juice right at the end – it adds a pop of brightness you otherwise wouldn't get if you added it sooner in the process. Make the guacamole garnish while the soup simmers and, once the rice is tender, garnish and serve.
Instant Pot Instructions: I've been playing around with my new Instant Pot, also known as a pressure cooker, for the last couple of weeks and so far I really like it – it's sort of like a slow cooker in fast forward. I'll be sharing a separate post sometime next month all about my Instant Pot, so if you're interested in buying one stay tuned. If you already have one here's how I used it to make the soup:
First, I have a 3-quart Instant Pot which is the perfect size for smaller batch cooking. I have not tested this recipe in bigger models, so please keep that in mind.
You can saute the beef and veggies right in the Instant pot, although I use the word "saute" lightly because if you really want to get a good brown going on your ingredients you're not going to get that if you sautee in the pot itself. While it is technically a "multi" function cooker, it's first and foremost a pressure cooker. For this recipe, however, the sautee function works fine because you don't need to everything to develop a caramelized crust.
After you add the vegetables the recipe varies from the stovetop version. Because liquid doesn't evaporate in the Instant Pot like it would on the stovetop you want to reduce the amount of vegetable stock for the IP version. The amount is listed in the recipe.
Once you've added the vegetable stock and rice it's time to pressure cook. I've detailed the instructions in the recipe card, but it's pretty simple: secure the lid, close the vent, and choose the high-pressure setting. Set the timer for 30 minutes. It will take the Instant Pot 10-12 minutes to pressurize and, once it does, the magic happens.
After 30 minutes I used the quick-release method to vent the steam, opened the pot, and added the lime and cilantro. From there it was time to garnish and serve.
One note: the soup actually takes a little longer to cook in the Instant Pot than it does on the stove because of the time it takes the pot to get to pressure. But, unlike the stovetop method, once you secure the lid and set the timer you can walk away from it – no babysitting or stirring required. So while it takes a little longer, it's completely hands-off time.
The soup has a bright acidity, thanks to the fresh tomatillos and the squeeze of lime, that balances nicely with the richness of the beef. The recipe makes three generous servings and it's the kind of soup that easily stands on its own as a main course. Plus, because it's a small batch, you don't need to worry about finding the frozen leftovers in the back of your freezer next year and that, as Martha Stewart would say, is a good thing.
Happy soup-making!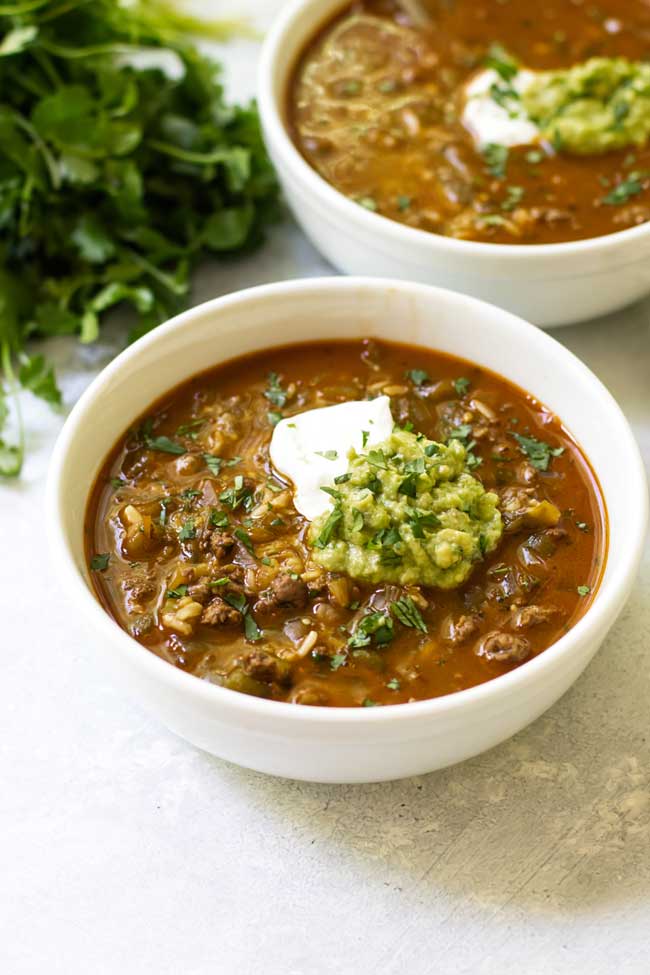 More Soup Recipes
Print
Salsa Verde Taco Soup
Salsa verde taco soup made with fresh tomatillos, green chile, brown rice, and ground beef. It's a small-batch recipe for two that leaves you with just enough leftovers for lunch the next day. I've included instructions for both the stovetop and Instant Pot (see notes). And, just like tacos, the soup is garnished with a quick and easy guacamole and a dollop of sour cream because I believe every soup needs a great garnish.
Author: April @ Girl Gone Gourmet
Prep Time:

15 minutes

Cook Time:

45 minutes

Total Time:

1 hour

Yield:

3

servings

1

x
Category:

Soup

Method:

Simmer

Cuisine:

American
For the Soup
2 teaspoons

olive oil

8 ounces

ground beef

1 teaspoon

kosher salt

2 teaspoons

chili powder

1 teaspoon

ground cumin

1/2 cup

chopped red onion

2

large cloves of garlic, chopped

12 ounces

tomatillos, cut into

1/2

" pieces

2 ounces

canned diced green chile

3 1/4 cups

vegetable stock

1/2 cup

long grain brown rice

1/2 tablespoon

chopped cilantro, divided
Juice of

1/2

lime
For the Garnishes
1

small avocado, peeled and pitted
Juice of

1/2

a lime

1/2 tablespoon

chopped cilantro

1

pinch kosher salt

3 tablespoons

sour cream
Instructions
In a 3-quart saucepan, heat the olive oil over medium heat. Add the ground beef and cook it until it's no longer pink about 3 to 4 minutes. Depending on how lean your beef is you may want to drain off excess fat at this point.
Add the salt, chili powder, cumin, onion, and garlic. Stir and cook the beef with the vegetables for 1 to 2 minutes.
Add the tomatillos, green chile, and vegetable stock. Bring the soup to a boil and add the rice. Reduce the heat to maintain a strong simmer and cook the soup for 45 to 50 minutes, stirring occasionally, until the rice is tender.
While the soup simmers prepare the garnish. In a small bowl, mash the avocado with a fork until it's broken down. Add the lime juice, cilantro, and salt and stir to combine.
When the rice is tender, add 1/2 tablespoon of chopped cilantro and juice of 1/2 a lime and stir. Garnish each serving with a dollop of sour cream and guacamole.
Notes
3-quart Instant Pot Instructions:
Saute the ground beef with the olive oil in the Instant Pot, breaking it apart as it cooks, until it's no longer pink. Add the seasonings, onion, garlic, tomatillos, and green chile. Stir to combine.
Add 2 1/2 cups of vegetable stock and the rice. Turn off the saute function and turn on the high-pressure function. Set the timer for 30 minutes, secure the lid, and close the steam valve. It will take the Instant Pot approximately 10-12 minutes to get to pressure, followed by the cook time of 30 minutes.
Once the timer goes off, cover the steam valve with a towel and open the valve for a quick release. Once the steam has released open the Instant Pot, add the lime juice and cilantro.
Nutrition Notes: The estimates are for the stovetop method, which calls for a different amount of stock than the Instant Pot instructions. Also, I used grass-fed beef and store-bought organic vegetable broth. Depending on the products you use the nutrition estimates may vary.
Nutrition
Serving Size:

1/3 of recipe

Calories:

815

Sugar:

12g

Sodium:

1702.8,g

Fat:

47.1g

Saturated Fat:

16.1g

Unsaturated Fat:

24.2g

Trans Fat:

1.8g

Carbohydrates:

49.4g

Fiber:

10.9g

Protein:

50.9g

Cholesterol:

147.6mg
Keywords: taco soup recipe, ground beef soup recipe, salsa verde soup