Butternut squash soup is a classic fall soup, but dealing with a whole squash is cumbersome and difficult so I use pre-cut butternut squash instead which makes this an easy soup to make. The squash is roasted first to bring out its sweetness and is combined with other veggies and creamy cannellini beans which gives the butternut squash soup a wonderful velvety texture.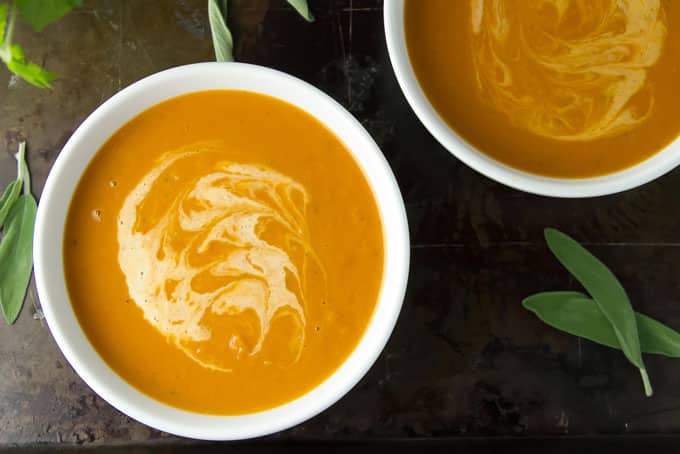 I keep a long list of "must-makes" that I review often and, most of the time, I make what's on that list. It's the one area of my life that is sort of organized – I may forget birthdays, doctor's appointments, and bill due dates, but I can tell you what I'll be making through the rest of November and approximately what day I'll share it with all you good people who've taken the time to visit this little blog.
It's all about priorities.
While most ideas on the list get tested and have the chance to become a real-life recipe in a reasonable amount of time, there are some that have spent years on the list – for whatever reason they just keep getting pushed backed and re-shuffled into the mix.
But today we have a winner that's been long overdue – hello, butternut squash soup! It's been on my list for six long years and I've finally – finally! – managed to get it done.
So why the delay?
Laziness, for sure. Every year, when October and November roll around, I get excited about making it, but, in years past, one look at that awkwardly shaped squash had me skipping right over it. I just didn't want to deal with cutting, seeding, dicing, and roasting a butternut squash. Too hard, too hard! So every year it'd fall right back to the bottom of the list.
This year is different thanks to the pre-cut butternut squash I found at the store. Pre-cut! No unwieldy butternut squash to handle! No risk of knife injury! No hard work!
Seriously, the pre-cut stuff is a life-saver and makes putting this soup together a breeze. Don't wait six years to make this – go now and buy some of that pre-cut stuff! Trust me, you'll be glad you did.
Tips for Making Butternut Squash Soup
As I mentioned, pre-cut butternut squash makes this soup so much easier to make. Look for it in the produce section near the other pre-cut vegetables.
Roasting the butternut squash first brings out all of its natural sweetness and caramelizes it a bit. You could do this step a day ahead if you want to spread things out. Just keep the roasted butternut squash in the refrigerator until you're ready to make the soup.
Once the squash is roasted it's as easy as sauteing it with onions, carrots and garlic. To it, add canned diced tomatoes and vegetable stock.
I like to add white beans (aka cannellini beans) because they give the soup body and thicken it up. Once you've added them just simmer the soup for 15 to 20 minutes.
Puree the soup – I use my immersion blender, which makes it really easy to do right in the soup pot. Or, cool the soup, blend it in a regular blender and then rewarm it.
Right at the end, just before serving, I like to add some apple cider vinegar. It adds a nice acidic brightness.
A little cream is added, too – stir it in before serving or get fancy like I did and swirl it into the bowls of soup before serving.
This butternut squash soup is the quintessential fall soup! Enjoy it with a salad or bread (or both!) on the side.
Happy soup-making!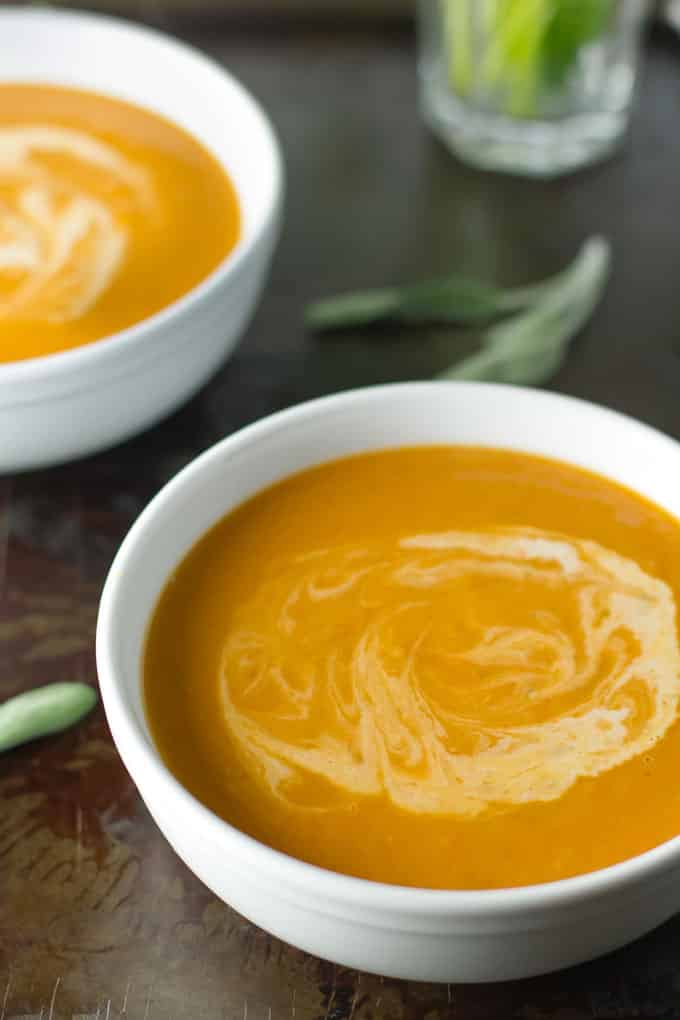 More Cozy Fall Soup Recipes
Looking for more soup recipes? Here are a few more favorites to try!
Vegetable Beef Soup | This hearty soup doesn't take all day if you use quick-cooking beef. It's loaded with tender sirloin and vegetables!
Chickpea Soup with Parmesan Crostini | This another favorite soup recipe with beans, in this case, chickpeas. It's a filling soup that's spiced with cumin and paprika and garnished with homemade crostini.
Small-Batch Chicken Broccoli Soup | Sometimes it's nice to make a small-batch soup if you're not in the mood for tons of leftovers.
Print
Creamy Butternut Squash and White Bean Soup
Butternut squash soup is a wonderful dish for fall, but dealing with the awkwardly shaped squash can be a little intimidating. Look for pre-cut squash in the produce section of your grocery store to save time! Roasting the pre-cut squash brings out a caramelized sweetness that pairs wonderfully with the other ingredients and the white beans add a creamy texture.
Author: April @ Girl Gone Gourmet
Prep Time:

30 minutes

Cook Time:

20 minutes

Total Time:

50 minutes

Yield:

4

servings

1

x
Category:

Dinner

Method:

Saute

Cuisine:

American
16 ounces

cubed butternut squash

1

yellow onion, peeled and quartered

2 tablespoon

olive oil, divided

2

small carrots, diced

2

cloves of garlic, chopped

1

(14.5-ounce) can diced tomatoes, plus juices

1

(32-ounce) box vegetable stock

1

(15.5-ounce) can cannellini beans, drained

1/2 tablespoon

fresh sage, chopped
Thyme leaves from 3 sprigs

1/2 teaspoon

kosher salt

1/4 teaspoon

black pepper

1/2 tablespoon

apple cider vinegar

2 tablespoons

heavy cream
Instructions
Preheat oven to 425°F.
Toss the butternut squash cubes and onion pieces with 1 tablespoon of olive olive. Spread them out evenly on a baking sheet. Roast the vegetables for 20-30 minutes at 425 degrees or until fork tender.
About 5 minutes before butternut squash and onion are done, heat the other tablespoon of olive oil over medium heat in a stock pot. Add the diced carrot and let it cooking, stirring occasionally, until the it starts to soften, about 5 minutes or so. Add the garlic, roasted butternut squash, roasted onion, diced tomatoes (plus the juice from the can), and vegetable stock. Give it all a good stir and then add the cannellini beans, sage, and thyme leaves. Bring the soup to a simmer and let it all cook together for 15-20 minutes.
Once the soup has simmered, remove it from the heat and puree it using either an immersion blender or stand blender (be sure to let the soup cool before using a stand blender and then reheat for serving). Stir in the apple cider vinegar – don't skip this! The vinegar adds a nice acidic brightness to the soup – and then add the heavy cream.
Makes approximately 6 one cup servings.
Notes
You can roast the butternut squash up to a day in advance and keep it in the refridgerator until you're ready to make the soup.
If you want to freeze the soup, I recommend not adding the cream until you're ready to serve it.
Nutrition
Serving Size:

1/4 of recipe

Calories:

346

Sugar:

11.3g

Sodium:

1050.6mg

Fat:

10.5g

Saturated Fat:

2g

Unsaturated Fat:

6.4g

Trans Fat:

0g

Carbohydrates:

54.4g

Fiber:

14g

Protein:

12.9g

Cholesterol:

4.2mg
Keywords: butternut squash soup, white bean soup recipe,