Chocolate Lava Cake made easy in the slow cooker! This easy cake has a rich chocolate flavor with a jiggly molten chocolate center. It's an easy slow cooker dessert that's so good served warm with a scoop of vanilla ice cream.
I'm a fan of chocolate desserts, especially those that are cake-like with oozing centers and served warm with a generous scoop of ice cream. Like my mocha pudding cake, this slow cooker chocolate lava cake is just that – a warm, chocolaty, decadent treat I'll never get tired of.
And, yes, it's a slow cooker cake recipe! It's easy, low-fuss, and you don't have to turn on the oven. Just assemble it and leave it to do its thing in the crock pot while you do your things which, for me, includes drumming my fingers impatiently on the counter while waiting for the lava cake to be ready.
A Few Recipe Notes
It's made from scratch with no chocolate cake mix or pudding mix required. Just some basic pantry staples – that's all you need!
This lava cake is not overly sweet – it's made with bittersweet chocolate, unsweetened cocoa powder, and just enough sugar to balance it out. Because of this, I highly recommend serving it with a scoop of vanilla ice cream or sweetened whipped cream.
Regular oven-baked lava cakes are all about timing – leave them in the oven too long, and you risk losing that melty lava center. This slow cooker version is a little more forgiving, making it an excellent dessert for entertaining. You can get it going before dinner, and once you're ready for dessert, it's ready, too. Just scoop and serve.
It's easy, really easy. It's like a pudding cake with a cake batter on the bottom and chopped chocolate topping on top. Add hot milk and then leave it to cook – that topping with the milk turns into a jiggly center that oozes with every bite.
If your chocolate cravings are the type that holds you in a mental headlock until you find a cure, consider this slow cooker chocolate cake your prescription for relief. It's not to be missed.
Ingredients
All-purpose flour
Brown sugar
Unsweetened cocoa powder
Baking powder
Kosher salt
Large eggs
Vegetable oil
2% milk
Pure vanilla extract
Unsweetened cocoa powder
Chopped dark chocolate
Note about chocolate: As mentioned, this cake is not very sweet, and the dark chocolate gives it an intense chocolate flavor. If you aren't a fan of bittersweet chocolate, I recommend using semi-sweet chocolate chips or milk chocolate chips instead of chopped dark chocolate.
How to Make It
Combine flour, sugar, cocoa powder, baking powder, salt, eggs, and oil in a large bowl. Pour the batter into the slow cooker.
In a small bowl, whisk more flour, sugar, and cocoa powder with chopped chocolate. Sprinkle the mixture over the top of the batter.
Warm the milk in a saucepan over medium heat. Once it's simmering hot pour it over the topping and batter.
Cover the slow cooker and cook the cake on low for about an hour and half. The cake is done when the edges are set but the middle is still jiggly.
How to Serve It
Have I mentioned this cake is not overly sweet? If you missed that part, I'll mention it again: it's definitely a good idea to serve it with a few sweet extras.
I like to top a scoop of the cake with vanilla ice cream – the heat from the cake melts the ice cream creating a delicious sauce. Homemade sweetened whipped cream would also be good.
Or drizzle warm chocolate sauce or caramel sauce over the top for a decadent garnish.
You can also dust each serving with some powdered sugar. Sprinkle some fresh berries like raspberries or sliced strawberries over the top.
Enjoy this slow cooker chocolate lava cake recipe – it'll cure the chocolate craving that ails ya. I can promise you that.
Happy slow cooking,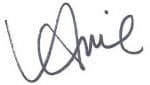 💌 Sign up for the Girl Gone Gourmet Newsletter and get recipes delivered straight to your inbox!
More Dessert Recipes
📣 Do you love this recipe? I would love to know! Leave a comment below the recipe along with your recipe star rating.
Print
The nutrition is an estimate only. It was calculated using Nutrifox, an online nutrition calculator.