Pasta with peas and pesto is a light summer pasta recipe with a homemade pesto sauce, crunchy pine nuts, and green peas. It's simple and easy the way summer should be.
My favorite things to make during the summer are dishes you can serve warm, at room temperature, or chilled, mainly because they're usually easy but also because they lessen the stress of getting dinner on the table at an exact specific time.
Like this simple pasta with peas: once you assemble it, it's not going to go weird on you if you let it sit around for a bit – it's as delicious at room temperature as it is warm, and any leftovers chilled in the fridge will be just as good, too. It's like my spinach steak pasta in that way – an easy, low-maintenance, summertime meal.
I guess it's a pasta salad, but I don't think of it exclusively as a side dish, although it's that, too. It's a great base recipe to enjoy just as a light meal, or you can add things to it like shrimp, chicken, or steak. The pesto sauce goes with all the things.
So, once you've made it feel free to indulge in all the summertime distractions before you sit down and actually eat – soak in the last few minutes on the patio sipping a cold drink, go a few more rounds of fetch with the dog, or give those flowers a quick hit with the hose. This pesto pasta with peas will wait for you and be as delicious as when you first made it.
💌 Sign up for the Girl Gone Gourmet Newsletter and get recipes delivered straight to your inbox!
Ingredients
Pine nuts – If you have a couple extra minutes, toast the pine nuts. I brings out their natural oils and enhances the flavor. I toast mine in a dry skillet on the stove – it doesn't take long, just warm them up, shake the pan a few times, and once they're fragrant they're done.
Garlic cloves – No chopping required here since you'll blend them in the food processor.
Fresh lemon juice
Fresh basil leaves
Shredded Parmesan cheese
Olive oil
Rotini pasta – Or any short pasta like penne, orecchiette, cavatappi, or farfalle.
Frozen peas
Ground black pepper
Optional: If you like some heat, add a few pinches of red pepper flakes when you make the pesto.
How to Make Pasta with Peas
Pesto: Blend most of the pine nuts (reserve some for garnish) with the garlic, lemon, basil, and cheese until it's finely chopped. Slowly add the olive oil while the processor is running and blend until smooth.
Pasta and Peas: Boil the pasta until it's al dente in a large pot following the package instructions. In the last minute of cooking time add the frozen peas to the boiling water. Cook them with the pasta for a minute or so and then scoop up some of the pasta water and set it aside before you drain the pasta and peas.
Sauce: Place the pesto and hot pasta water in a large bowl and whisk to combine. Add the pasta and peas and toss to coat them in the sauce. If it's not saucy enough for you, add a little more pasta cooking water to thin the pesto sauce.
Garnish: Top the pasta dish with the rest of the pine nuts, black pepper, and some chopped basil.
Recipe Tips
Pine nuts are so good but pricey so feel free to use the same amount of almonds or walnuts in this recipe.
If you want to add a protein, I think some diced grilled chicken or shredded chicken would be great. Or toss in some grilled shrimp or toss it with some sliced grilled steak. Crispy crumbled bacon would have a home in this dish, too.
If you want it even speedier, use a good-quality store bought pesto sauce – one from the refrigerated section not a shelf stable one. It will cut 10 minutes off the prep time making this an easy 15ish minutes recipe.
This pasta with peas will keep well in the refrigerator for several days. I can eat it cold straight from the container but it's also good warmed up. If you notice it's a little dry, toss it with some more pesto or a little olive oil to loosen it up.
I hope you enjoy this easy summer recipe!
Happy cooking,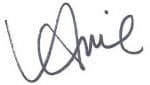 More Easy Recipes
📣 Do you love this recipe? I would love to know! Leave a comment below the recipe, along with your recipe star rating.
Print
The nutrition is an estimate only. It was calculated using Nutrifox, an online nutrition calculator.