This fast and fresh steak taco salad for two has tender pan-seared sirloin, creamy diced avocado, black beans, pepper jack cheese and a super simple 3-ingredient salsa verde dressing.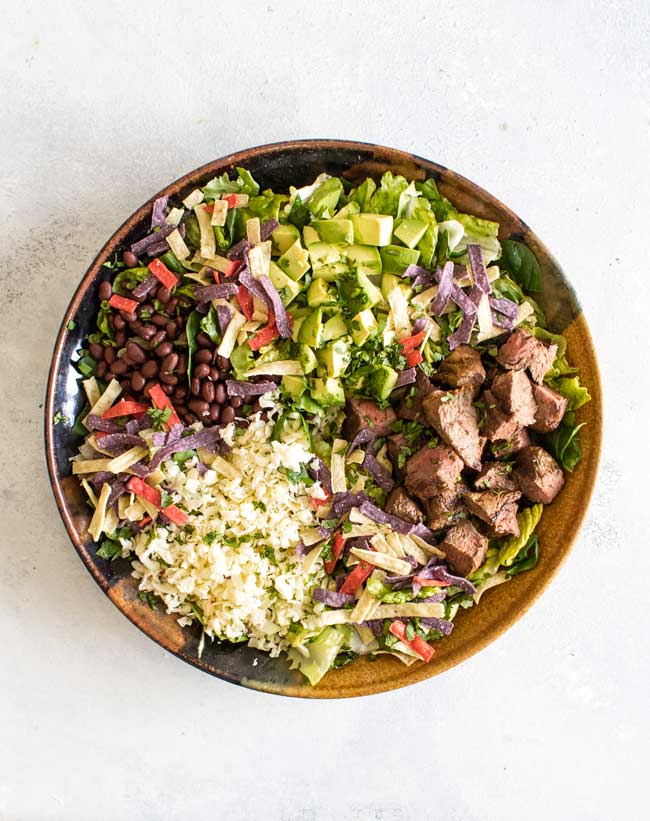 Steak Taco Salad
For the past month or so I've been making taco salads on repeat although most of them are dialed-down versions of the one I'm sharing today. This scaled-up salad is what I consider a fancier version of the "everyday taco salad". "Everyday" being a salad made with ground beef seasoned with taco spices from a packet, tossed with pre-shredded cheddar cheese and tossed with greens and bottled dressing. If the everyday taco salad is like a pair of sensible weekday shoes this steak version is like those kicky boots that might kill your feet, but are so worth it for a Saturday night out.
Although, unlike those spiky-heeled boots, this steak taco salad won't cause you any pain and is easy to make – it just takes a bit longer than my old stand-by tossed-together weekday version with a few extra accouterments that make it feel a little more grown-up and flashy.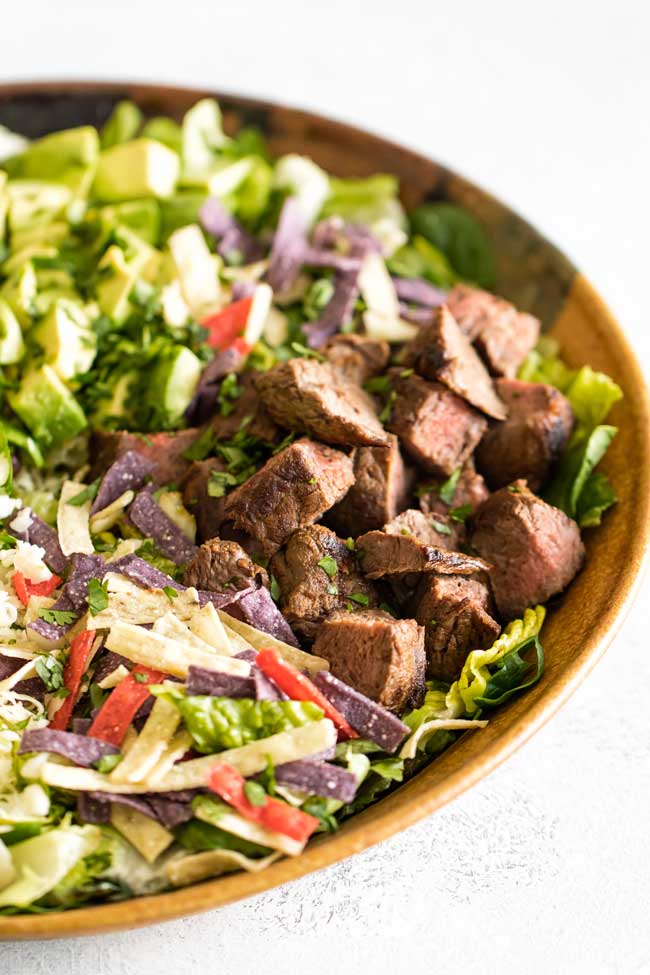 Some Ingredients You'll Need
The biggest upgrade between the everyday taco salad and this fancier one is sirloin. Instead of crumbled ground beef, I marinate an 8-ounce sirloin steak in some olive oil, chili seasoning, and lime juice and pan sear it until it's still a little pink inside. Let it rest and then cut it into bite-sized pieces.
The rest of the salad is an assemble and toss situation albeit with a little more care and thought then my weekday taco salad gets. I like a mix of crispy romaine with tender spinach as the base of the salad. From there add some diced avocado, shredded pepper jack cheese, and some black beans.
During the week, when I cobble together the more basic salad, I might just top it with some broken tortilla chips from the bottom of the chip bag. But for this upgraded version I like to sprinkle some little tri-colored tortilla strips and (not paid to say this, btw) I love the Fresh Gourmet brand, which I think is sold at most grocery stores. They just feel a little fancier and they add the perfect amount of crunch.
The dressing is only slightly more difficult than opening a bottle – just mix together some sour cream, store-bought salsa verde, and lime juice and, voila, the dressing is made.
This recipe makes two very generous servings. Drizzle the dressing over the top, serve it with some cold margaritas and a bowl of chips and guac on the side and dig in.
🥗 Happy salad-making!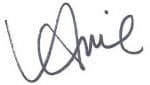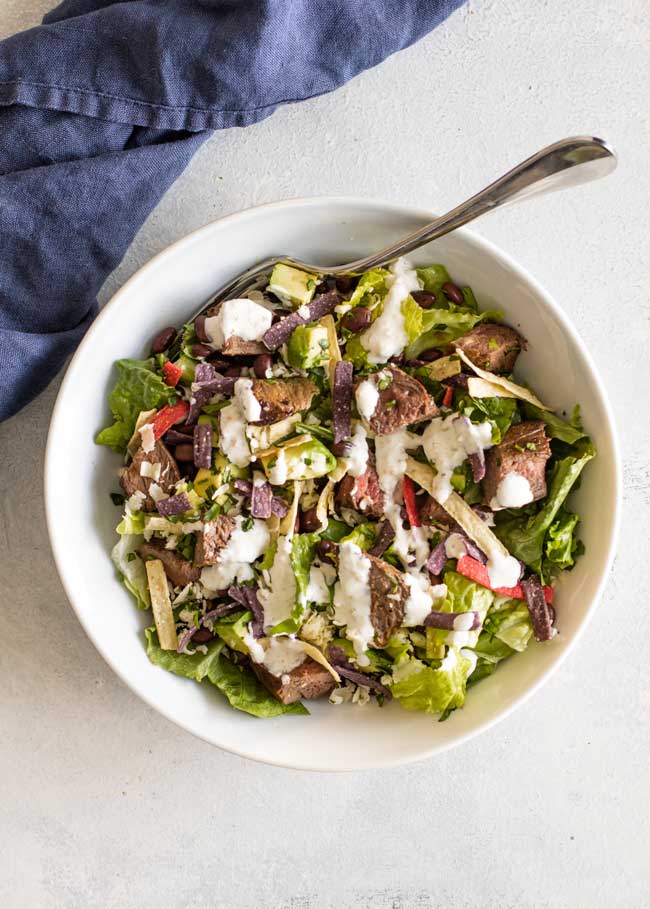 More Fast and Fresh Recipe Ideas
📣 Do you love this recipe? I would love to know! Leave a comment below the recipe along with your recipe star rating.
Print
Steak Taco Salad
---
Description
This fast and fresh steak taco salad for two has tender pan-seared sirloin, creamy diced avocado, black beans, pepper jack cheese and a super simple 3-ingredient salsa verde dressing.
---
For the Steak Marinade (see note)
4 tsp

olive oil, divided

1 tsp

chili or taco seasoning (see note)
Juice of

1

lime

1

(8-oz) sirloin steak, seasoned with salt on both sides
For the Dressing
1/4 cup

sour cream

3 tablespoons

store-bought salsa verde (see note)
lime juice
For the Salad
2 cups

chopped romaine lettuce

2 cups

chopped baby spinach

1/2 cup

grated pepper jack cheese

1

small avocado, diced

1 cup

canned black beans, drained and rinsed

1/2 cup

small tortilla strips (see note)

1 tbsp

chopped fresh cilantro
---
Instructions
Marinate the steak: In a resealable bag, combine 2 teaspoons of olive oil, seasoning, and lime juice. I find it's easiest to seal the bag and sort of mush it around until the ingredients have combined. Open it back up, place the steak inside, reseal it and smush it around again until the steak is evenly coated. You can keep the steak out on the counter to marinate while you prepare the dressing.
Make the dressing: In a small bowl, combine the sour cream and salsa. Depending on the thickness of your salsa, add enough lime juice to thin the dressing so it's pourable. Place the dressing in the fridge.
Cook the steak: Heat 2 teaspoons of olive oil in a skillet over medium-high heat. Remove the steak from the bag and pat it dry with a paper towel. Place the steak in the hot pan and sear it on one side for four to five minutes. Turn the steak over and cook it until it develops a nice sear, about two to three minutes. 
Turn the heat off and cover the pan with a lid. Leave the steak in the pan for two to three minutes. Transfer the steak to a clean plate and let it rest while you assemble the salad.
Assemble the salad: Place the greens in a large bowl and top with the cheese, avocado, black beans, tortilla strips, and fresh cilantro. Cut the steak into bite-sized pieces and place it on top of the salad. Drizzle the dressing over the top (or keep it on the side) and serve.
Notes
When I make marinades I make just enough to coat the piece of meat so you'll notice you won't have a lot of excess of the marinade, which means you don't have to throw any out. I find it's easier to marinate the meat in a bag, but you could use a dish. Just be sure to get the meat totally coated.
For the seasoning be sure to use a seasoning mix – not just plain old chili powder. You want to use something that has a mix of chili seasonings.
I love salsa verde which is a green-colored salsa made with tomatillos and jalapenos, but you could substitute a tomato-based salsa if you prefer. Either way, I recommend choosing a salsa that's not super chunky – I find a smoother sauce works better for the dressing.
For the tortilla strips like to use the small ones that are for salads. I use a brand called Fresh Gourmet that is sold at most grocery stores. 
Category:

Salads

Method:

Stovetop

Cuisine:

American
Nutrition
Serving Size:

1/2 of recipe

Calories:

663

Sugar:

3.7g

Fat:

28.3g

Carbohydrates:

41.5g

Fiber:

13.9g

Protein:

44g
Keywords: taco salad, taco salad dressing, steak salad
The nutrition information in this recipe is an estimate only and was calculated using Nutrifox, an online nutrition calculator.