Strawberry Salad Dressing for all the summer salad greens. The sweet and slightly tangy flavor is offset by tahini, adding flavor and making it velvety and creamy. Poppy seeds add texture and color for a pretty pink salad dressing full of fresh flavors.
A while back, I shared a poppy seed dressing, and today we've got its fruity distant cousin: strawberry dressing. Poppy seeds and deliciousness are what they have in common, but that's about it. This strawberry version is sweeter, less tangy, and earthy, thanks to tahini added to the mix.
It's a nice change from the go-to dressings stocked in your fridge. It's homemade, it's oh-so-pretty, and the flavor pairs wonderfully with fresh greens.
I see a strawberry spinach salad in your future, don't you? Or, pair this strawberry salad dressing with arugula – the sweetness pairs well with the peppery greens.
Ingredients
Fresh strawberries
Maple syrup
Rice wine vinegar
Tahini
Olive oil
Poppy seeds
Kosher salt and black pepper
Optional add-ins: Feel free to add some fresh herbs like basil or mint, a clove of garlic, red Thai chili pepper, or a pinch of cayenne pepper for heat.
How to Make It
Place all of the ingredients, except for the poppy seeds, in a blender or food processor. Blend until the mixture is smooth.
Add the poppy seeds and pulse a few times just until they're mixed in.
Serve the dressing or store it in an airtight container in the refrigerator for later.
Storage Tips
If you store your strawberry dressing in an airtight container (a mason jar works great), it will keep in the refrigerator for up to a week. Every time you open the door, it will call to you, and you might just find yourself eating more salads than normal.
Give it a good shake before serving it because it may separate a bit while it sits.
Variations
Lots of options with this one, folks. So, mix and match ingredients to put a spin on this creamy dressing.
Berries: Strawberries are great, but raspberries, blueberries, or blackberries would work, too.
Sweetener: Swap the maple syrup for honey or agave syrup.
Vinegar: I think apple cider vinegar would work well in this dressing, so try it in place of the rice wine vinegar. Or try the same amount of fresh lemon juice to give it a citrus twist.
I hope you enjoy this strawberry salad dressing!
Happy blending,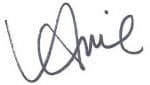 More Homemade Salad Dressings
📣 Do you love this recipe? I would love to know! Leave a comment below the recipe along with your recipe star rating.
Print
The nutrition is an estimate only. It was calculated using Nutrifox, an online nutrition calculator.