Lemon Ricotta Pasta is ready in 20 minutes and bursting with fresh flavors from lemon juice, fresh herbs, and a kick of heat from red pepper flakes. This is the best summer pasta recipe – creamy but light and so easy to make.
Today's recipe started as a mindless Facebook scroll during which I happened to notice a recipe from the New York Times for ricotta pasta with lemon. I clicked through, was wowed by it's simplicity, and proceeded to make it. The verdict? It's the best kind of summer dinner – quick, easy, and loaded with fresh flavors.
I, of course, tweaked it a bit and ended up with what we have here: a 20-minute pasta recipe that's creamy and satisfying but somehow light all at the same time. While the pasta cooks, you can mix up the ingredients for the sauce and then mix it with the hot pasta in the same pot you boiled it in. So, that's just a long-winded way of saying this is a one-pot recipe (!).
The lemon ricotta sauce is a combination of two kinds of cheese, lemon juice, spices, and parsley. The heat from the pasta melts it all into a creamy, cheesy sauce. It's so simple.
It's a great recipe to play around with – you can switch out the Parm for another kind of hard Italian cheese, switch up the herbs, or add in more pantry seasonings. Or, add some cooked chicken to make it even more filling.
The ricotta has such a mild flavor it really goes with anything, so have fun with this one. You can make this pasta dish again and again and never have it the same way twice.
Ingredients
Pasta – long pasta shapes like spaghetti, linguine, or fettuccine are great but short pasta shapes like penne, bow ties, fusilli, orecchiette, or cavatappi work well, too.
Ricotta cheese – now's not the time for low-fat cheese. Use whole-milk ricotta for the best creamy sauce.
Shredded Parmesan cheese – this recipe will work best with freshly shredded Parmesan cheese.
Lemon juice – the inspiration recipe also includes lemon zest, which adds a more punchy flavor.
Chopped parsley or fresh basil
Kosher salt and ground black pepper
Red pepper flakes – this is optional, but adds a nice kick of heat.
How to Make It
Boil the pasta in a large pot following the package instructions. While the pasta cooks, combine the rest of the ingredients in a small mixing bowl.
Scoop ¼ cup of the pasta water from the pot and set it aside. When the pasta is al dente, drain it and then return it back to the pot. Don't place the pot back on the hot burner, set it on a cool one.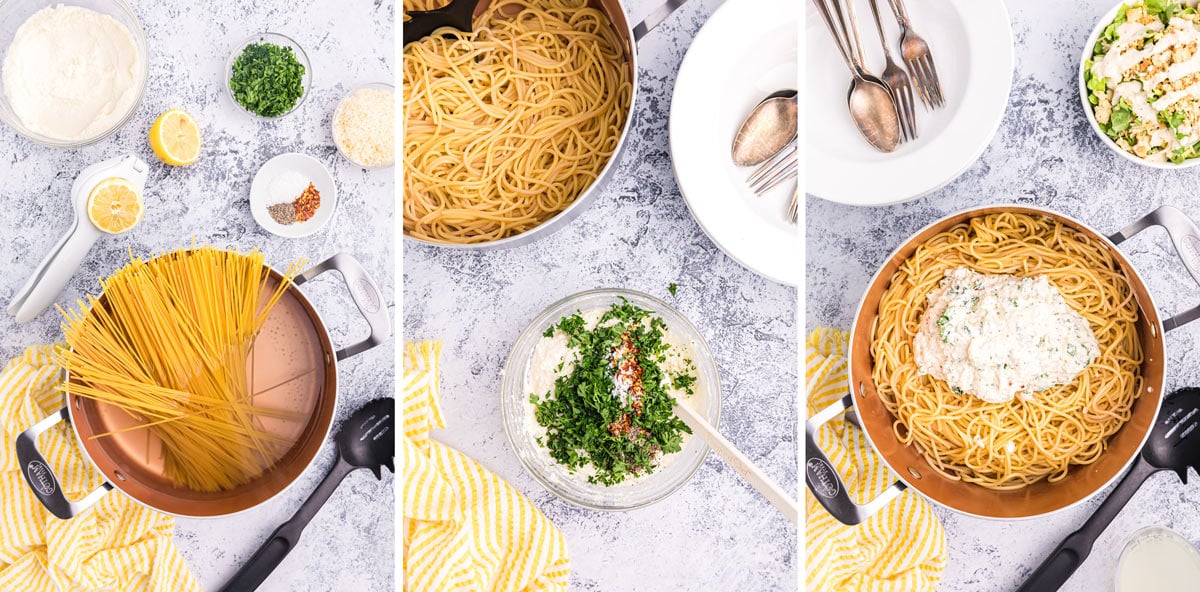 Add the ricotta mixture and then toss and stir the pasta to coat it in the cheese. Add the reserved pasta water and keep tossing/stirring until the spaghetti is evenly coated and the sauce is creamy.
This is the sort of cheesy pasta dish that is best served right away. The sauce will tighten up as it cools. The leftovers are okay, but it's really best when it's made.
Other Add Ins
As mentioned, the ricotta in this dish is like a blank canvas. Starting with it, you can add other flavors to take this recipe in a whole new direction.
Herbs: Parsley and basil work great, but I think fresh chives would be wonderful, too. You could also use dried herbs, but dial the amount back a bit because they are usually more potent.
Cheese: The ricotta is a must, but try using shredded Asiago, Romano, or other hard-style cheese instead of Parmesan.
Veggies: Mix in some halved cherry tomatoes, chopped fresh spinach or arugula. The heat from the pasta will warm them up, but they'll maintain their fresh flavor.
If you're looking for a summery weeknight dinner idea, this lemon ricotta pasta should be on your list. It's so easy and the best kind of recipe when you want something quick and delicious.
Happy easy cooking,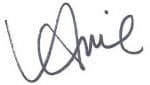 More Quick Pasta Recipes
📣 Do you love this recipe? I would love to know! Leave a comment below the recipe along with your recipe star rating.
Print
Recipe adapted from The New York Times.
The nutrition is an estimate only. It was calculated using Nutrifox, an online nutrition calculator.