Chicken Kabobs with Pesto Rice
Summer means it's time for food-on-a-stick and these chicken kabobs with pesto rice are an easy and light dinner for two.
Chicken Kabobs
It's only been seven days since the official start of summer and I've already succumbed to the gravitational pull of food-on-a-stick – in this case, chicken kabobs – despite the fact that I don't own an outdoor grill. Instead, I have a trusty grill pan that I pulled out of the back of my cabinet, placed over the gas flame on my stovetop, and used to welcome summer with bites of chicken, zucchini, and tomatoes threaded onto wooden skewers. It's not quite the same as firing up a grill outside, but for those of us who lack a "real" grill, a pan is the next best thing because it delivers on the quintessential summer trademark: char marks. Plus, indoor "grilling" means you don't have to worry about rain, or bugs, or heat, or other people offering their helpful grilling tips as you struggle to move the chicken kabobs away from the dreaded hotspots. It's a low-impact grilling experience.
Some Ingredients You'll Need for the Kabobs
Because it's summer and the livin' is easy I kept the chicken kabobs simple, but they do require a small effort in planning – the chicken needs time to marinate and, because I'm partial to the wooden kind, the skewers need time to soak.
The marinade is a basic lemon, olive oil, garlic, and Italian seasoning combination and you can marinate the chicken breast in it for up to 8 hours. I like to place all of the ingredients in a resealable bag and sort of smoosh it all around to coat the chicken.
About an hour before I am ready to cook, I soak the wooden skewers in water. This step is critical – especially if you're using a real grill – to ensure the skewers don't burn up. For a grill pan, you might get away with less soaking time, but I always play it safe and give the skewers a good soak. Metal skewers eliminate the need for soaking, so if you have some of those go right ahead and use them. They may speed up the cooking process since the metal absorbs heat, so be aware and keep an eye on things.
Thread the chicken onto skewers with fresh zucchini and cherry tomatoes. I sliced my zucchini into thick slices which were just cooked through at the end. I knew I'd have leftovers and I didn't want them to cook too far and end up soggy and sad the next day. Depending on how far you want to take yours, consider slicing yours into smaller pieces. It all depends on your taste. The cherry tomatoes cook long enough so that they maintain their shape, but their insides warm through so you get little juicy bites of tomato when you dig in.
And while kabobs are sort of a meal in themselves with the veggies as a side and the chicken as the main, I paired mine with some rice to make it a bit more filling and satisfying. And, in the spirit of easy livin', I employed a sneaky shortcut to amp up plain white rice.
How to Make Pesto Rice
I used a basic long grain white rice, although you can substitute brown rice which takes a little longer to cook. I used my 3-quart Instant Pot (following these instructions) to the cook the rice.
Once the rice is cooked, stir in some store-bought pesto. I used a refrigerated pesto that has only the essential ingredients: basil, parmesan, olive oil, garlic, pine nuts, and salt. You can, of course, substitute your own homemade pesto.
For a little zing, I squeezed juice from half a lemon into the rice, saving the rest of it to serve with the kabobs.
To finish the rice, I added some little fresh mozzarella balls (called ciliegine) that I found in the specialty cheese section at the store. If you can't find them, you can cut a regular-sized ball of mozzarella into small chunks.
So, here's to delicious summertime food-on-a-stick dinners. Happy (inside or outside) grilling!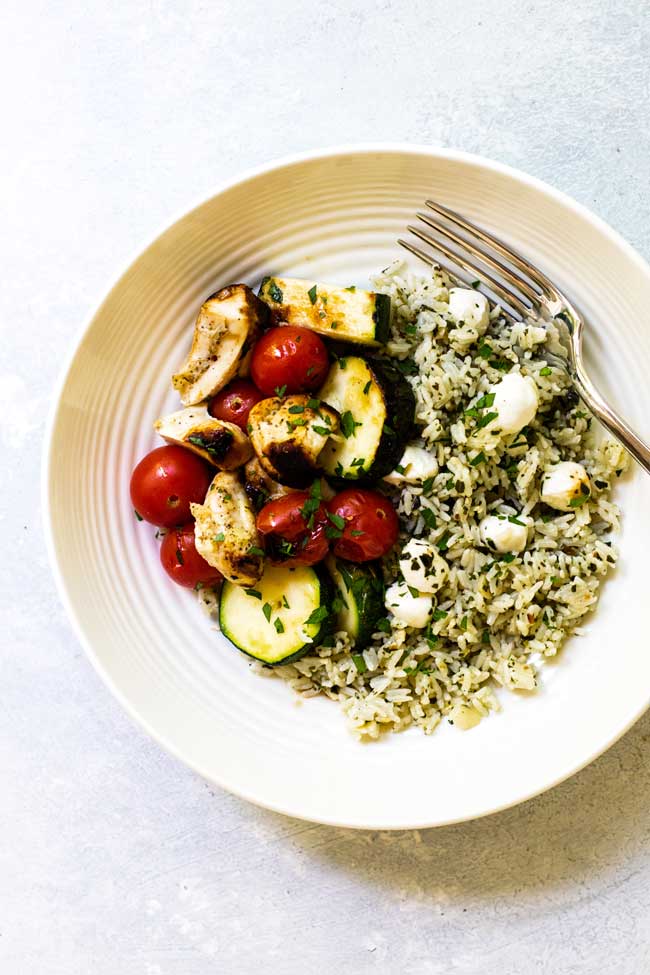 More Summer Recipes
Instant Pot Braised Beef Tacos
13 Quick & Easy Dinner Recipes
Print
Chicken Kabobs with Pesto Rice
Chicken marinated in lemon and garlic threaded on skewers with fresh zucchini and tomato cherries. These chicken kabobs, served with a simple pesto rice, are easy to make and a delicious light dinner for two during the summer. Plan to marinate the chicken up to 8 hours and, if using wooden skewers, soak the skewers an hour in advance.
Author: April @ Girl Gone Gourmet
Prep Time:

15 minutes

Cook Time:

15 minutes

Total Time:

30 minutes

Yield:

2

servings

1

x
Category:

Dinner

Cuisine:

American
For the Kabobs
1 tablespoon

olive oil
Juice of

1

lemon

2

cloves of garlic, peeled and smashed

1/2 teaspoon

dried Italian seasoning

1/4 teaspoon

ground black pepper

1

(10-oz) boneless, skinless chicken breast

2

pinches of kosher salt

1

(14-oz) zucchini, sliced (see note)

10

cherry tomatoes
For the Rice
1/2 cup

long grain white rice

1/2 cup

store-bought pesto
Juice of

1/2

a lemon

2 ounces

fresh mozzarella
Instructions
Marinate the chicken: First, place the olive oil, lemon juice, garlic, Italian seasoning, pepper, and the chicken breast in a resealable bag. Smoosh the chicken around in the marinade to coat it evenly and place it in the refrigerator for a few hours, but no longer than eight hours.
Make the kabobs: Remove the chicken from the marinade and pat it dry with a paper towel. Cut the chicken into bite-sized pieces and season them with salt. Thread the chicken, zucchini, and tomatoes onto the skewers.
Cook the rice: If using the stovetop to cook your rice, bring 1 cup of water to a boil in a small saucepan. Add the rice and cook it for 20 minutes, or until the water is absorbed and the rice is tender. If using an Instant Pot, see the recipe notes for the instructions I used. Once the rice is cooked add the pesto, stir and cover the rice to keep it warm while you cook the kabobs.
Cook the kabobs: Heat a grill pan over high heat. Place the skewers on the grill pan and cook them for five minutes, turning them once. Adjust the heat to medium and place a large piece of tin foil loosely over the skewers. Cook them, turning them occasionally, until the chicken is cooked through, about five to eight minutes.
To serve: First, add juice from half a lemon to the rice and stir. Add the mozzarella and transfer the rice to the plates. Serve with the kabobs and lemon wedges on the side.
Notes
I sliced my zucchini into large pieces that, when cooked, were just warmed through. If you like your zucchini cooked more, cut yours into smaller pieces.
I have a small 3-quart Instant pot, which is the perfect size to make rice for two. The ratio of water to rice is different than what you use on the stovetop so be sure to check out this article, How to Make Rice in an Instant Pot.
Nutrition
Calories:

684

Sugar:

11g

Sodium:

793.8mg

Fat:

41.6g

Carbohydrates:

29.8g

Fiber:

4.2g

Protein:

48.3g
Keywords: chicken kabobs, pesto rice