This easy black bean soup is made with mostly pantry ingredients and is ready to go in less than an hour! It's a small-batch soup recipe that can easily be doubled if you want more. It's hearty and cozy – the best black bean soup when you need a warm up.
I'm never without a can or two of black beans in the pantry because in a pinch there are a plethora of dishes easy dishes you can make with them.
One is this easy black bean soup. It's a small-batch soup recipe made with mostly pantry ingredients that's ready in less than an hour – I never get tired of it.
It's a great recipe if you're craving a hearty soup but don't want a bunch of leftovers. It makes two generous cups, but you can easily double it if you like leftovers or want to serve more people.
It's also versatile and can be adapted a few different ways, so you can switch it up every time you make it. Make it spicy, smoky, not-so-spicy, or change up the garnishes – whatever your heart desires. Make it yours, friends, it's the best part about cooking.
💌 Sign up for the Girl Gone Gourmet Newsletter and get recipes delivered straight to your inbox!
Ingredients
Olive oil
Chopped red onion
Minced garlic cloves
Chili seasoning – not chili powder. Look for a chili seasoning blend or use taco seasoning.
Dried oregano
Kosher salt – depending on the kind of broth, chili seasoning, and beans you use you may need to adjust the amount of salt.
Ground black pepper
Chicken broth – or you can use vegetable broth.
Canned black beans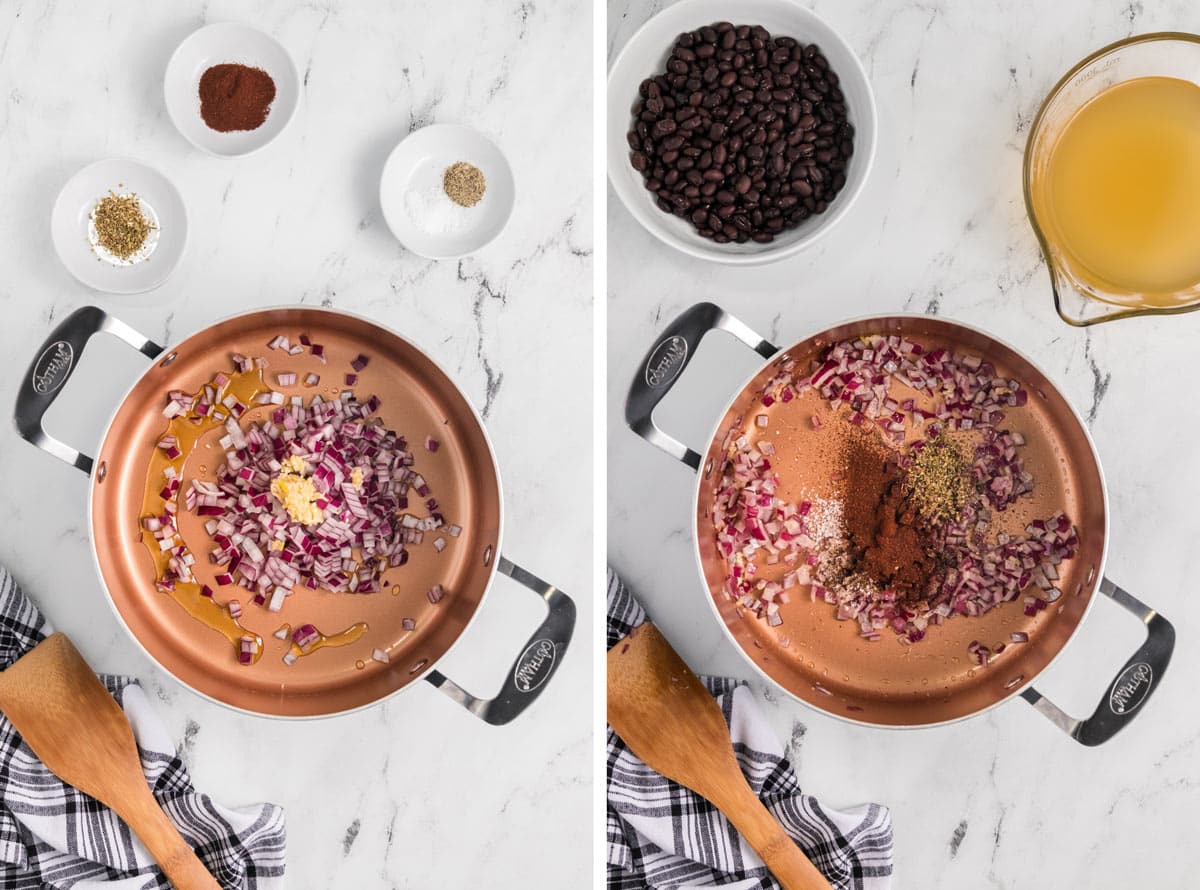 How to Make Black Bean Soup
It starts with some olive oil, red onion and garlic that cook together until the garlic is fragrant.
I like to add the seasonings at this point and cook them just until they're fragrant. I used a chili seasoning which is a mixture of spices like chili powder, onion powder, and garlic powder. I add some salt, pepper, and dried oregano.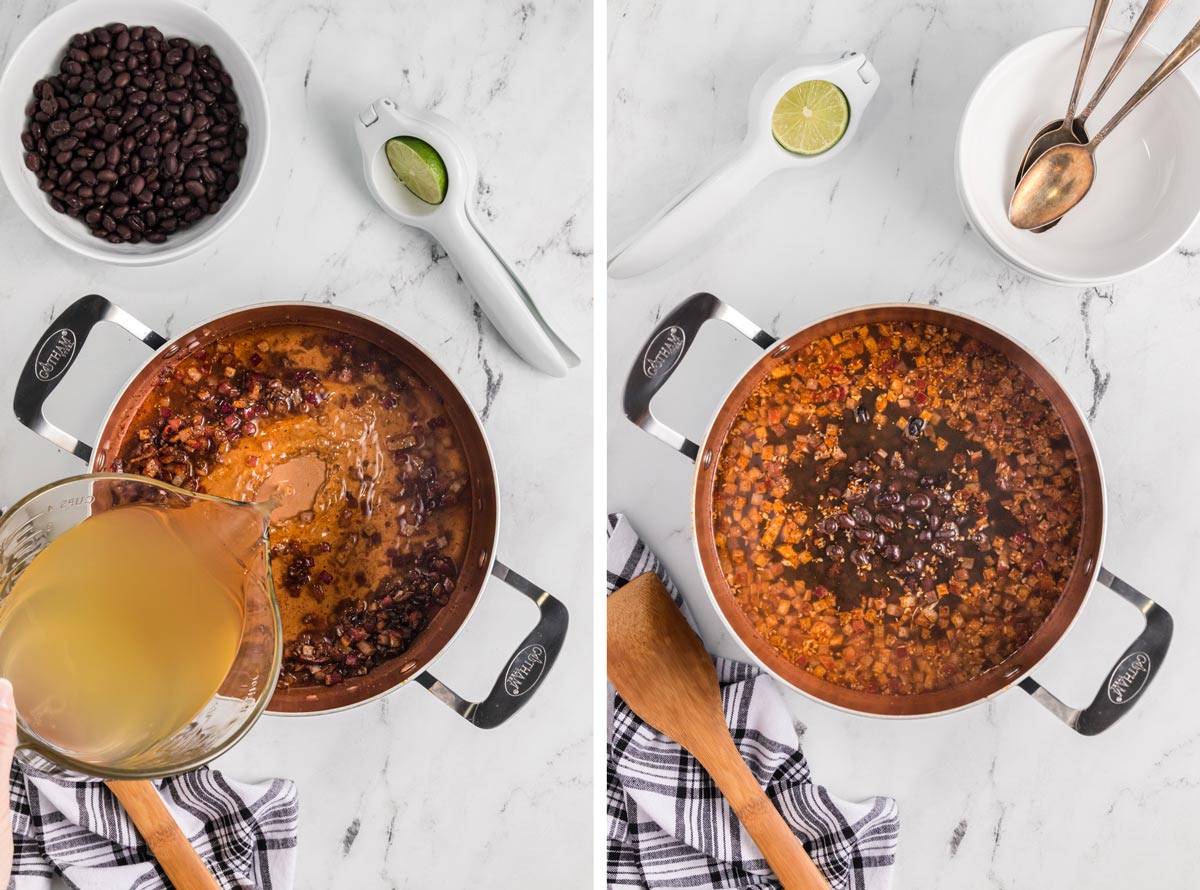 Add some chicken broth and bring it to a simmer.
Drain the black beans and add them to the soup. At this point, the soup will need to simmer for 20 to 30 minutes.
About halfway through the cooking time, I like to mash some of the beans in the soup. When you mash some of the beans, they release their starch which helps thicken the soup. The soup is ready once it's thickened.
This black bean soup recipe serves two and makes about two cups of soup, which may not seem like a lot, but black bean soup is quite filling especially if you add garnishes. You can double it if you want more servings.
If you want to something alongside, I recommend a simple green salad, cornbread, or a few pieces of crusty bread.
Black Bean Soup Garnish
Before serving the soup, I like to add some lime juice. It adds a nice citrus flavor and brightens the flavor of the soup.
Top each bowl with some chopped fresh cilantro, sliced green onions, and crumbled feta cheese.
You can add other garnishes like diced avocado, crushed tortilla chips, or crispy tortilla strips. A spoonful of sour cream would also be good.
Variations
Bacon: If you want to take an extra step, skip the olive oil and cook some bacon before you start the recipe. Set the bacon aside and use the fat to cook the rest of the ingredients. You can stir the bacon into the soup towards the end.
Heat: If you want some spice, add some hot sauce, cayenne pepper, red pepper flakes, or use spicy chili seasoning. For a smoky spicy taste, add a chopped chipotle pepper in adobo sauce. Diced jalapeno added to the onions would be great, too.
It's hearty, cozy, and delicious – I hope you give this easy black bean soup a try soon!
Happy soup-making,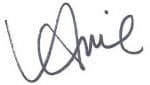 More Soup Recipes for Two
I love making small-batch soup recipes because I'm not a big fan of leftovers and have several others here on the blog for you to check out!
If you want even more small-batch recipes, check out my cookbook, Gourmet Cooking for One (or Two), which is all about cooking for one or two, including a chapter with soup recipes!
Instant Pot Black Bean Soup | I also love making black bean soup in my Instant Pot because I can cook dried black beans in about an hour. All of the ingredients go in the IP and, when it's done, you have a hearty black bean soup.
Pesto Chicken Orzo Soup | This pesto chicken orzo soup is a quick 30-minute small-batch dinner that makes enough for two people with some leftovers. It's packed with tender chicken and fresh zucchini along with some pasta and a pop of pesto.
Bacon Cheddar Cauliflower Soup | Roasted cauliflower and smoky bacon meet in a creamy cheddar cheese soup – this bacon cheddar cauliflower soup is a cozy dinner for two.
📣 Do you love this recipe? I would love to know! Leave a comment below the recipe along with your recipe star rating.
Print
The nutrition is an estimate only. It was calculated using Nutrifox, an online nutrition calculator.
Recipe, photos, and post updated from the archives. First published in September 2015.