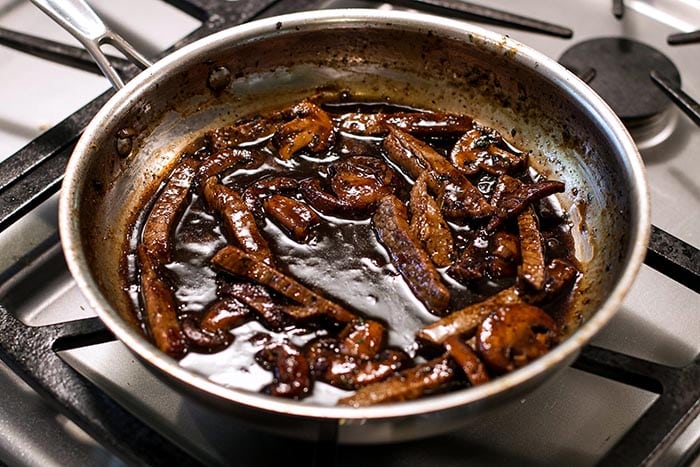 Friends, I almost quit my Better Know a Mother Sauce series this past week. The espagnole sauce about did me in and there was a point that I threw my hands up and said, "I quit! It's too hard!" You see, I made demi-glace (yay!), then I made a weird looking sauce from it that I thought was espagnole (boo!), and then I spent six days trying to figure out what went wrong. I almost gave up, but I didn't, so let's back up and start from the beginning…
When I made veloute sauce I happily skipped over the whole make-your-own-chicken-stock part of the deal and since then have sort of regretted it. While it's certainly okay to use premade stock I embarked on this mother sauce journey to learn stuff – opening a box of stock wasn't that challenging. So when it was time for espagnole sauce I challenged myself to start from scratch and make my own beef stock (traditional brown sauce is made with veal stock, but I went the beef route), which I wanted to turn into a demi-glace. I consulted a trusted source, Chef John of the blog Food Wishes, bought some bones (I found frozen ones at Whole Foods) and blocked an entire Saturday to get it all done. If you want all of the details please check out his demi-glace post because I just want to share just the highlights of my 20 hour experience (it takes a long time to make demi-glace).
Here goes…
Yay! Demi-glace done.
The next morning, bleary-eyed and a bit out of it, I made what I thought was espagnole sauce using some of the demi-glace (aka meat jello). I cooked some onions, carrots, and celery in some butter and then added in flour to make a roux. Then I got confused…
Was I supposed to reconstitute the demi-glace with water? Toss it in the pan as is? I hadn't thought through this part so I paused to consult the interwebs which just caused more confusion. So I took some demi-glace and poured hot water over it (cue the screaming). Then I added it to the veggies and roux and got this…
…which just didn't look right to me, but I seasoned it up and added some herbs and spooned it over some steak.
At this point my kitchen was covered in beef juice and fat, I was tired after spending 20 hours simmering beef bones, and I was just ready to be done with all and move on with my life. I almost posted the photos, but it just seemed wrong to me – all of the online pictures of brown sauce looked rich and deeply brown. They didn't look like what I made. Where did I go wrong?
It was Sunday, the light was fading, I had to work the next day. I was stuck.
For days I looked for answers, but every recipe I reviewed was different and I could not figure it out. What was I supposed to do with the demi-glaze? Is demi-glaze considered espagnole sauce? What are the next steps? Why am I so confused? Help!
I finally figure it out Friday night. Of course, the answer was right in front of me the whole time…
Chef John explains it in his post, but I was too busy consulting all sorts of other recipes that I missed it/forgot it. A classic espagnole (or old-fashioned one depending on who you ask) is made by first cooking onion, carrots, celery in butter and then adding flour to make a roux. Beef stock and tomato sauce are added, along with some herbs, and then you reduce it until it thickens. You strain it and then use it to make all sorts of small sauces — bordelaise, bourguignon, and chausser are a few examples.
Modern versions, like Chef John's, skip the roux and instead depend on all the connective tissues in the bones to thicken the sauce. You have to simmer and reduce the beef stock for many, many hours to achieve this (the bones should be completely clean at the end) — all of the connective tissue in the bones melt down and act as a natural gelatin to thicken the sauce, so you don't need to add a roux. If you noticed in my pictures, the vegetables were coated in tomato sauce – that also help thicken the sauce. What you get is demi-glaze, which is basically a super concentrated brown sauce. At least, that's the way I understand it.
Luckily, I had leftover demi-glaze that I tossed in the freezer (a side note: you need a really big stock pot to make as much as Chef John does in his video. I cut everything in half, which is why I didn't end up with much. If I ever decided to try this again I will buy a giant pot.) so I set out once again to make a finished sauce. One I could be proud of – although, I didn't write down any measurements so no recipe for this one.
I had some thin steaks on hand that I cooked up quickly in a pan. I took them out and added some butter before tossing in some mushrooms and shallots to brown. Next I deglazed the pan with some balsamic vinegar and a little more butter. Then I quickly sliced the steaks and tossed those back in along with some parsley and thyme. Finally, I added in the thawed demi-glace and some herbs, brought it all to a boil and let it reduce for a few minutes until the sauce thickened and turned all glossy.
There. Now that's looking better.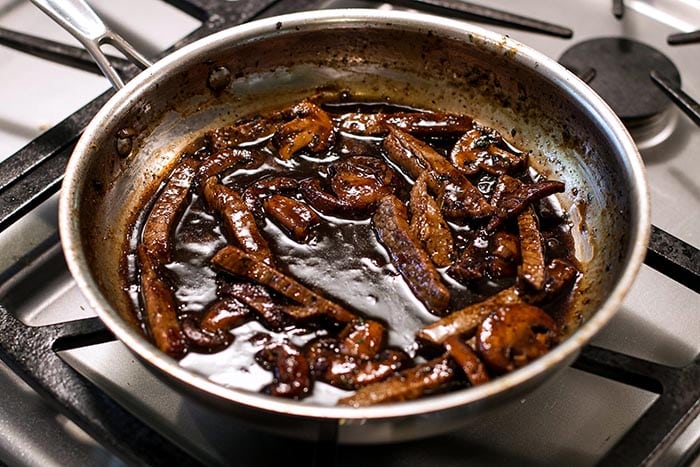 What did I do with it? I made a sandwich. I know, I know – a sauce this beautiful probably deserves to be spooned over a glorious steak and served alongside a creamy dollop of mashed potatoes and some kind a veg, but it was Saturday (a whole week after starting the process), the sun was shining, and there were afternoon beers calling my name. So I made a sandwich.
First, I piled all of the steak and mushrooms on a piece of toasted bread and then I poured the sauce all over the top. It was a pretty darn good steak and mushroom sandwich and it only took a week to make!
Only one more sauce to go – stay tuned for hollandaise comin' at you later this week.