Juicy boneless, skinless chicken breasts with a crispy oven-baked breadcrumb coating. This breaded baked chicken is a weeknight go-to favorite.
There's one thing I always have in my refrigerator: boneless skinless chicken breasts. No matter what I always pick up a few each week at the store even if I don't have a specific plan for how I might use them and, really, isn't that the beauty of them?
They are so versatile, so easy to work with, and, if cooked properly, so delicious. Sure, I love me some wings, and thighs, and chicken breasts with the bone in and skin on, but more often than not I turn to my trusty boneless skinless chicken breasts for weeknight dinner inspiration and my new favorite is this easy breaded baked chicken.
How to Make Baked Breaded Chicken
In this installment of My Love Affair with Boneless Skinless Chicken Breasts we're using a few simple ingredients to turn them into crispy breaded baked chicken. And, spoiler alert, you don't have to dip the chicken in egg or coat it in flour. We're using a special sauce and crunchy breadcrumbs instead.
Ingredients
Dijon mustard
Mayonnaise
Chopped fresh herbs like parsley and thyme
Boneless skinless chicken breasts
Salt and pepper
Garlic powder
Plain bread crumbs
Panko bread crumbs
I like to pound my chicken breasts for two reasons: first, it is the best therapy at the end of the day to take a mallet and beat the insert expletive here out of something and, second, it's important that the chicken breasts are all the same thickness so they cook evenly.
I like using both dried breadcrumbs and panko breadcrumbs because they have different textures. The dried breadcrumbs are finer and evenly coat the chicken and the panko ones are bigger with a crispy and light texture that gives the coating a crunchy texture.
Mustard and Mayo Sauce
First, combine the mustard, mayonnaise and herbs together in a bowl. Brush the chicken breasts with this mixture.
I know it might seem weird, but this coating helps the breadcrumbs stick to the chicken, helps the breadcrumbs crisp up and turn golden in the oven and gives the chicken so much flavor.
Breadcrumb Coating
Next, coat each chicken breast in the breadcrumb coating.
Place the breaded chicken breasts on a baking sheet lined with tin foil.
Bake the chicken for 20 to 30 minutes at 400°F or until the internal temperature is 165°F. For extra crispiness, I like to turn the oven to broil in the last few minutes to get the chicken extra crispy.
See how nice and golden they are? This is what makes my heart sing when it's dinnertime – these breaded baked chicken breasts look so wholesome and give me that let's-gather-'round-the-table-for-dinner happy fuzzy feeling. I love that feeling.
Substitutions
Chicken: You can use the same amount of chicken tenders for this recipe. You'll save some time because you don't need to pound them out. They make the best chicken tenders with some garlic Parmesan fries on the side. Or try chicken cutlets, which are thin-sliced chicken breasts.
Mustard: I love a kick of Dijon, but you can use your favorite mustard like classic yellow, honey mustard, grainy mustard, or any of the gazillion types available these days.
Mayo: Have you seen the different flavored mayos available? Swap the plain mayonnaise for a flavored on to change up the recipe.
Add-Ins: Mix in dried herbs like Italian seasoning, oregano, or parsley to the breadcrumb mixture to amp it up. Add a little cayenne pepper to spice it up or some grated Parmesan cheese would be great, too.
Garnishes: Chopped fresh parsley and a squeeze of fresh lemon juice for a fancy finish.
💌 Sign up for the Girl Gone Gourmet Newsletter and get recipes delivered straight to your inbox!
Who doesn't love crispy-on-the-outside and juicy-on-the-inside chicken? So give this breaded baked chicken a try and enjoy –
Happy cooking!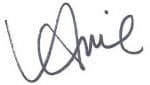 More Easy Chicken Recipes
Are there ever enough boneless, skinless chicken recipes? Here are a few more easy chicken recipes for you to try!
📣 Do you love this recipe? I would love to know! Leave a comment below the recipe along with your recipe star rating.
Print
The nutrition is an estimate only. It was calculated using Nutrifox, an online nutrition calculator.
Post and photos updated from the archives. First published in January 2016.