Caramel apple cupcakes are filled with caramel sauce and topped with cinnamon frosting. The apple cupcakes are soft and tender and every bite has oozing caramel. They are a great fall dessert!
You could make a batch of old-fashioned caramel apples and then make an appointment with the nearest dentist or make a batch of caramel apple cupcakes instead. I know what I'd choose.
Because biting into one of these soft apple cupcakes with a caramel center gives all the fall feels and flavors of those caramel-dipped apples, but better because, well, they're just easier to eat and, also, frosting.
And this caramel apple cupcake recipe is not hard to make. Yes, there are a few steps but none of them are hard to do and the result is a batch of fall-themed cupcakes perfect for any Halloween party, holiday dinner, or random Saturday.
Ingredients
All-purpose flour
Baking powder
Baking soda
Salt
Cinnamon
Unsalted butter softened to room temperature.
Brown sugar
Large eggs
Milk
Vanilla extract
Shredded peeled Granny Smith apples
Powdered sugar
Vanilla extract
Caramel sauce
How to Make Apple Cupcakes
Preheat the oven to 350°F and line a pan with cupcake liners. Whisk the flour, baking powder, baking soda, salt, and cinnamon in a medium bowl. Set the flour mixture aside.
In a large bowl, beat the butter and sugar at medium speed until smooth and fluffy. Add the eggs one by one, beating well after each addition. Add the milk and vanilla extract and beat to combine.
Sift the dry ingredients into the bowl with the wet ingredients and gently fold everything together until just combined. Fold in the shredded apple.
Fill each liner 2/3 full with batter. Bake the cupcakes for 18 to 22 minutes or until a toothpick comes out clean. Leave them in the cupcake pan for about 10 minutes before transferring them to a wire rack to cool completely.
How to Fill the Cupcakes
Once the cupcakes are completely cool, cut a hole into the center of each with a paring knife. The holes should go about ¾ of the way through each cupcake.
Fill each hole to the top with caramel sauce.
How to Make Cinnamon Frosting
In a large mixing bowl, beat the butter and vanilla extract with a mixer until smooth and creamy. Sift in the powdered sugar a little at a time, beating well after each addition.
If the frosting becomes too firm and difficult to mix, add milk one tablespoon at a time to thin it. Add the cinnamon and beat again until well incorporated.
Spread or pipe swirls of the buttercream frosting on top of each cupcake. Drizzle a little extra caramel topping over the top of each cupcake for garnish.
Tips and Tricks
To break up the work, make the cupcakes a day in advance, cool them, and keep them tightly wrapped. The next day, fill them, frost them, and add that caramel sauce drizzle.
If you want to load up on the caramel flavor, swap the frosting in this recipe for a batch of caramel buttercream frosting. I found that delicious caramel frosting recipe on the blog, The Cupcake Project.
Using salted caramel sauce in place of regular would be an excellent idea. For either, you can use homemade caramel or buy a jar at the store.
If these crisp October days have you craving those old caramel apples of yore, you need to give these cupcakes a try. Instead of an annoyingly sticky mess, you get bites of tender apple cake with soft oozing caramel. That apple flavor combined with caramel and spices is a match made in fall heaven.
Happy baking,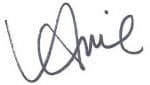 P.S. Want new recipes sent to your inbox? Sign up for the Girl Gone Gourmet Newsletter 💌
More Fall Dessert Ideas
📣 Do you love this recipe? I would love to know! Leave a comment below the recipe along with your recipe star rating.
Print
The nutrition is an estimate only. It was calculated using Nutrifox, an online nutrition calculator.