Cantucci are crunchy almond cookies from Tuscany. They are flavored with toasted almonds and lemon zest and twice-baked, which gives them their dry, crunchy texture. They keep well, are great for gifting and best served with a cup of coffee for dunking.
I don't usually go crazy with holiday baking but I like to make a few new-to-me treats this time of year. In the past, I've shared molasses cookies and Rolo chocolate crackle cookies among others and this year it's all about cantucci, an Italian almond cookie from Tuscany. I've made batches of the crunchy cookies and they've now earned a spot in my must-bake Christmas cookie list.
Like a lot of Italian things they're simple and irresistible – the perfect coffee companion. I learned while doing some research that Italians like to dunk theirs in a sweet dessert wine, but I prefer a few with coffee or hot chocolate. The dry, crunchy texture makes them great for gifting because they last for weeks stored in an airtight container.
What are Biscotti?
Like a lot of people, I categorize these types of cookies – oblong-shaped, dry and crunchy cookies – as biscotti. As my friend Rosemary, who writes an Italian food blog, explained: biscotti has two meanings. Its literal translation is "twice baked" since the cookies are first baked as a loaf, sliced and then baked again. This process is what gives them their crunchy, dry texture. Biscotti has a more general translation, too: cookies. As in, if you're in Italy and mention you made biscotti you will most likely be asked, what kind?
In this case, the 'kind' is cantucci – a type of biscotti made in Tuscany. It's made with toasted almonds, orange or lemon zest and a few other basic baking ingredients.
Biscotti, cantucci, cookies… it can get a little confusing! But one thing is clear: I love the flavor of these cookies – the almonds and lemon zest flavors shine. Plus, they're fairly easy to make with just a few simple ingredients.
How to Make Cantucci
I lightly adapted a recipe I found on Food52. I didn't mess with it a whole lot but just tweaked it a bit.
First, there are the almonds. Traditionally, toasted almonds are left whole and mixed into the dough but found it a little hard slice the baked loaves with the whole almonds, so I opted to toast the almonds for few minutes in a 350°F oven and then whirr them in the food processor to break them down.
I also cut the total amount of almonds in half and found it to be the perfect amount.
To make the dough, first. Whisk the almonds with sugar, cinnamon, baking powder, and flour. In a separate bowl, beat eggs with vanilla and lemon zest and add the mixture to the dry ingredients.
The easiest way to mix the dough is with your hands. I use one hand to mix and squeeze the dough until it comes together. I use my other hand to hold the bowl steady. The dough is very sticky and it's nice to have a clean hand to pull the sticky dough off the other after you're done mixing.
I like to form the dough into two large loaves. You can do smaller loaves (like in the original recipe) but I find two big ones work fine.
I dampen my hands a bit to keep the dough from sticking to them and press and pull them into two loaves approximately 14″ long and 2 to 3″ wide.
You also want the loaves to be of similar thickness so they bake evenly. As you can see mine weren't identical so don't stress too much.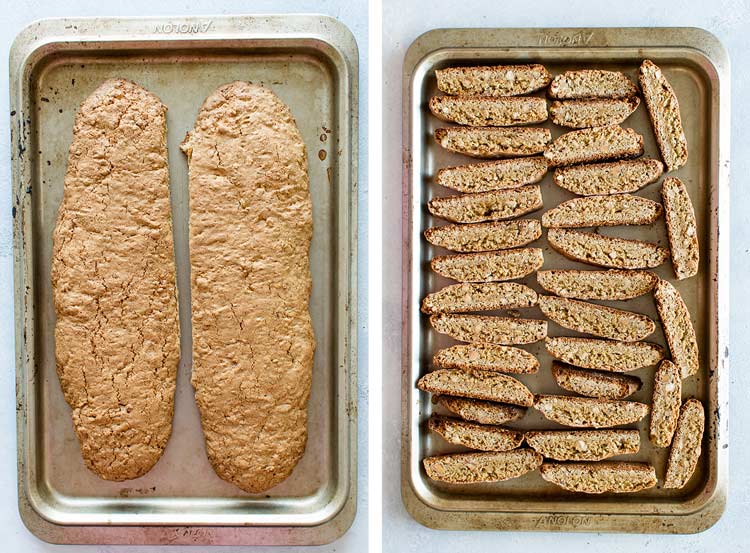 The loaves will spread as they bake and they may spread into each other. No harm, no foul because you can simply slice them apart once they come out the oven.
They don't take long to bake – mine are usually done in about 30 minutes. You can tell they're done when they are firm to the touch. Once they are pull them out and cool the loaves until you can handle them, about 10ish minutes. Any longer and they will be difficult to slice.
I like to slice the loaves into 1″ slices, which will give you approximately 32 cookies.
Place the slices on the baking sheet, turn the oven off, and place them back in the oven. The residual heat will dry them out. The longer you leave them in the crunchier they will be. I left mine for about 30 minutes.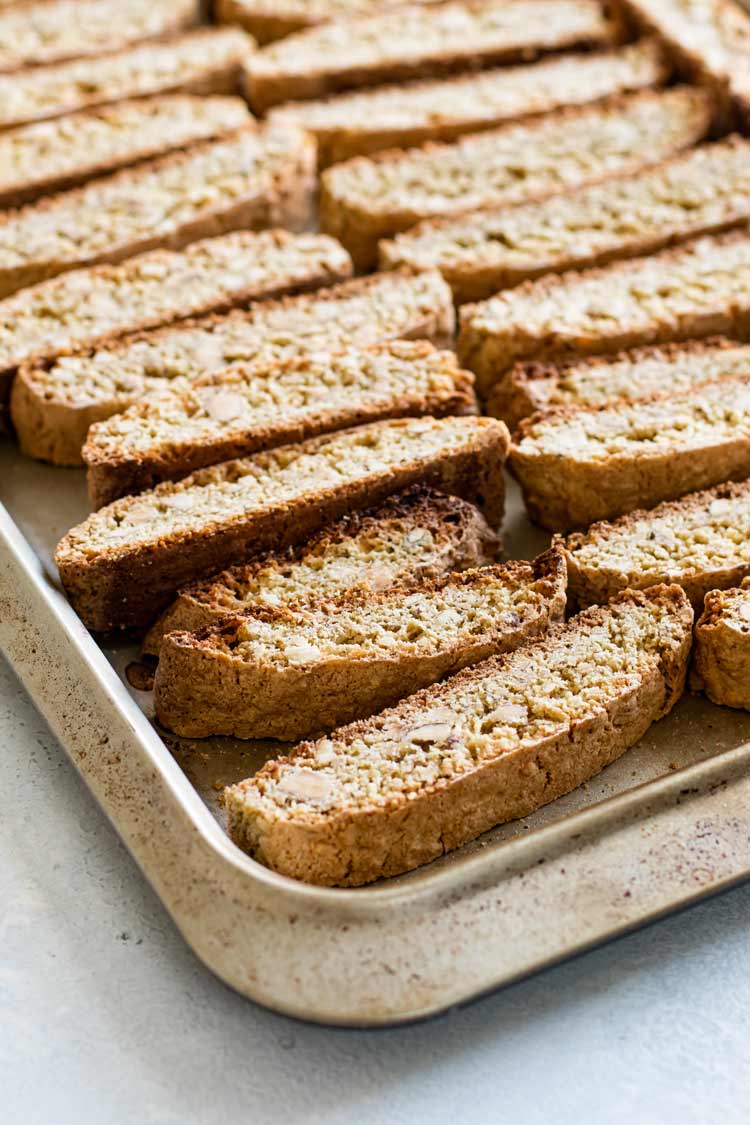 Cantucci are a wonderful cookie for the holidays because they keep for a long time, so you can make a big batch, hand them out and your recipients can enjoy them through the season.
If you want to try another Italian cookie you might like the wine cookies I made last year. They're great for gifting, too!
Happy cantucci-making ☕
Print
Cantucci (Italian Almond Cookies)
---
Description
These crunchy almond cookies are great for gifting because they keep well at room temperature for weeks. This type of biscotti is called cantucci which is a type of cookie from Tuscany. They're flavored with toasted almond and lemon zest and are twice-baked, which is what gives them their dry, crunchy texture. Serve them with coffee or hot chocolate for dunking.
---
1 1/2 cups

whole almonds

1 cup

granulated sugar

1 cup

brown sugar

1 teaspoon

ground cinnamon

2 teaspoons

baking powder

2 1/2 cups

all-purpose flour

4

eggs

1 teaspoon

vanilla extract

2 teaspoons

lemon zest
---
Instructions
Preheat oven to 350°F. Spread the almonds into a single layer on a baking sheet. Toasted them in the oven for 5 to 10 minutes, stirring them halfway through. Keep an eye on them and once they are fragrant and hot remove them from the oven. Place the almonds in a food processor and pulse them a few times until they break down.
Combine the almonds, granulated sugar, brown sugar, cinnamon, baking powder, and flour. In a medium bowl, beat the eggs with the vanilla extract and lemon zest until combined.
Add the dry ingredients to the wet ones and mix until the dough comes together. The dough will be very sticky and I find it's easiest to use one hand to mix it together by squeezing it and stirring with my hand until it comes together. Use your other hand to hold the bowl in place. Gather the dough into a ball and divide it in half.
Form each part into a log. I like mine to be about 12 to 14" long and 2 to 3" wide. The will spread when they bake so place the logs on a baking sheet spaced a few inches apart. Bake them for 30 to 40 minutes at 350°F. They are ready when they turn golden on top and are firm. If they spread into each other, just use a serrated knife to cut them apart.
Remove them from the oven and cool them for 10 minutes or so. Slice the logs using a serrated knife into 1" slices and place the pieces back on the baking sheet. 
Turn the oven off and place the cookies back in the oven. Leave them in the oven for 30 minutes so they dry out. Cool them and keep them in an airtight container.
Notes
Recipe lightly adapted from Food52.
Prep Time:

20 minutes

Cook Time:

1 hour

Category:

Desserts

Method:

Bake

Cuisine:

Italian
Nutrition
Serving Size:

1 cookie

Calories:

135

Sugar:

13.3g

Sodium:

11.7mg

Fat:

4g

Saturated Fat:

0.5g

Unsaturated Fat:

3.4g

Trans Fat:

0g

Carbohydrates:

22.3g

Fiber:

1.2g

Protein:

3.2g

Cholesterol:

23.3mg
Keywords: cantucci, almond cookies, almond biscotti, Italian almond cookies