Chicken Parmesan Roll-Ups
Easy chicken parmesan roll-ups stuffed with mozzarella cheese and topped with crispy breadcrumbs.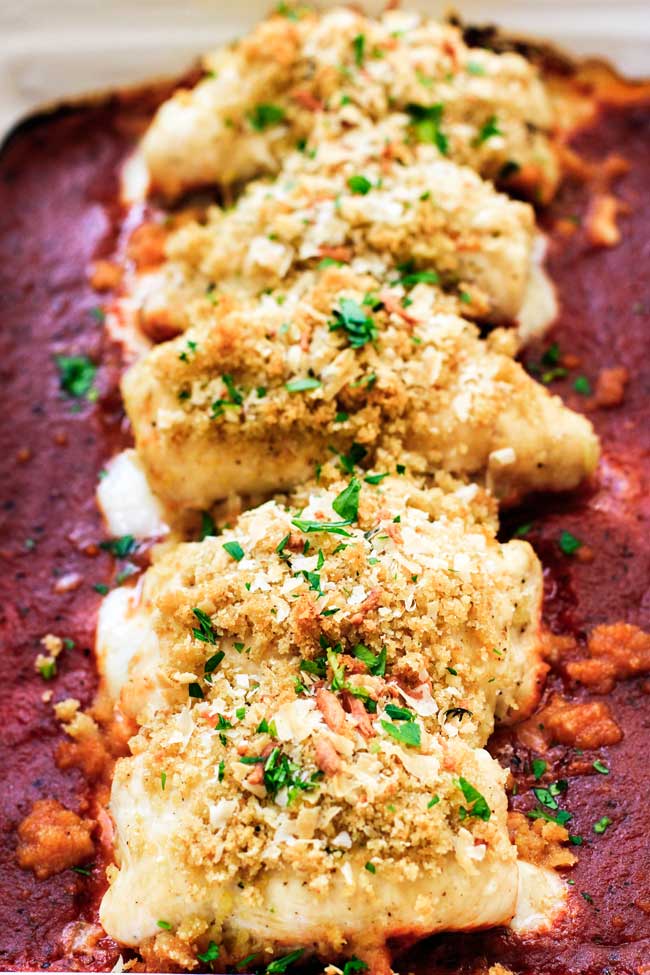 Chicken Parmesan Roll-Ups
Sometimes it's good to get tripped up. Like, say you go to the grocery store because you really want to make chicken parmesan, but you're kind of in a fog going through the motions and you mistakenly pick up a package of thin-sliced chicken breasts instead of the regular chicken breasts. Of course, you don't discover this error until you get home, at which point you get all frustrated trying to figure how you can use these super-thin sliced chicken breasts to make chicken parmesan. You can't get past the idea that you need whole chicken breasts so you can bread them, top them with cheese, and bake them up. You consider stacking the thinly sliced ones on top of each other in an effort to fashion something that looks like a whole chicken breast. But then you think that's a weird idea and how will it ever work and it will be so obvious that you did something strange with the chicken breasts and they just won't look right.
And then it hits you… chicken parmesan roll-ups!
Yeah! That'll work! You lay the sliced chicken breasts flat, pile in some and then roll them up into a neat little package. Then you top each of them with some bread crumbs and stick them in a pan with some tomato sauce. While they're baking you pour a glass of wine to celebrate your creativeness and jump online to see how many other people have thought of chicken parmesan roll-ups.
Google returns 417,000 results…
For the rest of the world it's old news, but for you? For you, the roll-ups represent a moment of kitchen brilliance! How proud are you to contribute the 418,000th chicken parmesan roll-up recipe?
So proud.
More Easy Recipes
Print
Chicken Parmesan Roll-Ups
Thin sliced chicken breasts rolled up with cheese and  topped with seasoned breadcrumbs. It's a fun way to do chicken parmesan!
Author: April Anderson
Prep Time:

15 minutes

Cook Time:

40 minutes

Total Time:

55 minutes

Yield:

6

roll-ups

1

x
Category:

Dinner

Method:

Bake

Cuisine:

American
For the Chicken
1 cup

jarred marinara sauce

1.5

pounds thin-sliced boneless, skinless chicken breasts

1 teaspoon

kosher salt, divided

1/2 teaspoon

black pepper, divided

3 tablespoons

grated Parmesan cheese

6 tablespoons

shredded mozzarella cheese
For the Breadcrumb Topping
1/4 cup

dried breadcrumbs

1 tablespoon

grated Parmesan cheese

1/2 teaspoon

garlic powder

1/4 teaspoon

kosher salt

1/4 teaspoon

black pepper

1/4 teaspoon

Italian seasoning

1 tablespoon

olive oil
Instructions
Preheat oven to 375°F. Spread the marinara sauce in the bottom of a square baking dish (8″ to 10″ will work fine).
To prepare the chicken: cover the chicken breasts with plastic wrap and pound them until they are 1/4" thick. The number of pieces you have in your package may vary (mine usually have four) so you may need to cut the large pieces in half so you have six total. When you're done, you should have six pieces that are large enough to roll up.
Season one side of the chicken with 1/2 teaspoon of salt and 1/4 teaspoon of black pepper. Place the grated Parmesan and shredded mozzarella cheese in the center of the chicken. Don't spread it out too far to the edges – leave a space around the edge. Carefully roll-up each piece of chicken so the cheese stays inside. Place the chicken rolls seam-side-down in the pan with the sauce and sprinkle another 1/4 teaspoon of salt and pepper over the top.
Cover the baking dish with foil and bake the chicken for 30 minutes. While the chicken bakes, mix all of the ingredients for the topping in a small bowl. The mixture should look like damp sand once you've mixed in the oil.
After 30 minutes, take the chicken out of the oven and remove the foil. Sprinkle the breadcrumb mixture on top of each chicken roll, lightly pressing it so it adheres. I really like to pile it on – if any falls off it will help thicken the sauce in the bottom of the pan.
Place the dish back in the oven, uncovered, and bake the chicken for 10 more minutes or until the breadcrumbs are golden and crispy and the chicken is cooked through.
To serve, you can spoon the sauce over the chicken or spoon it on the plate and place the chicken on top of it.
Notes
You can also use regular chicken breasts for this recipe, it just takes longer to pound them. You can use three large ones, pound them thin and them halve them to make six roll-ups.
Every oven is different, so the best way to know if your chicken is done is to check the internal temperature. It should read 165°F. 
Nutrition
Serving Size:

1 chicken roll-up

Calories:

219

Sugar:

2.5g

Sodium:

843.4mg

Fat:

7.7g

Saturated Fat:

2g

Unsaturated Fat:

4.2g

Trans Fat:

0.1g

Carbohydrates:

7.5g

Fiber:

1.1g

Protein:

28.4g

Cholesterol:

88mg
Keywords: easy chicken parmesan, chicken roll-ups recipe