An easy-to-make cranberry apple crisp with a brown sugar and oatmeal topping. Perfect for fall!
And now it really is fall! This morning I headed out for a walk and the air was crisp, cool and so fall-like I wanted to go buy school supplies. I know I've been writing about it going on for three weeks now, but today – today! – the season feels real. The weather has finally caught up with my autumn-loving heart.
The timing is perfect because today it's all about a cranberry apple crisp. We're knocking on the door of apple season right now and in the fall line-up of must-make recipes, apples top the list of ingredients. The scent of baked apples is hard to resist this time of year.
This crisp recipe has a fresh apple-cranberry filling. The tartness is balanced out with the buttery oatmeal topping for the finishing touch.
It's the dessert of choice for people who hate making pies. You get all the feel-good aroma and flavor of an apple pie, without the fussy pie crust and the whole thing comes together with hardly any effort. Plus, you can make it ahead and pop it in the oven while dinner is served.
Cranberry Apple Filling
Granny Smith apples
Frozen cranberries
Lemon juice
Honey
Cinnamon
The filling is so, so easy. Just combine the chopped apples, cranberries, lemon, honey, and cinnamon and pour the apple mixture into a baking dish.
Oatmeal Crisp Topping
Old Fashioned Oats (rolled oats)
All-Purpose Flour
Brown sugar
Cinnamon
Cold, unsalted butter
Combine oats with the rest of the topping ingredients in a large bowl. Cut the butter into the mixture until it's evenly distributed. Spread the topping in an even layer over the filling.
Preheat the oven to 350 degrees F and bake the crisp for 40 to 45 minutes or until the top is golden brown and the filling is bubbly hot. You can serve it warm or at room temperature. Add a scoop of vanilla ice for a finishing touch.
FAQ
Enjoy this cranberry apple crisp as is or top each serving with a scoop of vanilla ice cream or a dollop of whipped cream.
Happy fall baking 🍏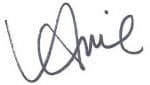 More Dessert Recipes
Print
Post updated from the archives. First published in September 2017.