This chicken enchilada soup is made with rotisserie chicken for an easy 30-minute dinner. It's thickened with masa harina and some cream cheese gives it a creamy cheesy texture. Garnish it with tortilla chips and shredded cheese for a cozy bowl that will warm you up.
Easy chicken enchilada soup that takes 10 minutes to prep, 20 minutes to cook and has the best creamy cheesy texture. It's easier than making enchiladas but has all the same flavors – so sort of the same but different and easy! So easy.
30-Minute Enchilada Soup
Ingredients
To make things even easier – sub fresh onion for 10 ounces of chopped frozen onions. It's my favorite shortcut.
Love the black beans, but use what you have! Kidney beans, pinto beans, and cannellini beans will all work, too.
I didn't include it, but if you like frozen corn feel free to add 1/2 cup or so to the soup. Add when you add the beans – no need to thaw it first, it can go in frozen.
If you can't find rotel, substitute the same amount of canned diced tomatoes plus a 4 ounce can of roasted green chiles. Fire roasted tomatoes would be great!
Rotisserie chicken from the grocery store is one of my favorite shortcuts, but any cooked chicken will work like shredded boneless, skinless chicken breasts or chicken thighs.
If you want to add some heat, add some cayenne with the masa when you make the soup.
How to Make It
Saute the onions in a pot or dutch oven with olive oil. When the onions start to release their moisture and soften, add the masa harina to thicken the soup and stir to combine.
Add all of the other ingredients, stir, and bring the soup to a boil. Lower the heat and simmer the soup for 10 to 15 minutes.
Take the pot off the heat and add the cubed cream cheese. Stir until it's melted and the soup is ready to serve.
Garnish Ideas
The soup is delicious all on its own, but I can't resist a good soup garnish – here are some ideas:
Storage and Reheating Tips
Leftovers will keep well in the fridge for a few days. You can reheat them in microwave or on the stove.
I haven't tried freezing it – I never have enough left. I'm not sure how it will freeze with the cream cheese so if you try it let me know how it goes.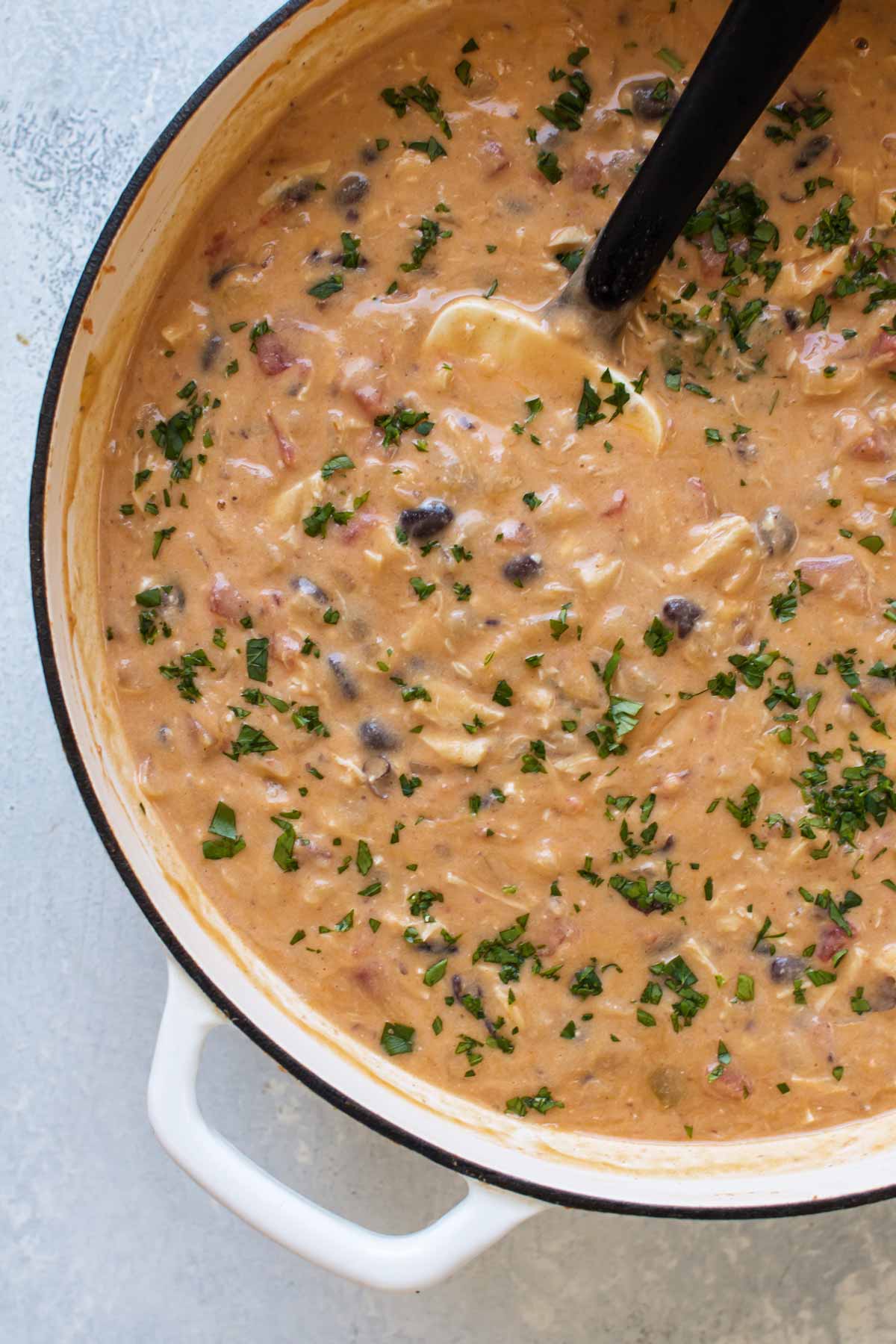 I love a quick soup recipe for a weeknight when you're craving something cozy and warm. It's flavorful and filling – I hope you give this chicken enchilada soup recipe a try!
Happy soup-simmering!
More Easy Soup Recipes
Be sure to check out some of my other favorite soups that are quick and easy to make:
Print