This Texas chili is a no tomato and no bean chili recipe that is rich and flavorful with chile peppers, chipotle peppers, beer, and chuck roast that are simmered together until the beef is tender. Add all of your favorite toppings for a cozy cold-weather dinner.
Someone on social media once chastised me for making beef chili with tomatoes and, at the time, I was so confused. No tomatoes in chili? That's not how my mom used to make it. Growing up, every chili I ever had had a big helping of diced tomatoes in every batch.
Time passed and, as I grew wiser in the ways of chili, I wondered if that commenter was from Texas because, in Texas, chili doesn't have any tomatoes or any beans. With this clarity, I could heal the burn of being burned on social media and turned my efforts to learning about Texas chili.
In my research, I learned it's similar to Chile colorado but instead of pork it's made with beef and, while there are many variations, as a rule, there are no beans or tomatoes. Although, apparently even Texans argue over what is authentic, so take all of this with a grain of salt.
So, thank you, angry social media commenter. While your approach could use some finessing, your point was eventually taken. Although, at the risk of encouraging more inflamed comments, I do think there are many ways to make a bowl of chili. Texas chili is just one of them and one worth trying because it is delicious.
Chile Sauce Ingredients
It starts with homemade chile sauce made with red dried chiles, chipotle peppers, and seasonings.
What I like about making your own sauce is that you can control the heat. In this case, by the type of dried chile peppers you opt for or the number of chipotle peppers you add. I went with mild red chile peppers and just enough chipotle peppers to add a subtle heat kick.
All you do is soak the peppers until they're soft and then whirr them in a blender or food processor with the other sauce ingredients. You end up with a beautiful red sauce with some smoky flavor from the chipotle peppers.
Ingredients for the Chili
Once you have your sauce, there are just a few more ingredients to prep.
For the beer, I go with a lighter lager-type. You have a lot of options in this department so choose one that you like to drink.
For the beef, go with chuck roast which takes really well to a long, slow cooking time.
The chili is flavored with simple onion and garlic and thickened with masa harina, which is made from corn. It's like a very fine corn flour that is absorbed into the chili as a thickener.
How to Make It
Texas chili is easy to make and only requires some patience while it simmers. It takes a while for the beef to cook so it's tender and delicious. So, consider this a weekend chili recipe – it can't be rushed.
Start by browning the beef. Depending on the size of your pan you may need to do this in a couple of batches. That way you get a nice sear on the beef.
Take it out of the pan and then cook the onion and garlic in the fat and juices left behind by the beef. Then, bring it all back together.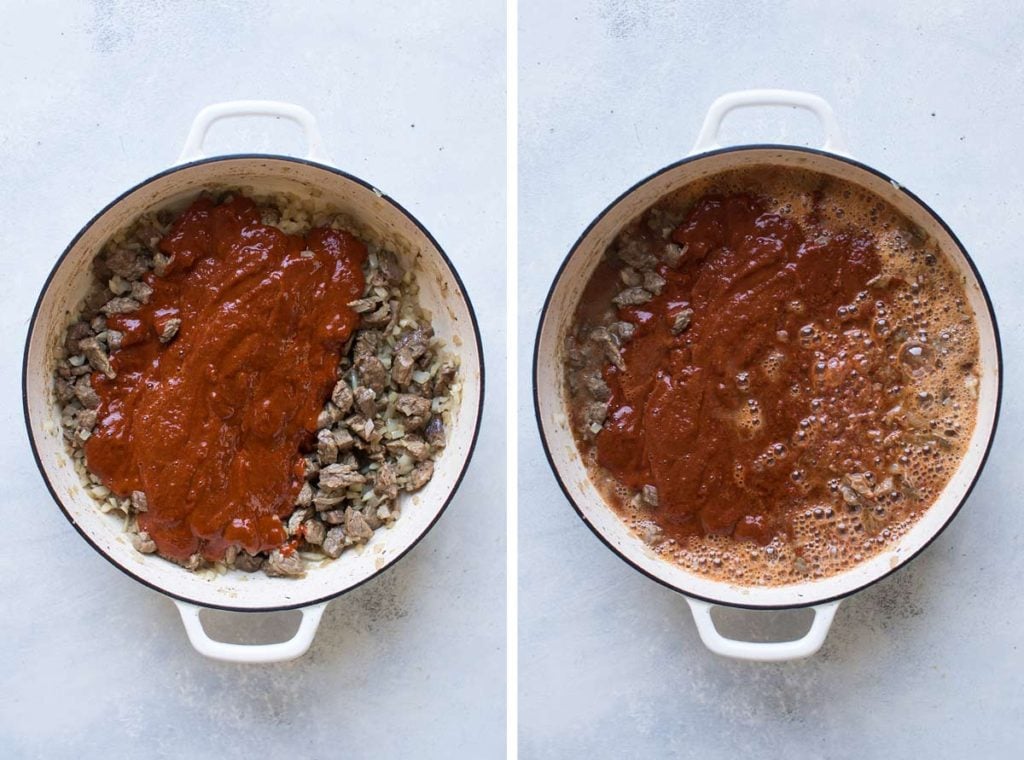 Add your chile sauce, water, beer, and bring it to a boil. Lower the heat and leave it to do its thing for a few hours. If you notice it getting too thick, you can thin it with more water or beer. Give it a stir occasionally, too.
How to Thicken Chili
Just at the end, once the beef is tender, add the masa harina. This will thicken the chili and give it a velvety texture. Cook it a little longer and then stir in some lime juice to wake up all the flavors.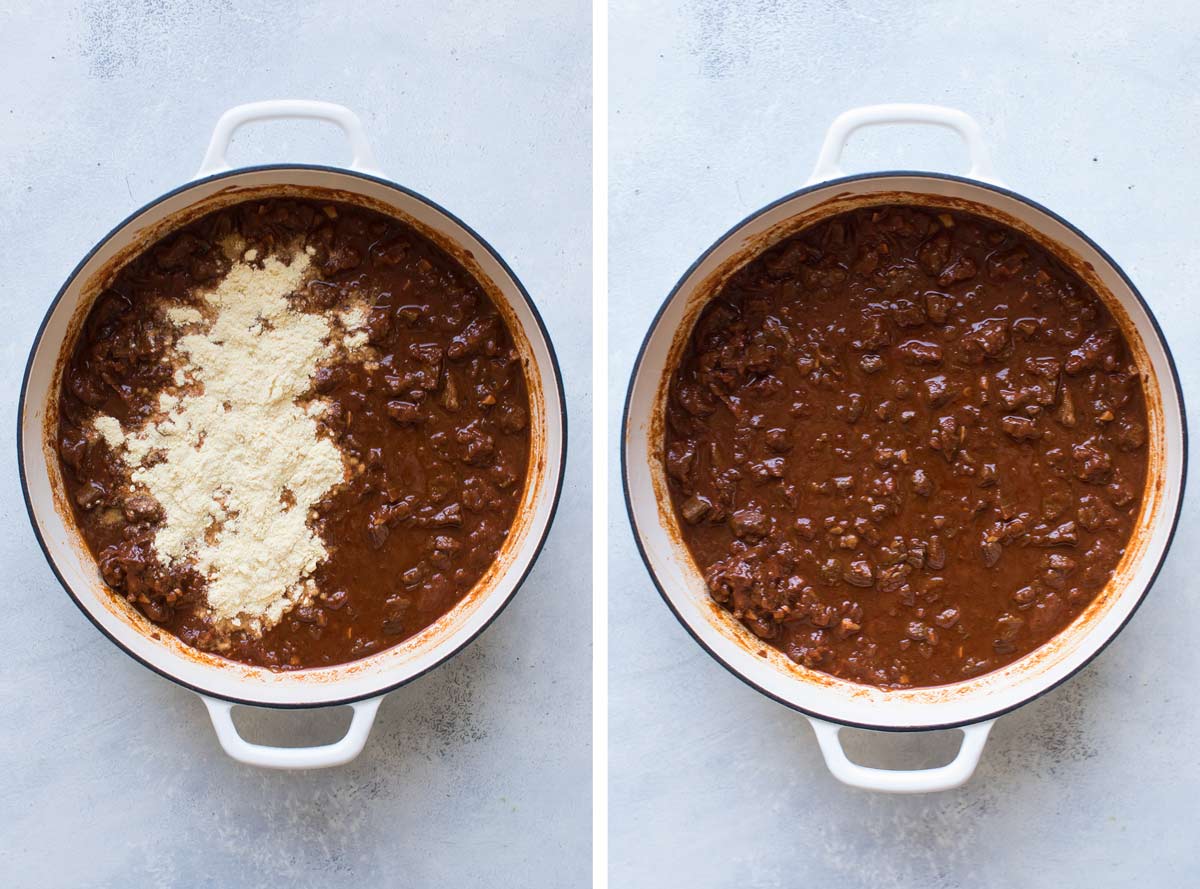 This Texas chili is delicious straight from the pot, but it's even better the next day. While it sits in the fridge the flavors develop even more and marry together. When you reheat it, you might need to thin it with a little more water or beer.
Topping Ideas
Don't forget to add some toppings when you serve it – here are some of my favorites:
Chopped cilantro
Diced red onion
Shredded cheese
Diced avocado
Sour cream
Tortilla chips
A dollop of guacamole
Serve it up in bowls or use it to make nachos, Frito pies, or spoon it over flour tortillas with cheese and an egg on top.
If you like the idea of a no bean chili recipe than this is the recipe for you. It's rich and a little smoky with hints of beer and lots of tender beef. The perfect weekend cooking project that you can enjoy through the week.
Happy Texas-style chili cooking!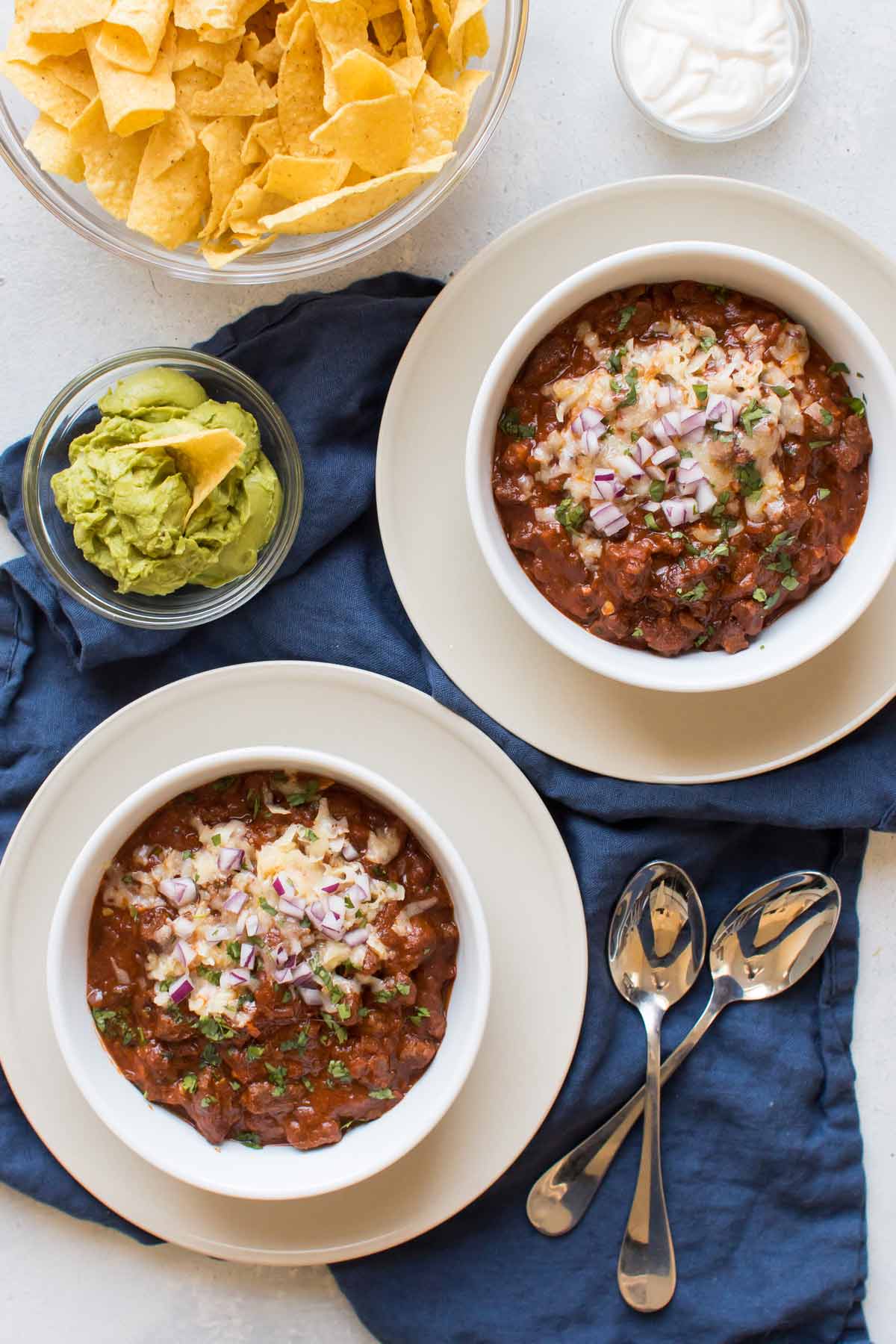 More Recipes to Try
📣 Do you love this recipe? I would love to know! Leave a comment below the recipe along with your recipe star rating.
Print
Texas Chili
---
Author:

April Anderson

Prep Time:

30 minutes

Cook Time:

3 hours 30 minutes

Total Time:

4 hours

Yield:

6

servings

1

x
Description
This Texas chili is a no tomato and no bean chili recipe that is rich and flavorful with chile peppers, chipotle peppers, beer, and chuck roast that are simmered together until the beef is tender. Add all of your favorite chili toppings for a cozy cold-weather dinner.
---
8

dried red chiles, stems and seeds removed (see note)

3 1/2 cups

water, divided

1

chipotle pepper, plus 1 tablespoon of the adobo sauce (see note)

2 teaspoons

cumin

2 teaspoons

dried oregano

1/2 teaspoon

kosher salt, divided (see note)

1/4 cup

vegetable oil

2

pounds chuck roast, fat trimmed and cut into

1/2

-inch pieces

1

yellow onion, diced

4

large cloves of garlic, chopped

12 ounces

bottle of lager-style beer

1/4 cup

masa harina (add at the end)
Juice of

one

lime
Toppings
Chopped cilantro
Diced onion
Shredded cheddar cheese
Sour cream
---
Instructions
Place the chiles in water and soak them for 30 minutes. Drain off the water and place them in a blender or food processor along with 1 1/2 cups of water, chipotle pepper, adobo sauce, cumin, oregano, and 1/4 teaspoon salt. 
Heat the vegetable oil in a large pot or pan. Season the beef with 1/4 teaspoon of salt.
Place the beef pieces in an even layer in the pot (you may need to cook them in two batches) and brown them on both sides, about five to eight minutes. Once browned, remove them from the pot.
In the same pot, cook the onion and garlic for a few minutes, or until they start to soften. Add the browned beef back to the pot and stir to combine.
Pour the chili sauce into the pan along with the beer and two cups of water. Stir and increase the heat to bring the liquid to a boil. Once it starts to boil, lower the heat to medium-low and let the chili simmer and reduce for three to four hours, stirring occasionally. The chili should only lightly bubble as it cooks, if the heat is too high it will thicken quickly. If needed, add more water or beer as it cooks to keep it from thickening too fast. I usually add 1/4 of liquid at a time.
Once it's cooked and the beef is tender, add the masa harina and stir. Cook the chili for another 15 minutes or so. Add the lime juice, stir, and serve with the toppings.
Notes
For the chiles, you have a lot of options. I like to use mild New Mexico dried red chiles but you can choose spicier ones or do a mix of chiles.
Feel free to double the chipotle peppers if you want a bigger kick of heat and smokiness.
I recommend starting with the amount of salt listed in the ingredients and adding more at the end if it needs it. Because the chili simmers and reduces you don't want too much at the beginning otherwise it will get concentrated as the chili cooks. So start small and add as you go to your taste.
Recipe adapted from Homesick Texan
Category:

Dinner

Method:

Simmer

Cuisine:

American
Nutrition
Serving Size:

1/6 of recipe

Calories:

358

Sugar:

8.9g

Sodium:

220.8mg

Fat:

2g

Saturated Fat:

9.6g

Unsaturated Fat:

4.9g

Trans Fat:

0g

Carbohydrates:

17.4g

Fiber:

2g

Protein:

31.8g

Cholesterol:

89.4mg
Keywords: Texas chili, beef chili recipe
The nutrition information in this recipe is an estimate only and was calculated using Nutrifox, an online nutrition calculator.