This eggplant casserole is full of the best that summer has to offer – eggplant, fresh herbs, mushrooms, tomatoes, and bell peppers. It's topped with cheese and baked until bubbling hot. Serve it as a side dish or main dish – it's perfect either way.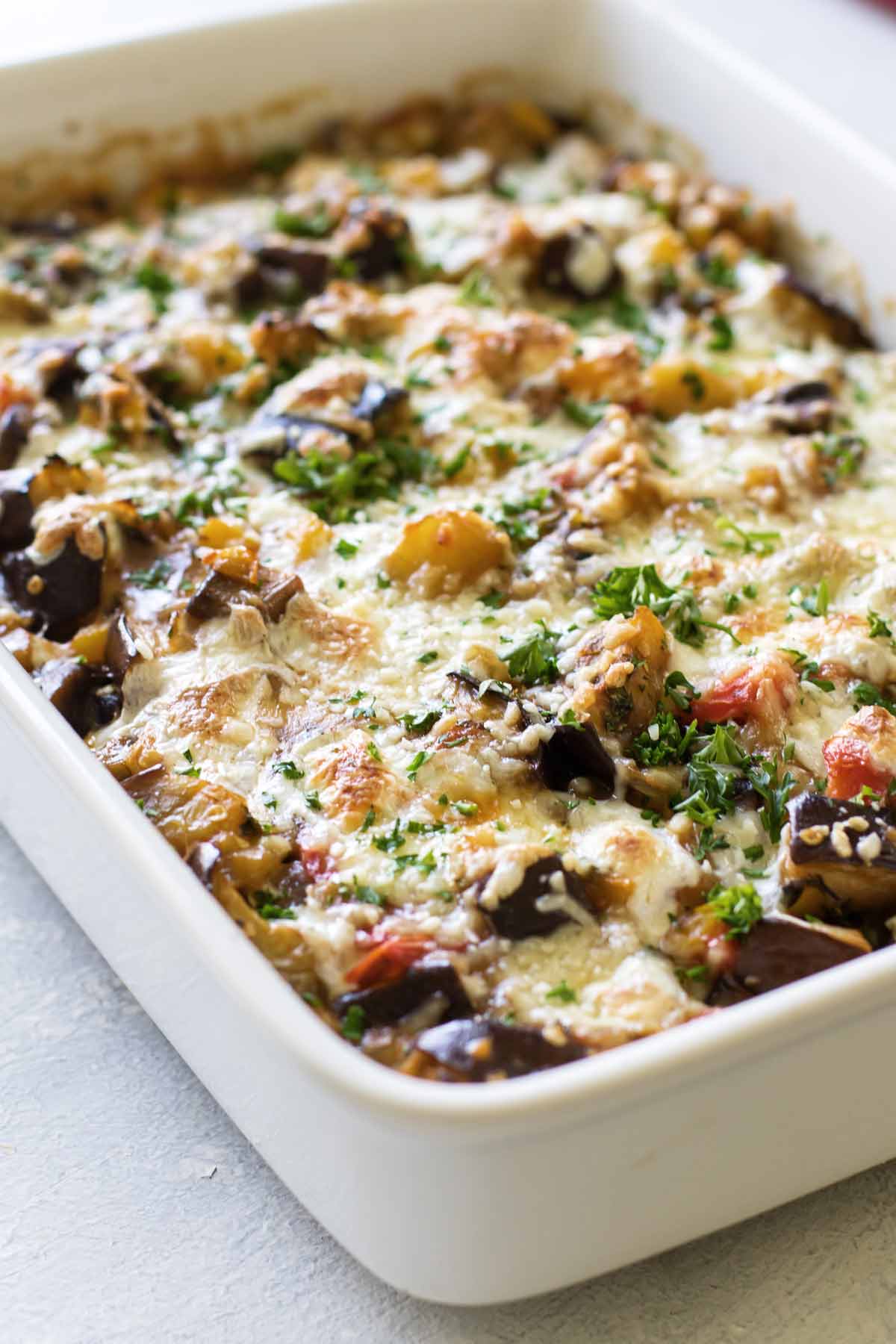 If you've been following along the last few months you already know I've been digging into the archives of this site to find some gems to bring forward and share again and today it's this eggplant casserole. It's a veggie-loaded baked dish I first shared back in 2009 and it's worthy of another moment in the spotlight.
It's comforting without being heavy, it's vegetarian but filling, and there's cheese which is always a sure-fire way to get me to happily eat a bunch of veggies. It's also a great excuse to raid the local farmer's market in the summer.
It doubles as both a side dish and a main dish – you can serve it just as it is or add some rice or pasta on the side. Or, serve it as a side dish for chicken, pork or steak. I've even served it on toasted hot dog buns – it makes a great sandwich filling.
Like ratatouille, it's a celebration of summer veggies with eggplant as the star, and now is the perfect time to give it a try. I think you're going to like it.
Ingredients You'll Need
Not gonna lie, it feels good to shop for this recipe. Look how healthy we are with a cart full of vegetables! Pro tip: I just tuck my ice cream and pizza rolls underneath them and no one knows except for me and the cashier.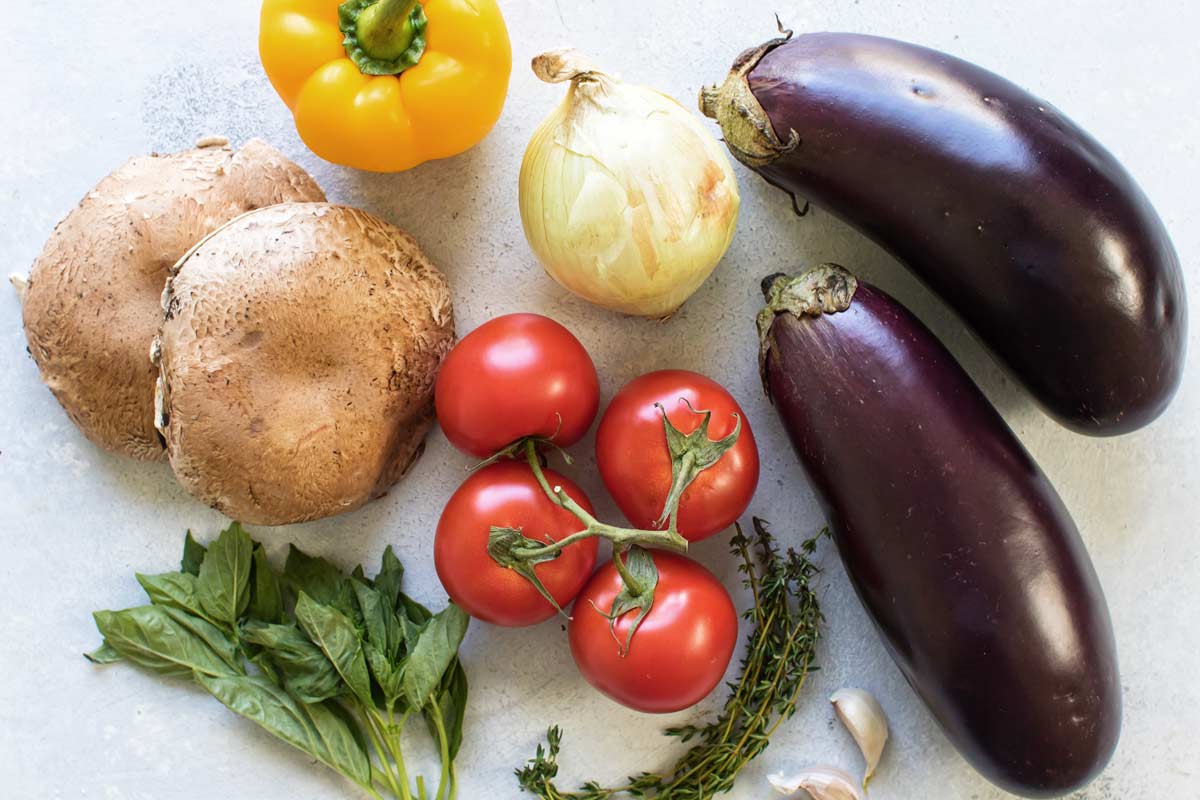 Butter and olive oil
Diced onion
Chopped garlic
Diced yellow bell pepper
Portobello mushrooms
Chopped tomatoes
Fresh parsley, thyme, and basil
Vegetable oil
Cubed eggplant
Salt
Flour
Grated Parmesan cheese
Shredded fresh mozzarella cheese
How to Make Eggplant Casserole
Yes, this recipe has a few steps but it's all worth it in the end. It starts on the stove and finishes in the oven and will be met with "oohs" and "ahhs" and "mmmms" when you serve it.
You will need your biggest pan for this recipe. If you don't have one use a large pot (like for boiling pasta).
Heat the butter and olive oil over medium heat and once the butter has melted add the onion and cook them until the start to soften. Add the bell pepper and garlic and cook them with the onions for a few minutes.
Add the mushroom and cook them until they start to release their moisture and then add the tomatoes and herbs. Stir and simmer for a few minutes before transferring all of it to a bowl.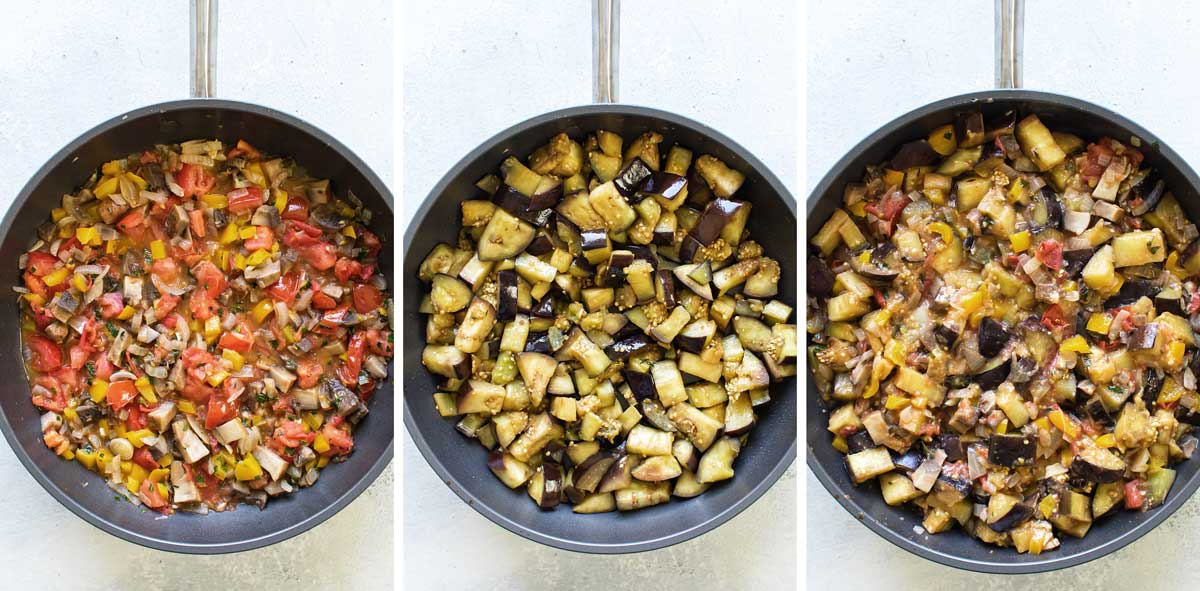 In the same pan, add the eggplant, salt and oil. It will seem like a lot of eggplant, but don't worry – it will cook down quite a bit. Cook it until it softens and browns in spots.
Sprinkle the flour over the top of the cooked eggplant and stir it all together. The flour will help thicken the juices so your casserole isn't watery. Add the tomato mixture to the eggplant, bring the pan to a simmer and cook it all of for a few minutes.
You will need to transfer everything in the pan to a casserole dish. I like to create layers with the cheese by scooping half of the veggies, top with cheese and then add the rest of the eggplant and cheese on top. You can do two or three layers this way or just pile all of the cheese on top and skip the layering.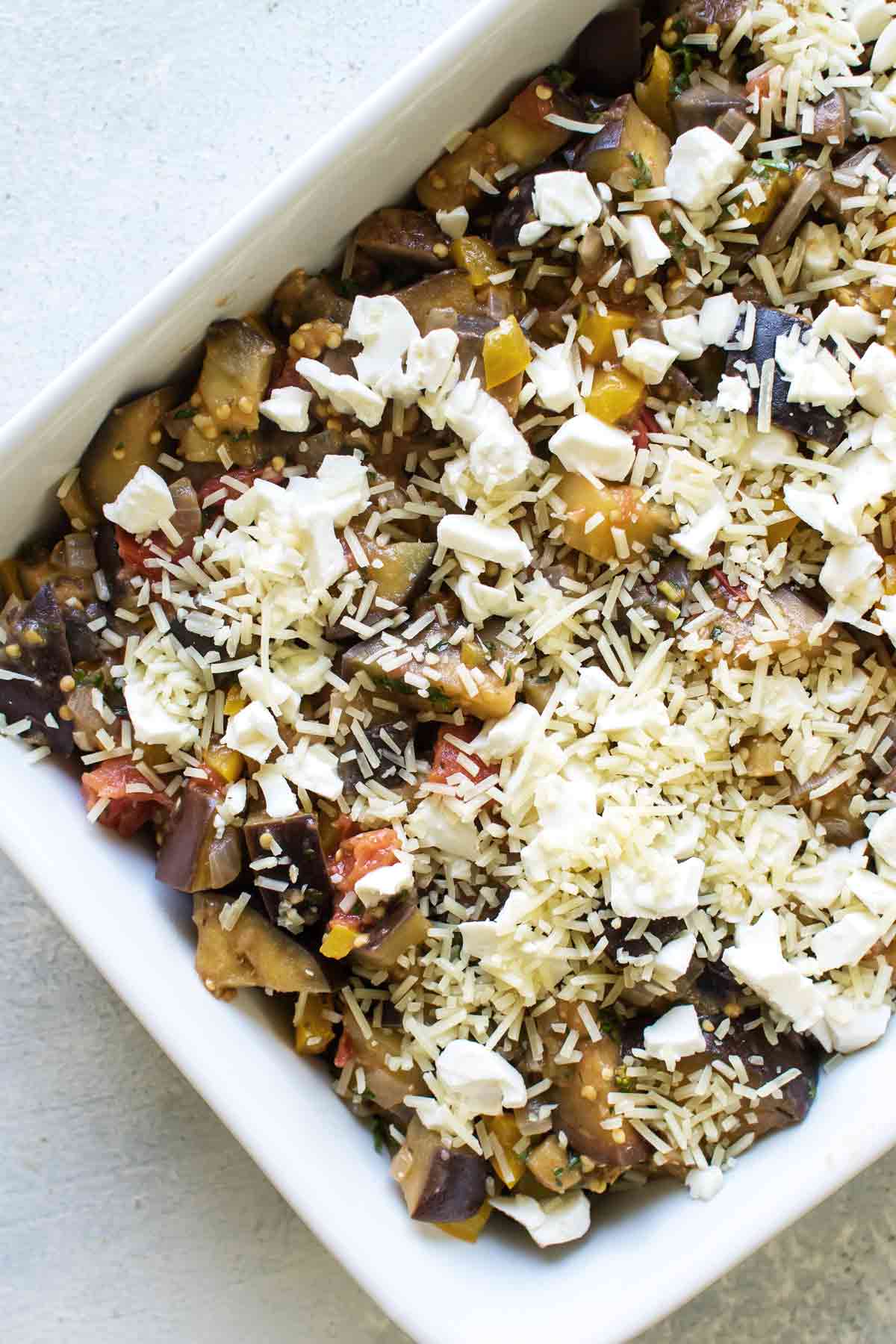 Bake the eggplant casserole uncovered for 30 minutes at 375°F. Let it stand for a few minutes before serving.
A Few More Recipe Tips
A tablespoon of salt in the recipe seems like a lot but keep in mind that you have a whole lot of veggies that need seasoning. Also, the salt helps the eggplant release moisture as you cook it in the pan. You can reduce the amount if you prefer, but I don't recommend omitting it.
For the cheese, you can use sliced mozzarella (as mentioned in the recipe card), shredded mozzarella or cubed mozzarella (which is what I used in the photos). I prefer the fresh mozzarella for this recipe, but you can sub regular low-moisture mozzarella if you like.
The leftovers will keep well in the refrigerator. As far as freezing the casserole, I haven't tried it and I'm not sure how it would hold up. Sometimes veggies get a weird texture after they've been frozen. If you try it let me know how it worked for you.
Flavor abounds and all the veggie good-feels manifest with this eggplant casserole. The echos of the "oohs" , "ahhs" and "mmmmms" will stay with you for days. I mean, I'm just saying it's good – really good. I hope you love it.
Happy casserole-ing,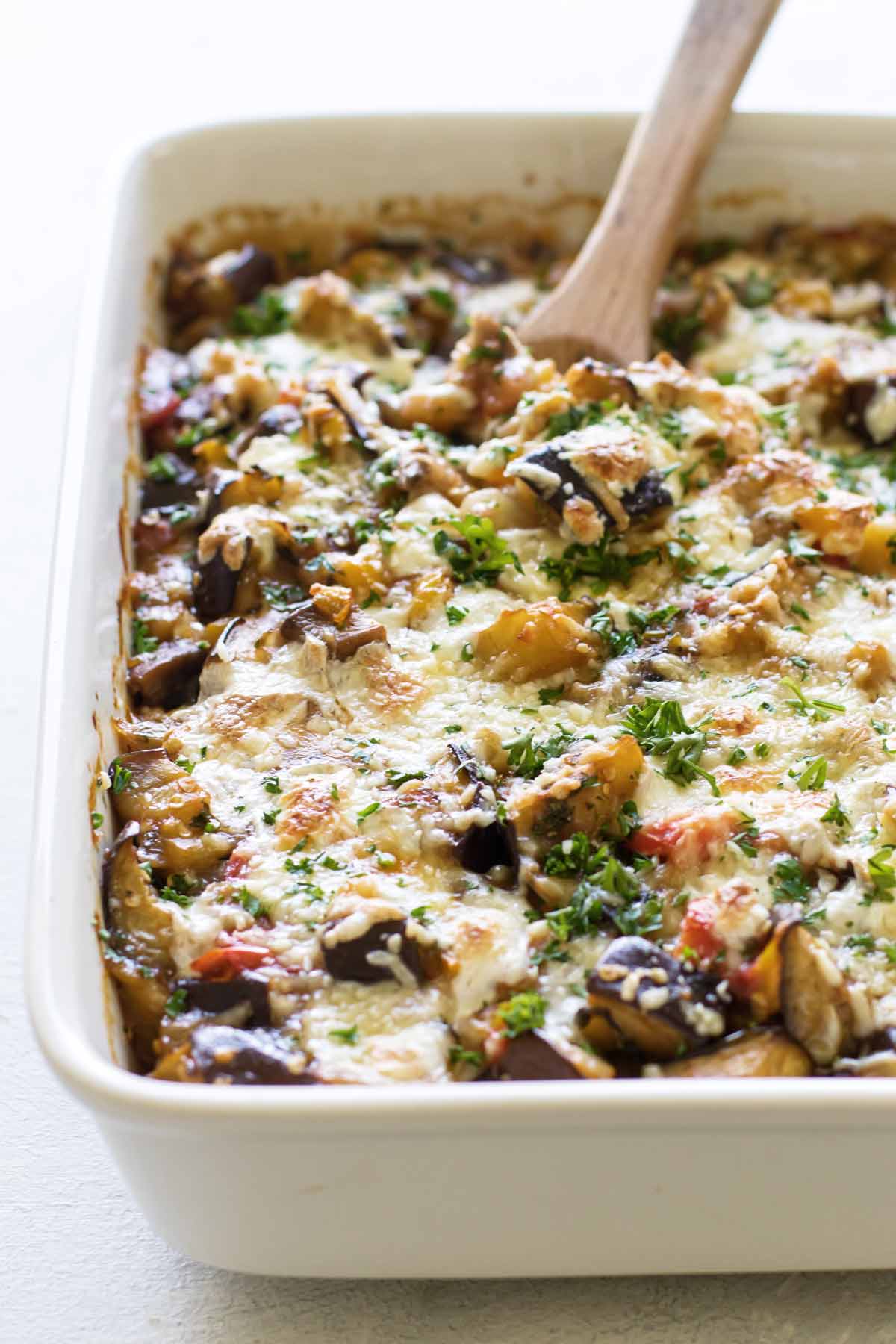 More Summer Recipes
Print
Eggplant Casserole
This casserole is full of the best that summer has to offer – eggplant, fresh herbs, mushrooms, tomatoes, and bell peppers. It's topped with cheese and baked until bubbling hot. 
Author: April Anderson
Prep Time:

20 minutes

Cook Time:

60 minutes

Total Time:

1 hour 20 minutes

Yield:

6

servings

1

x
Category:

Dinner

Method:

Bake

Cuisine:

American
2 tablespoons

butter

2 tablespoons

olive oil

1

large onion, diced

2

garlic cloves, minced

1

yellow pepper, diced

2

portabello mushroom caps, sliced into bite-sized pieces

3

large tomatoes, diced

1 tablespoon

fresh parsley, finely chopped

1 tablespoon

fresh basil, finely chopped

1/2 tablespoon

fresh thyme

1/4 cup

vegetable oil

2

medium eggplants, cut into bite-sized pieces

1 tablespoon

salt

1 tablespoon

flour

1/2 cup

Parmesan cheese

4 ounces

fresh mozzarella, sliced
Instructions
Preheat the oven to 375°F. Coat a 2 1/2-quart casserole dish with cooking spray.
In a large skillet heat the butter and olive oil over medium-low heat. Add in the onions and cook for 3 minutes or so (don't let them brown). Add in the peppers and garlic and continue to cook for an additional 3 minutes. Add in the mushrooms and cook them until they start to release their moisture (about 3 to 4 minutes). Finally, add in the tomatoes and herbs and allow to simmer for a couple of minutes. Remove the mixture to a large bowl and set aside.
In the same skillet, heat the vegetable oil and then add the eggplant and salt. Allow the eggplant to cook until it's browned, stirring frequently. Once lightly browned add in the flour and stir. Add the tomato mixture and stir everything together and bring it to a simmer.
Spoon in 1/3 of the vegetable mixture into the prepared baking dish. Top it with some Parmesan cheese and a few slices of mozzarella. Spoon more of the veggies on top of the cheese followed by more cheese. Spoon in the last of the mixture and top it all of with a layer of cheese on top.
Bake the casserole for 30 minutes. Allow the casserole to stand a few minutes before serving.
Nutrition
Serving Size:

1/6 of recipe

Calories:

294

Sugar:

10.9g

Sodium:

1459.3mg

Fat:

19.9g

Saturated Fat:

8.4g

Unsaturated Fat:

10.2g

Trans Fat:

0g

Carbohydrates:

22.2g

Fiber:

8.1g

Protein:

11g

Cholesterol:

34.6mg
Keywords: eggplant casserole, vegetarian eggplant casserole
Post and photos updated from the archives. First published in August 2009.