Delicious Roasted Lamb Chops are easy to make and perfect for a special occasion meal or holiday dinner. The tender and juicy Frenched lamb chops are topped with fresh mint gremolata for a pop of bright flavor. You'll love how easy this recipe is to make!
If you're feeling fancy-like and want a special dish for a special occasion, I suggest giving these roasted lamb chops a try. They might look fancy, but they're actually easy to make, and the final result definitely gives off "wow-factor" vibes.
Lamb has a distinctive flavor some might describe as gamey or earthy. Pair it with fresh mint gremolata and glasses of red wine (Malbec is my fave), and you get a restaurant-quality meal at home. I love not leaving the house, don't you?
Ingredients
Frenched lamb chops – you can find Frenched lamb chops are most grocery stores, or you can ask the butcher to French lamb rib chops for you. Frenching them just means some of the fat and meat is removed to create that lollipop look.
Olive oil
Butter
Fresh garlic cloves
Fresh rosemary
Mint gremolata for serving – more on this in a minute!
How to Cook Lamb Chops
Season: Take the lamb chops out of the refrigerator about 30 minutes before you cook them. Allowing them to warm to room temperature will ensure they cook evenly. Pat them dry and season them with salt and pepper.
Score: Use a knife to score the fat cap, which is on one side of the chops. Cut deep enough to cut through the fat but don't cut the meat underneath. Scoring the fat this way will make it easier and faster to render the fat.
Render: Heat the olive oil in a heavy oven-safe pan over medium-high heat. Once the oil is very hot, place the chops fat-side-down in the pan. Cook them for three minutes.
Roast: Turn the chops over in the pan and add the butter, garlic, and rosemary. Place the pan in a 300°F oven and roast the lamb chops for about 12 to 15 minutes. They are done when the internal temperature is 115°F.
Baste: Take the pan out of the oven and spoon the drippings in the pan over the chops a few times.
Rest: Cover the pan with foil and rest the chops for about 10 minutes. They will continue to cook, and once they are 125°F (or medium rare), they are ready.
Mint Gremolata
While the lamb chops roast, make the gremolata. A traditional Italian gremolata is made with just parsley, but mint and lamb are a classic combination. So, this gremolata has both – it adds a pop of herby freshness and flavor.
Chopped fresh parsley
Chopped fresh mint
Grated garlic
Lemon zest
Lemon juice
Olive oil
Mix the herbs with the other ingredients in a small bowl. Refrigerate it until you're ready to use it.
Recipe Tips
If you're not a fan of rosemary, you can omit it. The chops are delicious with just butter and garlic.
You can make the gremolata a few hours in advance – just keep it covered in the refrigerator until you're ready to serve it.
Use a meat thermometer to take out all of the guesswork when you roast the chops.
Side Dish Ideas
Serve these roasted lamb chops with mashed potatoes, roasted potatoes, or with a green salad on the side with crusty bread.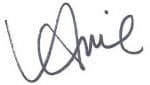 More Fancy Dinner Ideas
📣 Do you love this recipe? I would love to know! Leave a comment below the recipe along with your recipe star rating.
Print
The nutrition is an estimate only. It was calculated using Nutrifox, an online nutrition calculator.