Roasted Cornish hens are easy to prepare and great for special occasion dinners. They're seasoned with pantry spices and fresh herbs and roasted in the oven until the skin is golden and crispy.
Please join me as we venture back to the '80s and treat ourselves to something considered, at the time, the height of sophistication: roasted cornish game hens. I'm not sure why they fell from their high-society perch because they're delicious, and does deliciousness ever go out of style? I think not.
So, fire up some Peter Cetera on the stereo and light some candles because we're traveling back in time and treating ourselves to a retro main course that's perfect for a modern-day at-home cozy dinner.
What are Cornish Game Hens?
So, the secret is that they're just little chickens with a fancy name, like many other little posers during that decadent decade. But they do deliver in the flavor department: once cooked, they're juicy and delicious. They don't need much – a little seasoning and olive oil turn the skin golden and crispy, and a few aromatics in the cavity add flavor to the meat.
And the appeal is in the size – one hen is a generous serving for one person and, sitting on the plate all roasted and delicious, they make for a pretty presentation. Although, in my experience, with some side dishes, two people can easily share one bird.
There are so many reasons to give this easy recipe a try. Maybe you love the '80s, or perhaps you're looking for something fancy-ish to make for a special occasion like an '80s-themed dinner party, small Thanksgiving dinner, romantic Valentine's day fête, or Christmas mini feast. Or maybe you're just cornish game hen curious. No matter the reason, they are ready for a comeback, and you can make it happen.
Ingredients
Cornish game hens – You should be able to find them at most grocery stores. They're usually frozen, so plan to thaw them for at least 24 hours or so before you roast them.
Olive oil
Kosher salt
Garlic powder
Dried thyme
Onion powder
Paprika
Black pepper
Carrot cut into 1" pieces
Celery cut into 1" pieces
Smashed and peeled garlic cloves
Sprigs of fresh rosemary
How to Roast Them
Preheat the oven to 400 degrees F. Pat the hens dry with paper towels and place them in a baking dish or roasting pan that's big enough to hold both of them so they aren't touching.
In a small bowl, combine the olive oil, salt, garlic powder, dried thyme, onion powder, paprika, and black pepper.
Rub the oil mixture all over the hens and then fill the cavity of each hen with the veggies, garlic, and rosemary.
Tie the legs with kitchen twine and tuck the wings under the bird— this will prevent them from burning in the oven.
Roast the hens for 50 to 55 minutes or until a meat thermometer reads 165°F in the thickest part. The skin should be golden brown.
Remove the pan from the oven and tent it with aluminum foil. Rest the hens for 10 minutes. You can carve them for serving or serve them whole.
Recipe Tips
Cooking Tip: Use an instant-read thermometer so you don't have to guess if they're done. It's always a good idea to check them early because, depending on your oven, the cook time may vary.
Swaps: Any fresh herb will work like fresh thyme or parsley. You could also stick some orange or lemon wedges in the cavities to add a citrus flavor.
Garnish: Sprinkle some sea salt and chopped fresh parsley over the top for serving.
Side Dish Ideas
If you add some sides, this roasted cornish hens recipe will easily serve four people. You can carve them and serve the sliced meat or slice the hens in half and serve them that way. Here are some sides you might like to try:
I hope you give this Cornish game hen recipe a try this fall and winter! They may be retro but they sure are delicious. Enjoy!
Happy Roasting,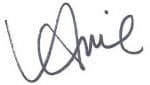 More Main Dish Recipes
📣 Do you love this recipe? I would love to know! Leave a comment below the recipe along with your recipe star rating.
Print