Homemade Passion Fruit Iced Tea is a refreshing summer drink that's easy to make. You only need four ingredients to make this tropical fruit tea recipe – you'll be sitting on the porch sipping this fruity tropical iced tea in no time at all!
Because we're feeling all fancy-like and ready to get our refreshing drink game going for the summer, I present to you passion fruit iced tea. It's the perfect drink for a hot summer day – it's tropical, sweet, and easier to make than you think!
Ingredients
Black tea bags
Boiling water
Granulated sugar
Passion fruit
How to Make It
Steep the tea bags in the boiling water for three to four minutes.
Add the sugar and stir until it's dissolved.
Cut the passion fruits in half and scoop the passion fruit seeds and pulp into the tea.
Pour the passion fruit iced tea into glasses filled with ice cubes.
Tips and Tricks
You can make the tea ahead and chill it in a pitcher in the refrigerator. Add the passion fruit before serving so it's nice and fresh.
And about the passion fruit – if you can't find fresh fruit, look for passion fruit puree or pulp. Goya makes it (I'm sure there are other brands, too) – just thaw it first in the refrigerator.
Instead of granulated sugar, you can use simple syrup, which is just equal parts sugar and water simmered until the sugar melts. Or you can try flavored syrups like vanilla or sweeten your drink with honey. You can also adjust the sweetness – just add more sugar or reduce it to your taste.
If you're really feeling fancy, garnish your iced tea drinks with fresh mint leaves and a squeeze of fresh lemon juice.
Ready to sip on this iced fruit tea? It's such an easy recipe and a great way to put a spin on a plain old glass of iced tea. Enjoy!
Happy drink-making,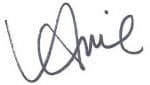 More Summer Drinks
📣 Do you love this recipe? I would love to know! Leave a comment below the recipe, along with your recipe star rating.
Print
The nutrition is an estimate only. It was calculated using Nutrifox, an online nutrition calculator.