Cold and fizzy berry lemonade made with fresh blackberries, strawberries, raspberries, and lemon juice. Perfectly sweetened with a little sparkle. It's the best way to cool off on a hot day.
We're making our own berry lemonade because it's summertime, otherwise known as the season for all the fizzy and refreshing drinks – so, are you onboard this lemonade train with me? I hope so!
Lemonade might seem like a hassle to make but it really isn't. I love to make my own because you can make all the variations. Last summer I shared my favorite golfing lemonade and now it's time for this sparkling berry lemonade recipe made with fresh berries, lemon juice, and sparkling water.
It's like the strawberry lemonade I shared a month or so ago – made the same way but different with the addition of fresh fruit and fizzy water.
Ingredients
Granulated sugar
Water
Fresh mint
Blackberries
Raspberries
Sliced strawberries
Fresh lemon juice
Sparkling water or club soda
How to Make It
Make the mint simple syrup: Combine the sugar and plain water in a saucepan. Bring it to a boil and stir until sugar has dissolved. Take the pan off the heat, add the mint leaves, and let it cool. Once cooled, discard the mint leaves.
Place the berries in a large pitcher or container. Using a wooden spoon, muddle the fruit to break it down.
Add the lemon juice and simple syrup and stir. If you are not serving it right away, store the pitcher in the refrigerator. When ready to serve, you can add all of the sparkling water to the pitcher or pour the lemonade into glasses with ice cubes and top each with the water.
Garnish the drinks with berries, lemon slices, and mint leaves.
Tips and Tricks
If you don't plan to serve all of the lemonade at once, you can make a lemonade concentrate and keep it in the refrigerator.
Make the simple syrup and mix it with the muddled fruit and lemon juice.
Strain the liquid through a fine-mesh strainer and discard the solid fruit pieces instead of leaving them in the lemonade.
Keep the lemonade concentrate in an airtight container in the refrigerator.
When you want a cold glass of berry lemonade, pour some over ice and top it off with sparkling water.
If you keep the muddled fruit in the lemonade, it will keep for a day or so. Without the fruit it will keep for four to five days.
You can also use frozen berries for this recipe but you will need to thaw them at room temperature before adding them.
If you don't enjoy fizzy drinks, you can skip the sparkling water and use plain cold water.
Want a grown-up version? Add some vodka for a spiked berry lemonade.
Make it for a BBQ, potluck, or block party. Or make it for yourself when you're craving something cold, refreshing, and sweet. Homemade lemonade is one of the best summertime things ever in my world – give it a try and enjoy!
Happy sipping,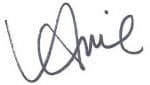 More Summer Drinks
Print