Penne al Pomodoro is a simple fresh tomato sauce with pasta that is made by blanching the tomatoes, peeling them, and then cooking them with fresh basil, olive oil, and salt. It's a great way to use summer tomatoes for a light and flavorful dish.
Penne al Pomodoro
Once a year, towards the end of summer, an opportunity presents itself and it is one that you should take advantage of if you can. The opportunity? Making homemade tomato sauce with Roma tomatoes that you either grow yourself or buy at the farmers market.
You can use the sauce to make penne al Pomodoro which is just the Italian way of saying "penne with tomato sauce" and, even though it's incredibly simple with just a handful of ingredients, it is one of the best ways to showcase summer tomatoes.
And if we're going to spend the time making it we might as well go big and make a HUGE batch of sauce because it's freezer-friendly. There's nothing better than treating yourself to a summer-fresh sauce in the winter long after the farmers market has closed up shop.
How to Make Sauce with Fresh Tomatoes
It's an easy process, but one that takes some time depending on how big of a batch you're making. Here are the steps:
Blanche the tomatoes
Peel them
Cook them down
Puree them or leave the sauce a little chunky, the choice is yours
I've read a lot of conflicting opinions about whether or not peeling is necessary. Some think it messes up the texture of the sauce, some think it makes the sauce better, and some say it makes no difference whether you peel the tomatoes or not. I'm on team "peel the tomatoes".
Scoring the tomatoes by cutting an "X" on the bottom of each one, makes it easy to peel them after you dunk them in boiling water. "Blanching" just means you are cooking them long enough to loosen the skin, about 30 seconds or so.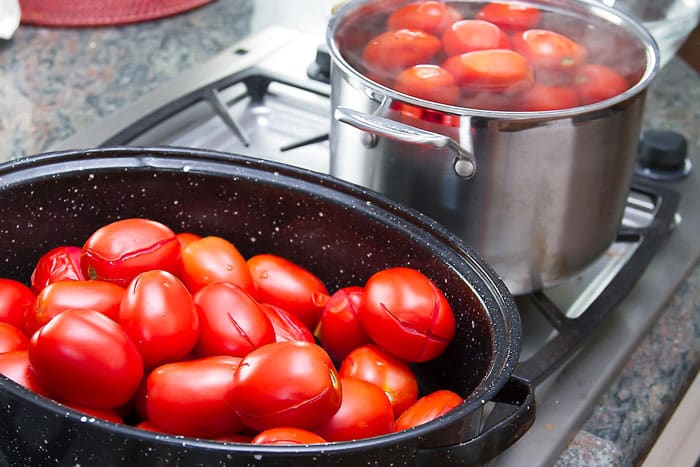 Once the are cool enough to handle, peel them and cut out the cores.
When I first tried authentic tomato sauce in Italy I fell in love with the simplicity of it – no bells or whistles just great, fresh ingredients prepared in a simple way.
And so when you cook your tomatoes you only need to add olive oil and salt, a tiny bit of sugar (to balance the acidity), and fresh basil right at the end.
You want to cook the tomatoes long enough to break them down, but not so much that they lost their fresh taste.
I like to puree the sauce, but you can leave it as chunky as you like.
I'm old-school so I like to serve it with cooked penne with some chopped fresh basil, but you can use this sauce as a base for so many other things and add to it whatever makes you happy.
How to Portion and Freeze the Sauce
This recipe makes approximately 20 (1/2 cup) servings of sauce, so you can portion it based on how many servings you want in a batch. I usually do 1/2 cup servings and freeze them in quart-size freezer bags.
As long as the sauce is kept frozen, it should last for several months in the freezer.
So, here's to summer and summer-fresh homemade tomato sauce!
Happy Cooking,
More Summer Recipes
Print
Penne al Pomodoro
When tomatoes are at their peak in summer this is a great sauce to make and freeze to enjoy long after the warm weather has passed. It's incredibly simple but fresh and full of wonderful flavor. 20ish pounds of tomatoes will get you 20 (1/2 cup) servings of sauce, but you can easily halve this recipe if you don't want to make as much.
Author: April @ Girl Gone Gourmet
Prep Time:

2 hours

Cook Time:

2 hours

Total Time:

4 hours

Yield:

20

servings

1

x
Category:

Sauces

Cuisine:

Italian
25

pounds fresh Roma tomatoes, washed clean

1/4 cup

olive oil

2 teaspoons

sugar

1/2 tablespoon

kosher salt, or more to taste

1/4 cup

chopped fresh basil
Cooked penne pasta
Instructions
Using a paring knife, score the bottom of each tomato with an "x". Bring a large pot of water to a boil and submerge the tomatoes for 30-45 seconds. Depending on the size of your pot you may need to do this in batches. Transfer the tomatoes to a large bowl (I used a roasting pan). Once cool enough to handle, peel the skin of each tomato. Using a paring knife cut out the cores and discard.
In a large stock pot (I ended up using two and split the tomatoes) heat the olive oil over medium heat. Squish the tomatoes with your hands to break them up a bit before adding to the pot. Be sure to add all of the liquid from the pan or bowl that the tomatoes were in. Bring the pot to a simmer and let the tomatoes cook for an hour and a half to two hours, or until they start to break down. Stir the tomatoes periodically and use a wooden spoon to break them apart.
I prefer a smooth sauce so I used my immersion blender to puree the tomatoes once they were cooked. If you like a chunky sauce you can leave them as is.
Add the sugar and salt to the tomatoes. Let the sauce simmer for another 10 minutes or so and taste it periodically to check the seasoning. Add more salt (a little at a time!) if needed.
Stir in the chopped basil and serve with penne
Notes
This recipe makes about 20 servings. I like to freeze the sauce in servings of four using freezer bags. I pour the sauce into a quart-sized bag, seal it, and then store all of the quart-sized bags in one large freezer bag to prevent any spills.[br]You can certainly doctor this sauce by adding garlic, onion, carrots, or whatever you want. I wanted to keep it very simple and it's delicious as is.
Nutrition estimates are for the sauce only.
Nutrition
Serving Size:

1/2 cup of sauce

Calories:

128

Sugar:

15.3g

Sodium:

28.4g

Fat:

3.9g

Carbohydrates:

22.5g

Fiber:

6.8g

Protein:

5g
Keywords: tomato sauce, pomodoro sauce
Post updated from the archives. First published in August 2015.