This Tuscan Chicken Penne has a creamy sun-dried tomato sauce, tender bites of chicken, and a pop of fresh basil. It's easy to make and ready in about 30 minutes!
It's been almost two long months since I last shared a pasta recipe, and so, to make up for it, I have a great one for you today: Tuscan chicken pasta. It's creamy, it's full of flavor, it's got tender bites of chicken, and it's ready in about 30ish minutes. In other words, this chicken penne recipe is my weeknight-friendly repentance for the recent shortage of new pasta recipes.
Here's what I love about it:
The sauce is made with half and half, Parmesan, and sun-dried tomatoes, which is just the best combo. You get creamy richness with those sweet and tart tomatoes cutting through the richness to balance it all out.
It's easy! Boil the pasta, brown the chicken, make the sauce, and toss it all together.
It's all about comfort. Some nights, only a big plate of pasta will do, and this creamy Tuscan chicken pasta delivers big in that department.
Ingredients
Pasta – I like to use penne pasta, but any short pasta will work. Or try spaghetti, linguine, or fettuccine if long pasta is your jam.
Boneless, skinless chicken breasts – For the best chicken that cooks evenly, pound the pieces with a meat mallet. It takes a minute but makes a big difference in how the chicken cooks and the texture once it's done.
Kosher salt
Olive oil
Unsalted butter
Dried oregano – You can also use dried Italian seasonings if that's what you have on hand.
Half and half – For an extra-decant creamy sauce, use heavy cream.
Shredded Parmesan cheese
Sun-dried tomatoes – Use tomatoes packed in oil and chop them up.
Chopped fresh basil or fresh parsley.
How to Make It
Boil the penne in a large pot and then drain it, and set it aside.
Cook the chicken in a large pan until it's browned, and the internal temperature is 165°F. Take it out of the pan, let it rest for a few minutes, and then cut it into bite-sized pieces.
Melt the butter in the same pan and then add the oregano. Whisk in the half and half and heat it until it's steaming hot.
Add the cheese and whisk until the sauce is thickened, and then stir in the chicken, tomatoes, pasta, and basil. That's it! Pile that creamy pasta goodness in bowls and devour.
Recipe Tips
Don't skip the chicken prep. If you don't pound out the chicken, it won't cook as fast or evenly. It also tastes better because the pounding tenderizes the meat, so it's juicy and tender. This process also doubles as free therapy – it's a great way to work out lingering frustrations from the day.
Use freshly shredded Parmesan cheese: For the best flavor and texture, shred the Parmesan cheese just before using it in the recipe. Pre-shredded cheese can be dry and may not melt as well in the sauce.
Don't rush the sauce: After you add the cheese to the half and half mixture, it will take a couple of minutes for the sauce to thicken. It helps to whisk continuously, too.
Don't forget the garnishes: I love a little extra sprinkle of cheese and basil on top before digging in.
Leftovers: Like a lot of creamy pasta dishes, this chicken penne won't be as good when you reheat it. The sauce won't be as creamy, so for that reason, you should enjoy it all not long after it's made.
Now seems like the very best time to give this one a try – I think you're going to love it!
Happy cooking,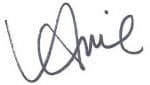 More Chicken Pasta Recipes
📣 Do you love this recipe? I would love to know! Leave a comment below the recipe, along with your recipe star rating.
Print
The nutrition is an estimate only. It was calculated using Nutrifox, an online nutrition calculator.