This Pulled Pork recipe is an easy slow cooker recipe with just a few ingredients. It's easy to prep, and then you leave it to cook until the seasoned meat is tender and juicy. Use it to make BBQ pulled pork, pulled pork sandwiches, enchiladas, and much more!
Today it's all about slow cooker pulled pork! Seasoned pork shoulder cooks for several hours in the crockpot until it's tender and juicy. It's so easy and so delicious – a must-make!
I've made pulled pork in the oven before, but the slow cooker makes it even easier. No babysitting – just leave it to do its thing!
The prep is super easy, too. Just combine a few simple pantry spices and seasonings and then rub the spice mix all over the pork. It only takes about 10 minutes.
I like to cook it low and slow, so the meat is really tender once it's done. When it's done cooking, just shred and serve!
Use it to make pulled pork sandwiches, enchiladas, and tacos, salads, or pile it on rice or potatoes.
If you like to meal prep, this pulled pork is a great option. You can make a batch, keep it in the fridge for several days and use it for easy lunches and dinners.
Ingredients
Taco seasoning – Pick your favorite brand! I love to use it as the base for the spice rub because it has a great mix of flavors all in one packet. Less to measure!
Brown sugar
Ground mustard
Minced garlic
Kosher salt and black pepper
Boneless pork shoulder – I use a picnic roast which is around three pounds. It's a good size if you're not serving a bunch of people. You can also use a bigger pork shoulder and double the amount of spices for the rub., but it will take longer to cook.
How to Make It
Mix the taco seasoning, sugar, ground mustard, garlic, salt, and pepper in a small bowl.
Place the pork in the slow cooker fat-side down and coat the top with some of the spice mix. Turn the pork over, coat the sides with the seasonings, and then sprinkle the rest of the mix over the top. The pork should be fat-side-up when you cook it.
There will be extra seasoning that won't stick to the pork – that's fine. The excess seasoning that ends up in the bottom of the slow cooker will flavor the juices as the pork cooks.
Place the lid on the slow cooker and cook the pork on low for six to eight hours or until the internal temperature is between 185 and 190°F. Be sure to insert the thermometer in the thickest part of the pork when you check the temperature.
Use two forks to shred the meat once it's done cooking, and stir it with the liquid in the bottom of the pot.
Recipe Tips
Use the best cut of meat: I like pork shoulder, but you can use a pork butt, too. Both options have enough fat, so you don't end up with dry pork.
Seasoning: You can use any kind of pork seasoning for this recipe to change the flavor. Make up your own, or use a store-bought spice rub to switch it up.
Cooking liquid: The pork will release juices as it cooks, so I don't add anything extra to keep it easy. But feel free to add some chicken broth, beer, or apple cider vinegar for extra flavor when you cook the meat. You won't need a lot – just enough to cover the bottom of the slow cooker.
Cooking time: I don't recommend cooking the pork on high for less time because the meat won't be as tender. Cooking it on low allows the fat to melt slowly, which will tenderize the meat and add tons of flavor. As I mentioned, I use a boneless picnic roast which is around three pounds and takes about sixish hours to cook. If you use a larger pork shoulder, you will need to add more time. A bone-in pork shoulder will also take longer to cook.
Use a thermometer: Checking the internal temperature with a meat thermometer takes all of the guesswork away. Without it, it's hard to tell if it's fully cooked in the middle.
Shredding the pork: Once you shred the meat, pull out any pieces of fat or tough parts before serving it.
Storage: Pulled pork will keep in the refrigerator for three to four days. Just store it in an airtight container.
Different Ways to Serve It
I can eat this pulled pork straight from the slow cooker like a heathen, but I've got a few more refined options for you to try:
I really love this slow cooker pulled pork – I hope you do, too!
Happy slow cooking,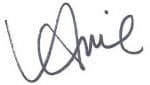 More Slow Cooker Recipes
📣 Do you love this recipe? I would love to know! Leave a comment below the recipe, along with your recipe star rating.
Print
The nutrition is an estimate only. It was calculated using Nutrifox, an online nutrition calculator.