Cold and refreshing vodka lemonade is a summertime must-make drink. It's so easy and you can easily scale the recipe up or down depending on how much fun you want to have.
With just three ingredients spiked lemonade is the perfect easy sipping drink for a warm summer night. All you need is some delicious snackage like chips and salsa to go with it.
One perk of being an adult is adding vodka to your lemonade and in the summer, it's a perk worth partaking of because it's easy, simple, refreshing and, well, the flavor is so summer-timey.
It's my personal drink of choice while playing golf although the golf version is a little more low-brow than this sparkling vodka lemonade version I'm sharing here. While golfing all you do is spike a cold bottle of lemonade with the vodka hidden in your golf bag so it's easy to sneak a taste. But, that's our little secret, okay?
This sparkling version is upgraded and meant for sharing on the porch as a warm summer day winds down. This cocktail takes just minutes to make and it's fizzy and refreshing.
💌 Sign up for the Girl Gone Gourmet Newsletter and get recipes delivered straight to your inbox!
How to Make Vodka Lemonade
You could just mix vodka and lemonade, but I like adding soda water because it cuts the sweetness and adds fizz. Who doesn't love some fizz?
I think this spiked lemonade is great for sharing so this recipe makes four large vodka lemonades. Here's what you need:
Ice
8 ounces vodka
32 ounces lemonade
16 ounces of soda water
Feel free to add some lemon slices and then mix it all together in a pitcher. As is the case with so many things, the amounts of each ingredient are easily adjustable and you should do so with abandon to make it just right for you.
Garnishes and Such…
If you're feeling extra, you can run a lemon slice around the rims of the glasses and then dip them in sugar. If you're feeling extra-extra use colored sanding sugar to add a pop of color.
Fresh mint leaves would also be nice. Muddle a few leaves in the bottom of the glass before adding the ice. Or try muddling some fresh berries.
Add ice to the glasses pour the sparkling vodka lemonade over the top and add a slice of lemon for the finishing touch. Pro tip: A straw is a nice way to get some bonus points, too.
Make-Ahead Tip
If you want to make a batch of lemonade vodka ahead you can but wait to add the ice and soda water until you're ready to serve it. You don't want the ice to water it down or the soda water to go flat.
Three cheers for summer and this delicious vodka lemonade recipe. I hope you enjoy!
Happy Sippin',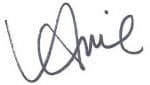 More Summer Drinks
📣 Do you love this recipe? I would love to know! Leave a comment below the recipe along with your recipe star rating.
Print
The nutrition is an estimate only. It was calculated using Nutrifox, an online nutrition calculator.
Post and photos updated from the archives. First published in June 2020.