Beef and Cheese Enchiladas with a savory ground beef filling rolled up in corn tortillas, topped with enchilada sauce, and finished with a creamy cheddar cheese sauce. Add your favorite enchilada toppings, and you get a hearty and comforting dinner!
Old school beef enchiladas get a cheesy upgrade with my go-to cheddar cheese sauce I love to use on all the things. So, instead of just shredded cheese on top, you pour a creamy cheese sauce over the top of the enchiladas before they go in the oven.
You end up with the best beef and cheese enchiladas with seasoned ground beef green chile filling, a saucy top with enchilada sauce, cheese sauce, and shredded cheese to make it even more fun.
Add your favorite toppings, pour yourself a margarita, and add a bowl of tortilla chips on the side. It's the makings for a very delicious dinner, and I think you're gonna love it.
💌 Sign up for the Girl Gone Gourmet Newsletter and get recipes delivered straight to your inbox!
Ingredients
Vegetable oil or canola oil
Lean ground beef
Chopped onion
Diced green chiles
Chili powder
Kosher salt and black pepper
Lime juice
White corn tortillas
Shredded Monterey jack cheese
Shredded cheddar cheese
Cornstarch
Half and half
Recipe Instructions
Brown the beef in a large nonstick skillet with the onion, green chile, and spices. Add the lime juice, and then take the skillet off the heat so the mixture can cool.
Place shredded cheddar cheese in a bowl. Add the cornstarch and toss to coat the cheese evenly. Warm the half and half in a saucepan, add the cheese and stir until the sauce is smooth.
Add both kinds of shredded cheese to the cooled beef mixture and stir.
Spread some enchilada sauce in the bottom of a prepared 9×13 baking dish. Fill each tortilla with the beef and cheese mixture, roll them up, and place them seam-side-down in the baking dish.
Pour the rest of the enchilada sauce over the top of the tortillas. Pour the cheese sauce over the top, and then sprinkle the rest of the shredded cheese over the top of the sauces.
Cover the pan with foil and bake the beef enchiladas for 15 minutes. Remove the foil and bake them for 10 minutes.
Leftovers will keep in the fridge for three to four days.
Toppings and Garnishes
While the enchiladas bake, get all the toppings ready because you know you'll want to load them up. Here are some ideas:
Shredded lettuce and diced tomatoes
Diced jalapenos
Chopped onion or sliced green onions
Sliced black olives
A scoop of sour cream or guacamole
Diced avocado
A drizzle of salsa or spoonful of pico de gallo
Chopped fresh cilantro
Can you use flour tortillas instead of corn tortillas?
Yep! Depending on the size, you may get more or fewer enchiladas so keep that in mind.
Can you make enchiladas ahead?
Another 'yep' on this one! You can assemble the enchiladas, but instead of baking them, cover them with foil and pop them in the refrigerator for up to a day before baking them. You may need to add a few minutes to the baking time.
I haven't tried freezing unbaked enchiladas, but I think it will work fine. Just be sure to thaw them before baking.
I hope you give these beef and cheese enchiladas a try soon! The flavors are great, and that creamy cheese sauce takes them to a whole new level. Enjoy!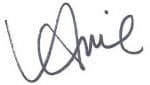 More Recipes to Try
📣 Do you love this recipe? I would love to know! Leave a comment below the recipe along with your recipe star rating.
Print
The nutrition is an estimate only. It was calculated using Nutrifox, an online nutrition calculator.