Pork Enchiladas with a savory pulled pork filling rolled up in corn tortillas, topped with enchilada sauce, and finished with a creamy cheese sauce. Add your favorite enchilada toppings, and you get a hearty and delicious dinner loaded with flavor.
I've been into pulled pork lately, cooking a seasoned pork shoulder in the slow cooker and using it to make sandwiches, wraps, and now these pork enchiladas. So, needless to say, it's been a very delicious time at our house.
So, if you missed it, you need to give the easy slow cooker pulled pork a try and use it to make these shredded pork enchiladas. With the cooked pork already on hand, they're easy enough for a weeknight. And can't we all use a little midweek enchilada love? I think the answer is yes.
And there's a lot to love in these enchiladas: tender seasoned pork wrapped up in corn tortillas and topped with enchilada sauce and a super simple extra creamy cheddar cheese sauce. All you need are some chips and salsa on the side!
Ingredients
Enchilada sauce – Use your favorite store-bought sauce or make my easy enchilada sauce.
White corn tortillas – You can also use small flour tortillas.
Pulled pork – This is a great way to use up leftover pulled pork, or you can use storebought. I've seen prepared Mexican pulled pork (known as pork carnitas) at the grocery store, so feel free to take that easy shortcut. Any kind of cooked pulled pork that's not mixed with BBQ sauce will work great.
Shredded pepper jack cheese
Cornstarch
Half and half
Kosher salt
Shredded cheddar cheese
How to Make Pork Enchiladas
Spread some enchilada sauce in the bottom of a 9×13″ baking dish.
Fill each tortilla with some pulled pork, roll them up, and place them seam side down in the baking dish. Pour the rest of the enchilada sauce over the top.
Preheat the oven to 375°F. Spread ¾ cup of enchilada sauce in a 9×13" baking dish.
Fill each tortilla with about ¼ cup of shredded pork and roll them up. Place them in the baking dish and pour the rest of the enchilada sauce over the top.
Place the pepper jack cheese in a small sauce pan. Sprinkle the cornstarch over the top and toss the cheese to coat it evenly. Add the salt and half and half.
Warm the mixture over medium heat. Whisk continuously as the mixture warms up, and the cheese starts to melt. Once the sauce is smooth and creamy, it's done.
Drizzle the cheese sauce over the top of the enchiladas, and then sprinkle the shredded cheddar over the top. Cover the dish with foil and bake the enchiladas for 30 minutes. Remove the foil and bake them for 10 minutes or until they are hot and bubbly.
Recipe Tips
Toppings: Serve these pork enchiladas with sour cream, lettuce, tomatoes, guacamole, pico de gallo, chopped cilantro, and other enchilada toppings that you like.
Make ahead: You can make them a day ahead, cover them with foil, and keep them in the refrigerator until you're ready to bake them. You will need to add a few minutes of baking time if you do this.
Storage: Leftover enchiladas will keep in the fridge for two to three days in an airtight container.
I hope you try this recipe soon!
Happy enchilada-making,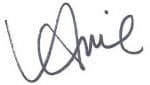 More Enchilada Recipes
📣 Do you love this recipe? I would love to know! Leave a comment below the recipe, along with your recipe star rating.
Print
The nutrition is an estimate only. It was calculated using Nutrifox, an online nutrition calculator.