Fast and fresh black bean and corn salad with a zippy lime dressing. This is a great summer side dish for all the potlucks, BBQs, block parties, or anytime you want a light and delicious salad.
I've got some summertime in a bowl for you today! A bright, fresh black bean corn salad recipe that takes all of 15 minutes to toss together. It's easy breezy – exactly the way the summer should be, right?
This is a great dish for all the summer goings-on. It's so easy to make, the flavors are crowd-pleasing, and it goes with all the other summer things like grilled everything. It also doubles as a dip if you add some salty, crunchy tortilla chips.
The stars of this salad show are corn and black beans. For the corn, feel free to use thawed frozen corn or grilled corn on the cob – just slice off the kernels. Other veggies include crisp red bell pepper, green onions, and some fresh cilantro. All together a fresh and delicious side salad for summer.
Ingredients
Fresh lime juice and zes
Olive oil
Honey
Salt
Ground cayenne pepper
Garlic powder
Black beans
Corn kernels (you can use cooked fresh corn or frozen corn that is thawed)
Diced red bell pepper
Sliced green onions
Chopped fresh cilantro
Bonus add-ins: Feel free to add some diced red onion, diced jalapeno, or chopped tomatoes. This black bean salad is very customizable.
How to Make Black Bean Corn Salad
Make the dressing by whisking the lime juice, zest, olive oil, honey, salt, cayenne, and garlic pepper in a small bowl. Or place them all in a jar, secure the lid, and shake to combine.
Put all of the other ingredients in a large bowl, pour the dressing over the top, and toss to coat everything evenly. Chill the salad until you're ready to serve it.
Some Questions and Answers
What to Serve it With
The flavors in this corn salad pair perfectly with other Mexican dishes or grilled meats… here are some ideas:
Add this one to your summer eats list – I think you will love it! You can't beat a 15 minute prep time and the flavors in this corn salad are delicious. Enjoy!
Happy salad-making,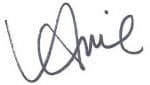 P.S. Want new recipes delivered to your inbox! Sign up for the Weekly Newsletter 📧
More Easy Salad Recipes
Print