These homemade meatballs are quick, easy, and great for meal prepping. You don't need to chop anything – instead, we're using pantry spices and seasonings to make them. Just mix, roll, and brown – that's it! You will love these easy meatballs.
There are times for complicated things and times for very easy things and today, friends, is a time for easy. Easy meatballs to be specific.
These are basic and non-showy meatballs. Humble and utilitarian, if you will, as these meatballs strive to make life easy and unfussy for all people. And while they are simple, they are delicious – savory, well seasoned, and tender but without the pitfalls of other fancier meatballs. Namely, the total time to make them – you only need about 30 minutes.
Recipe Highlights
We're using simple pantry ingredients for a quick and easy prep time. Ingredients you probably already have on hand.
No chopping required. Instead of chopped onion, we're using onion powder. Instead of minced fresh garlic cloves, we're using garlic powder. Instead of day-old bread cut into small cubes, we're using dried breadcrumbs from the store. Purists may gasp in shock, but the rest of us will revel in the shortcuts because they save time, and that's a good thing.
I make them with beef, but you can use any ground meat that you like – this recipe works with turkey, chicken, and pork.
They're meal-prep friendly! I like to make a batch on a Sunday and pop them in the fridge or freezer for easy dinners.
The flavors go with everything, so you're not limited to using them with spaghetti sauce and pasta. There are many delicious ways to use this easy meatball recipe – I share some ideas at the end of the post.
Ingredients
Dried bread crumbs – you can also use panko if that's what you have on hand!
Large eggs
Dried oregano or Italian seasoning if you want to make Italian meatballs
Onion powder
Garlic powder
Kosher salt and black pepper
85% lean ground beef (or ground turkey, pork, or even chicken)
Olive oil
Steps
In a large bowl, combine the bread crumbs with the eggs, and all of the spices and seasonings. Stir until it's well mixed.
Add the ground beef and mix until the breadcrumb mixture is mixed in. The easiest way to do this is with your hands.
Scoop a generous tablespoon of the meat mixture (a small cookie scoop makes this easy) to form each ball. They should be about .80 ounces if you are into specificity.
Place the meatballs on a baking sheet as you are rolling them. At this point, you can cook them right away or pop them in the refrigerator to cook later. They will keep in the fridge for a day or so.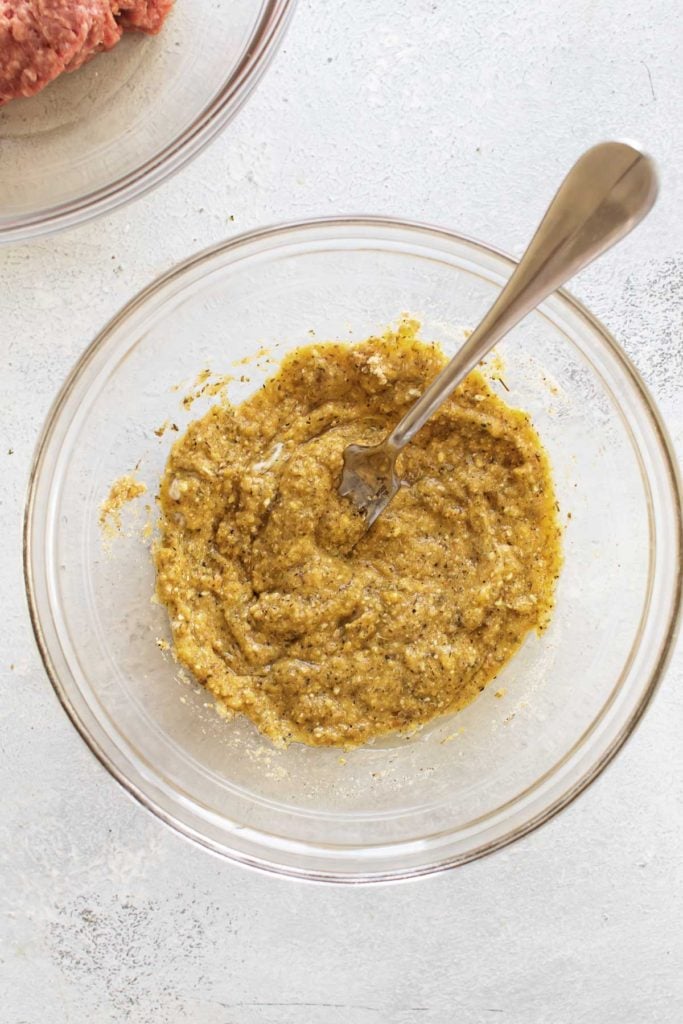 Heat the olive oil in a large skillet over medium-high heat. Place the meatballs in the pan in an even layer. They shouldn't be crowded so, depending on the size of your pan, you may need to cook them in batches.
The cook time is about 10 minutes or so. Once they are browned and cooked through, remove them from the pan. Serve them or keep them in the refrigerator or freezer for later.
Tips, Tricks, and Recipe Variations
Switch up the meat: What's great about the recipe is that it works with different ground meat – try using this recipe to make turkey meatballs or ones with ground pork or chicken. You can also use Italian sausage or do a combination of any of these.
Add heat: A pinch or so of red pepper flakes mixed into the meatballs adds a nice kick of heat.
Bake them in the oven: You can bake these instead of cooking them on the stove. This works well if you want to cook them all at once but don't have a big enough skillet. Place them on a baking sheet lined with parchment paper. Space them an inch or two apart and then bake them for 15 to 20 minutes a 400°F or until they are cooked through.
Chilling tip: Do you ever wonder why meatballs don't hold their shape when you cook them in a pan? Round meatballs turn out more triangle-shaped sometimes after you cook them. Well, one way to avoid this is to chill the meatballs before cooking them. Chilling them for at least 30 minutes to an hour makes it easier for them to hold that round shape when you cook them on the stove.
Storage Tips: Cooked meatballs will keep in the refrigerator for up to five days. Or you can freezer them in a freezer bag for up to three months.
Different Ways to Serve Them
Of course, the most obvious: warm them up in some homemade marinara sauce or other pasta sauce, add your favorite pasta and garnish with fresh parsley and Parmesan cheese.
Use them to make meatball subs – add your favorite tomato sauce, pile them in rolls, and top them with mozzarella cheese.
Warmed them up in some BBQ sauce and serve them with some roasted broccoli and mashed potatoes or cauliflower mash.
Or coat them in teriyaki sauce and serve them on some rice with some veggies on the side.
Use them to make Swedish meatballs or meatball stroganoff.
These are the best meatballs that are ready in less than 30 minutes and my go-to when I want something low-fuss. Make a batch and see for yourself – I think you'll like them!
Happy meatball making,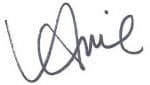 More Meatball Recipes
📣 Do you love this recipe? I would love to know! Leave a comment below the recipe along with your recipe star rating.
Print
The nutrition is an estimate only. It was calculated using Nutrifox, an online nutrition calculator.