This BLT Pasta Salad is perfect for all the summer BBQs and potlucks. It has the classic flavors of a BLT with juicy tomatoes, crispy bacon, fresh spinach, and a creamy dressing but served up pasta salad-style. Learn my best tips for making a creamy pasta salad and how to make it ahead!
I first made this BLT pasta salad way back in 2009 when this ye olde blog was just a few months old and since then it's been my go-to summer salad. It's a crowd-pleaser with its classic BLT sandwich flavors and goes with pretty much any main dish served up at BBQs, cookouts, and potlucks.
And back then it was sort of a revelation because, up until that point, I'd never made a homemade pasta salad I liked. They were either too dry or too gloppy or too runny. I remember I'd recently seen an episode on Food Network – the name of the show escapes me now – during which the pasta was cooked and then chilled before it was mixed with the creamy dressing.
On the show, the host was making some sort of pasta salad-egg salad concoction and it was that one simple pasta preparation step that inspired this BLT pasta salad. Since then, I've never looked back and I always chill my cooked pasta. The result is a pasta salad that's not too dry or too runny. It works every time.
So, seeing as summer is upon us, I gave this almost 12-year old post a makeover with a few more tips and tricks and new (much-improved) photos to showcase this favorite summer salad. The BLT pasta salad recipe, however, is still the same.
Ingredients
Rotini pasta – or any short pasta like penne, farfalle, or bow tie pasta.
Diced red onion
Bacon
Chopped fresh baby spinach
Cherry or grape tomatoes
Mayonnaise
Fresh thyme leaves
Finely chopped fresh parsley
Lemon juice and zest
Kosher salt
Tips for Making BLT Pasta Salad
I like to use rotini pasta for this salad because its corkscrew shape is a great vehicle for the creamy dressing.
I like to boil the pasta first following the package directions, drain it really well, and then spread it out in an even layer on a baking sheet. Next, I pop it in the refrigerator to chill.
This chilling step is critical because if you toss warm pasta with a creamy mayo-based dressing the heat from the pasta will break down the dressing making it runny and not so nice. The warm pasta will also absorb a lot of the dressing so, when it's time to serve it, the pasta salad will be dry instead of creamy. Runny or dry BLT pasta salad = sad face.
I prefer thick-cut bacon for this pasta salad. While the pasta is boiling I cook the bacon strips, drain them of their excess grease on a paper towel, and, once they've cooled, chop them into generous bite-sized pieces. I like to see the bigger pieces of bacon in the salad rather than finely chopping it.
I love using cherry tomatoes in this BLT pasta salad because they're sweeter than other types of tomatoes. They're also perfectly sized when they've been sliced in half. I've also used grape tomatoes which are similar.
Along with the fresh tomatoes, the salad has diced onion and chopped fresh spinach all of which can be prepped while the pasta is chilling.
Once I've cooked the bacon and while the pasta is chilling I like to make the salad dressing.
How to Assemble the Salad
If you're planning to serve the salad the same day you make it you can toss it all together once the pasta is chilled.
Place the chilled pasta in a large bowl. Add sliced cherry tomatoes, chopped spinach, diced onion and toss to combine.
Pour the dressing over the salad and toss again until the pasta and other ingredients are evenly coated.
At this point, you can serve the salad. I don't really love icy cold pasta salads and prefer them a little cooler than room temperature. The pasta will be plenty cold at this point, so it's nice to just toss and serve it. That said, there are times when I've needed to make it ahead and I do things a little differently when that is the case.
Also, since this is a mayo-based pasta salad, you don't want it sitting out at room temperature for hours on end, but you won't have that problem because this salad tends to disappear fast.
How to Make It Ahead
The steps in preparing all of the ingredients are the same, but instead of tossing it all together and popping it in the fridge I do the following:
Instead of slicing the tomatoes and tossing them with the salad I leave them out. Tomatoes don't do well in the refrigerator – they're texture can change and turn sort of mealy – and so I keep them out and only toss them with the salad when I'm ready to serve it. That said, a few hours in the fridge will not do too much damage, but if you're making the salad a day in advance I recommend keeping them out until you're ready to serve.
Same goes for the bacon. I'm happy to cook it ahead of time, chop it, and then store it separately in the fridge. It will lose some of its crispiness, but it will be a whole lot crispier if you keep it out of the salad until you're ready to serve it.
You can toss the pasta with the spinach and onion. As far as the dressing goes, I add about 3/4 of it to the pasta reserving the rest until I'm ready to serve it. The pasta will absorb some when you refrigerate it, so tossing it with the reserved dressing right before serving will revive its creamy texture.
I hope you enjoy this easy pasta salad!
Happy pasta-salad-making,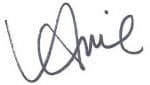 More Summer Salads
Print
Post updated from the archives. First published in September 2009.