Bacon Cheddar Cauliflower Soup (for Two)
Roasted cauliflower and smoky bacon meet in a creamy cheddar cheese soup – this bacon cheddar cauliflower soup is a cozy dinner for two.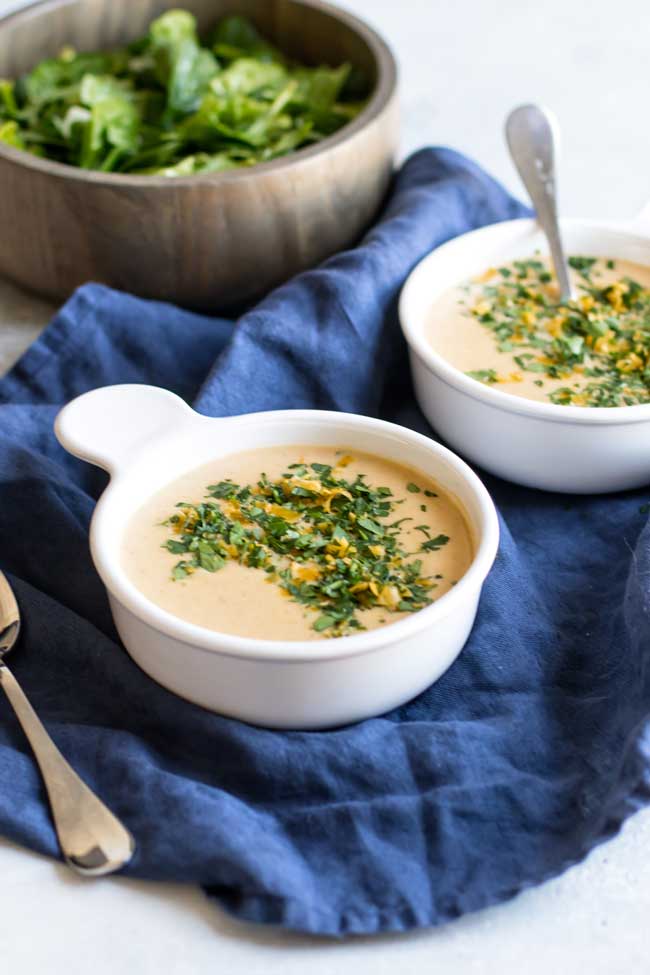 Bacon Cheddar Cauliflower Soup
Sometimes it's a failure, or in this case many failures, that leads to something unexpected and wonderful like this bacon cheddar cauliflower soup. I'll spare you the nitty-gritty details, but my multiple attempts at making beer cheese soup, all of which failed so miserably, was laughable. All in all, I attempted it three or four times over the last eight months culminating in the last attempt, just a few weeks ago, that was a watery salty mess. My goal was a small-batch cheesy soup spiked with beer and somehow I managed each time to screw up the ratios resulting in batches of soup that were either too thin, too thick and grainy, or, as was the case with the last iteration, so salty our eyes were sealed shut the next day. It was like the Goldilocks of soup except in this case I haven't found one that's just right.
And I was bothered. So much, in fact, that I spent the better part of an hour walk with Feynman (aka Puppy Pie) and Bill (aka BF or SO) turning the issue over and over in my mind until the proverbial light bulb went off and I declared, "I will take the best parts and make a different kind of soup – a cauliflower soup with bacon and cheese!" Bill has been around long enough now to know when I go into deep thought it's usually about food and once I have an idea all other plans are canceled until I've had a chance to take the idea for a spin.
And so, on a cold Saturday afternoon, I gathered the veggies, broth, bacon and cheese and made a small-batch soup for two. It's a cauliflower soup reminiscent of beer cheese soup complete with smoky bacon and cheddar cheese, but without the beer, which I didn't miss at all.
Some Ingredients You'll Need
Like most soups, this one starts with some veggies but instead of sauteeing them on the stove we're just tossing all of them onto a sheet pan. Cauliflower florets, smashed garlic and chunks of onion all go onto the sheet pan along with bacon cut into small pieces. Since the soup is pureed you don't need to worry about precise chopping, which is always a win in my book. While the veggies roast the bacon releases its fat coating them in smoky porky goodness which is not only delicious but also serves as therapeutic aromatherapy for your kitchen.
While the veggies roast, make the soup base. Melt some butter and to it add some flour. Stir it for a minute or so until it's smooth. Slowly add some low-sodium vegetable broth, whisking continuously. Turn the heat up and bring the soup to a simmer and cook it until it starts to thicken, which takes about five to ten minutes.
Once the veggies are tender and kissed with caramelization transfer them to the soup. At this point, an immersion blender makes easy work of pureeing the soup. I like to tilt the pan a bit so that the head of the blender is completely submerged in the soup before giving it a whirr. This cuts down on potential soup splattering, which feels like molten lava if it hits you.
Adjust the heat to low and add some milk – I used whole milk – and stir. Add shredded cheddar cheese and stir again until the cheese has melted into the soup.
I garnished our cauliflower soup with a generous amount of chopped parsley (when it hits the hot soup it wakes up and infuses it with herby freshness) and some more shredded cheddar. Serve the soup with a fresh green salad (mine was a super simple combo of spinach and romaine tossed with some avocado ranch dressing) to make it a meal.
Happy soup-making!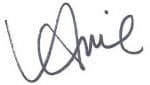 P.S. I haven't totally given up on beer cheese soup, so do you have a great recipe? Do share, please.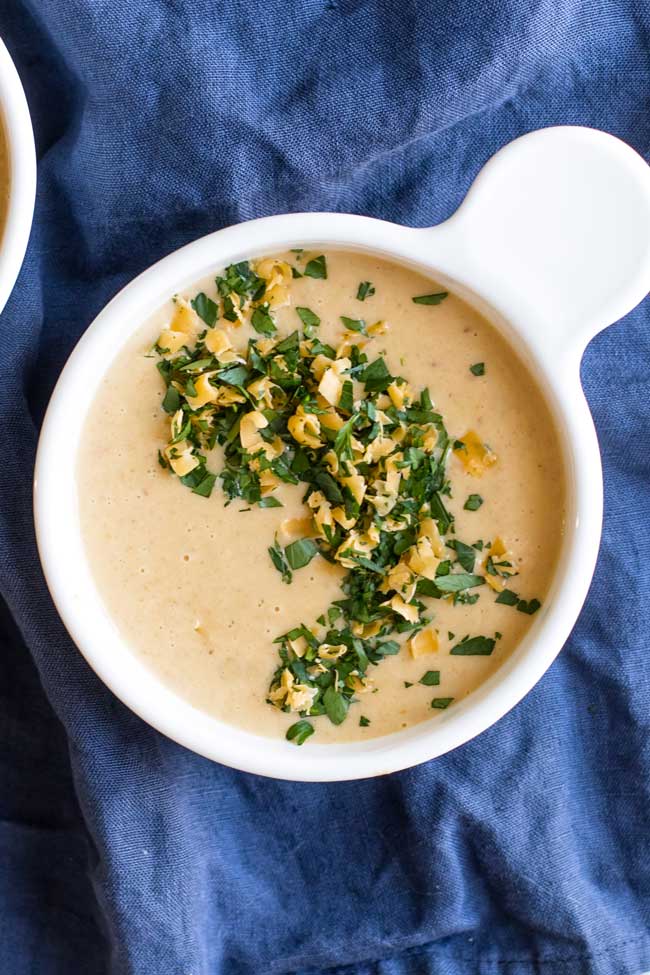 More Soup Recipes for Two
Print
Bacon Cheddar Cauliflower Soup (for Two)
This easy-to-prep soup for two has smoky bacon, tender roasted vegetables, and cheddar cheese. All of the veggies and bacon roast together on one sheet pan before being added to the soup. Add some shredded cheddar and you get a cheesy creamy soup that's perfect on a cold day.
Author: April @ Girl Gone Gourmet
Prep Time:

10 minutes

Cook Time:

40 minutes

Total Time:

50 minutes

Yield:

2

(10-oz) servings

1

x
Category:

Soup

Method:

Roasting

Cuisine:

American
For the Roasted Veggies
6 ounces

cauliflower florets (see note)

4

large cloves of garlic, smashed

1/2

small yellow onion, cut into chunks

2

slices bacon, cut into small pieces (see note)

2

pinches kosher salt
For the Soup Base
2 tablespoon

unsalted butter

2 tablespoon

all-purpose flour

2 cups

low-sodium vegetable broth

1/2 cup

whole milk

2 ounces

cheddar cheese, shredded
Optional Garnishes
Shredded cheddar
Chopped fresh parsley, for garnish
Instructions
Roast the veggies: Preheat oven to 400°F. Place the cauliflower, garlic, and onion on a sheet pan. Sprinkle the bacon pieces and salt over the top. Roast the veggies for 30 to 40 minutes or until they are tender and caramelized.
Make the soup base: While the veggies roast, melt the butter over medium heat in a 3.5-quart saucepan. Add the flour and stir to combine it with the butter. Slowly add the vegetable stock, whisking continuously, until the flour and butter mixture is fully incorporated. Increase the heat to bring the soup to a simmer. Simmer the soup for 5 to 10 minutes or until it starts to thicken.
Bring it all together: Add the roasted veggies to the soup. Using an immersion blender, puree the soup. Add the milk and stir to combine. Reduce the heat to low and add the shredded cheese. Whisk until the cheese has melted. Serve with the garnishes, if using. Makes approximately 2 1/2 cups of soup.
Notes
I recommend breaking apart the florets so they are of similar size. For the onion, I slice it first in thirds lengthwise and then cut it into chunks.
For the bacon, I stack the sliced on top of each other and slice them lengthwise into thinner strips. Then I slice them into smaller pieces. The smaller pieces are easier to scatter over the veggies before you pop them in the oven.
The soup is great on its own, but I like to add a simple green salad on the side to make it more of a dinner. I did a simple combo of spinach and romaine tossed with Marzetti Simply Dressed Avocado Ranch Dressing.
The nutrition estimate does not include the optional garnishes.
Nutrition
Calories:

485

Sugar:

11g

Fat:

36.4g

Carbohydrates:

23.9g

Fiber:

2.3g

Protein:

17g
Keywords: cauliflower soup, roasted vegetable soup, bacon cheddar soup