An Instant Pot makes these tender and savory braised beef tacos totally doable on a weeknight. The beef tastes like it simmered for hours in the oven but all of it comes together in less than an hour.
I'm not one for kitchen fads preferring simple tools like a good knife, cutting board, and pan to new-fangled kitchen gadgetery. I despise unitaskers like garlic presses, rice cookers, and those little egg slicer things that only serve to take up valuable real estate in the kitchen and ignite rage when they cause a drawer to jam. Inevitably, they end up at the goodwill or neighborhood garage sale where they go on to wreak havoc in other people's kitchens.
Longtime readers know I'm also in a love-hate relationship with my slow cooker which is pretty much a unitasker that cooks things either slow or really slow. I swing wildly in my affection for it and at times completely and without remorse ignore it for months on end only to later declare my love for it like someone with co-dependency issues might do. Case in point, the slow cooker meatballs I shared a few weeks ago. It was a lovefest. A short-lived one, I'm sure, but a slow cooker love-fest nonetheless.
So it goes without saying that my relationship with certain kitchen tools is volatile and over the years I've learned to weed out the useful ones from the kitchen clutter and have developed a discipline over time that keeps me from bringing the newest trends and fads into my kitchen just because someone on Pinterest or Facebook or Twitter told me to.
So, the Instant Pot purchase I made a few months ago was wrought with angst. On one hand, it seduced me with its many functions (it's a slow cooker! Rice cooker! Pressure cooker! Best egg cooker ever!) and at the same time, I was turned off by its size and its utilitarian qualities. I'm all for practicality in the kitchen but for me, the process of cooking is often more rewarding than the end result and an Instant Pot seemed like a kitchen kill-joy. Tossing a bunch of ingredients in a device and securing the lid can suck all of the pleasure out of cooking for me sometimes. I'm a girl who enjoys a simmering pan and a cozy aroma wafting from a warm oven.
But, my curiosity and aversion to hot ovens this time of year got the best of me and I bought one. Pressure cookers have been around forever and I've seen enough episodes of "Top Chef" to know they have a place in a well-equipped kitchen. Perhaps it will go the way the slow cooker has and become a device I love to hate, but after weeks of playing around with it, I can admit I've got nothing but love for the ugly food machine. Several weeks ago I shared a salsa verde taco soup and as I read through that post now I sense a quiet wariness on my part about the Instant Pot.  But now, after many test rounds, a mutual respect has developed between my Instant Pot and me which is more than I can say about my dysfunctional slow cooker relationship.
And it's these braised beef tacos that sealed the deal.
Instant Pot Braised Beef Tacos
To achieve tender falling-apart beef one might buy a large chuck roast and crank up the oven for several hours until the beef has achieved its maximum tenderness. It's an activity made for weekends, perhaps when its cold, and not at all practical for a summer weeknight dinner. Also, if you cook for only yourself or another person you're left with days of leftovers. Some people love copious amounts of leftovers, but I'm not one of them. Leftovers in my house are left in the fridge only to die a slow death usually. I can handle a couple day's worth, which this recipe produces if cooking for just one person, but I can't handle three pounds of cooked meat taking up space in the fridge.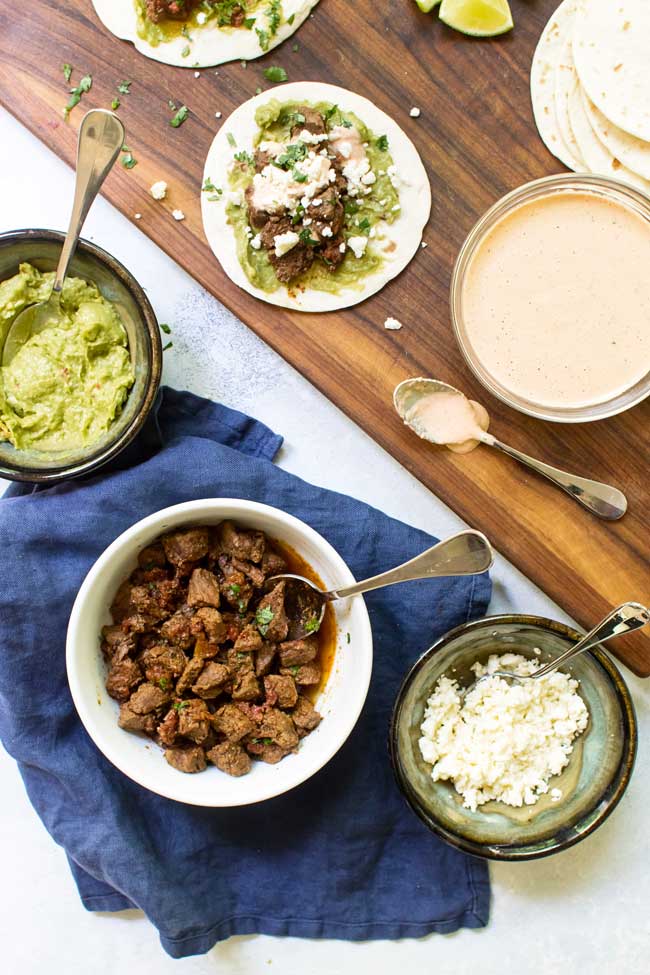 So it's my trusty 3-quart Instant Pot and a one pound package of stew meat that make savory braised beef tacos a reality during the week. You don't have to buy a Flintstone-sized cut of beef, you don't have to turn up the air conditioning to compensate for a hot oven, and you don't have to be ridden with guilt while tossing out leftovers at the end of the week. And this is the most important part: you don't have to sacrifice on texture or flavor by pressure cooking the beef. The beef turned out as tender and delicious as it does in the oven but in less time. Way less time. Here's how you do it:
Tips and Some Ingredients You'll Need
Stew meat: look for chunks of stew meat sold in 1-pound packages. It's the same stuff that's used for pot roast only it's cut up into conveniently-sized pieces and sold in a lesser amount. Because we're using it for tacos I like to cut the pieces up into smaller ½" chunks. It makes it easier to pile it in tortillas.
Pantry spices: Because this is a weeknight dinner we're skipping a lot of chopping and seasoning the beef with chili powder, salt, pepper, dried oregano, and garlic powder. As moisture accumulates in the Instant Pot the spices combine to make a savory sauce.
I added a ½ of a can of drained Rotel, which is just diced tomatoes and green chili, along with the beef in the slow cooker.
In an act I don't fully understand myself yet, I skipped browning the meat before pressure cooking it. It's the second time in as many weeks that I've done this in a recipe (again, see slow cooker meatballs) and I have to say I am loving the freedom from the stove. You could use the saute function on the Instant Pot and try and brown the beef first. I say "try" because I did just that in the first test and if the Instant Pot has any downfalls, it's developing a nice sear on the meat. Because of space issues and heat control, it does a fine yet totally undesirable job of steaming the beef but is terrible at searing. So, if you are a "brown the meat first" devotee I recommend doing so on the stovetop before transferring the beef to the Instant Pot. I couldn't tell the difference and for the sake of ease am okay skipping the browning step.
Once the Instant Pot gets to pressure — and it does take it a few minutes to achieve this so plan accordingly — it takes 25 minutes of pressure time and 10 minutes of "natural release" time until the beef is ready to meet its tortillas and dinner is served.
And what are tacos without toppings? Nothing but sad so some feta, chopped fresh cilantro, guacamole and a super-easy sauce that's like a creamy smooth salsa (more details in the recipe card), while optional, are what bring it all together for the happiest taco dinner night ever.
Don't have an Instant Pot? I tested this recipe using the slow cooker function and found that the beef had a different texture after simmering for eight hours. The texture was a bit more mealy than tender and for that reason, I wouldn't use the slow cooker for this recipe. Instead, I would go old-school and use a covered baking dish to braise the beef in the oven for three hours with the suggested ingredients plus a quarter cup or so of chicken or beef stock. But who's going to do that when it's 90 degrees out? So, my advice is to check out an Instant Pot if you don't have one. This won't be the last recipe I share.
More Dinner Recipes
Print
Instant Pot Braised Beef Tacos
Tender seasoned beef wrapped up in tortillas with all the toppings, including a simple creamy salsa-inspired sauce, is totally doable on a weeknight thanks to an Instant Pot. These beef tacos are easy to prep and are ready to go in less than an hour. This recipe makes enough for two hungry people with some leftovers for lunch the next day.
Author: April @ Girl Gone Gourmet
Prep Time:

10 minutes

Cook Time:

45 minutes

Total Time:

55 minutes

Yield:

3

servings

1

x
Category:

Dinner

Cuisine:

American
For the Beef
2 teaspoons

olive oil

16 ounces

stew meat, cut into

1/2

-inch pieces

1/2

(10-oz) can Rotel, drained

1 teaspoon

kosher salt

1/4 teaspoon

black pepper

1 tablespoon

chili powder

1 teaspoon

cumin

1 teaspoon

garlic powder
For the Sauce
1/2

(10-oz) can Rotel, drained

1/4 cup

mayonnaise

1 tablespoon

lime juice

1 teaspoon

kosher salt

1/2 teaspoon

chili powder
For Serving
Tortillas
Queso fresco or feta cheese
Chopped fresh cilantro
Instructions
Place the olive oil, beef, Rotel, salt, pepper, chili powder, cumin, and garlic powder in a 3-quart Instant Pot and stir to coat the beef in the seasonings. Place the lid on the pot, secure the lid, and close the steam valve. Select the "high pressure" setting and set the timer for 25 minutes. After 25 minutes has elapsed do a natural release for 10 minutes. Cover the steam valve with a towel and open it to release the rest of the pressure (also known as a quick release). Stir the beef.
While the beef is cooking make the sauce. Place the rest of the Rotel, all of the mayonnaise, lime juice, salt and chili powder in a small food processor and process until smooth.
Serve the beef in tortillas with the sauce and your favorite toppings.
Notes
The nutrition estimate includes the beef and sauce only.
Nutrition
Calories:

371

Sugar:

2.9g

Sodium:

1989.3mg

Fat:

23.7g

Carbohydrates:

6.9g

Fiber:

3.1g

Protein:

34.8g
Keywords: instant pot beef, braised beef, slow cooker beef, braised beef tacos