This chicken tinga recipe is ready in about 30 minutes. It's a combination of tomatoes, shredded chicken, and chipotle peppers for a spicy, smoky kick. Use it to make delicious tacos or as a topping for tostadas. If you want to make authentic chicken tinga, this is the recipe to try.
I've seen many chicken tinga recipes floating around the interwebs for the past few years but haven't given the dish a try until now. Mostly because I didn't really know what it was until recently and even less sure if the recipes I'd seen were true to the origins of the dish. It turns out waiting was the right thing to do because the perfect recipe finally showed up.
A couple of months ago, I received a copy of Mely Martinez's new cookbook, The Mexican Home Kitchen, a collection of authentic and traditional Mexican home-cooking recipes. And, one of them just happened to be chicken tinga. A recipe that is so simple it fits seamlessly into a weeknight cooking schedule.
There are a ton of delicious recipes in this book – everything from homemade tortillas to desserts and drinks. I've made several of the recipes (the carnitas are another favorite) and this chicken tinga recipe is one I'll make again and again.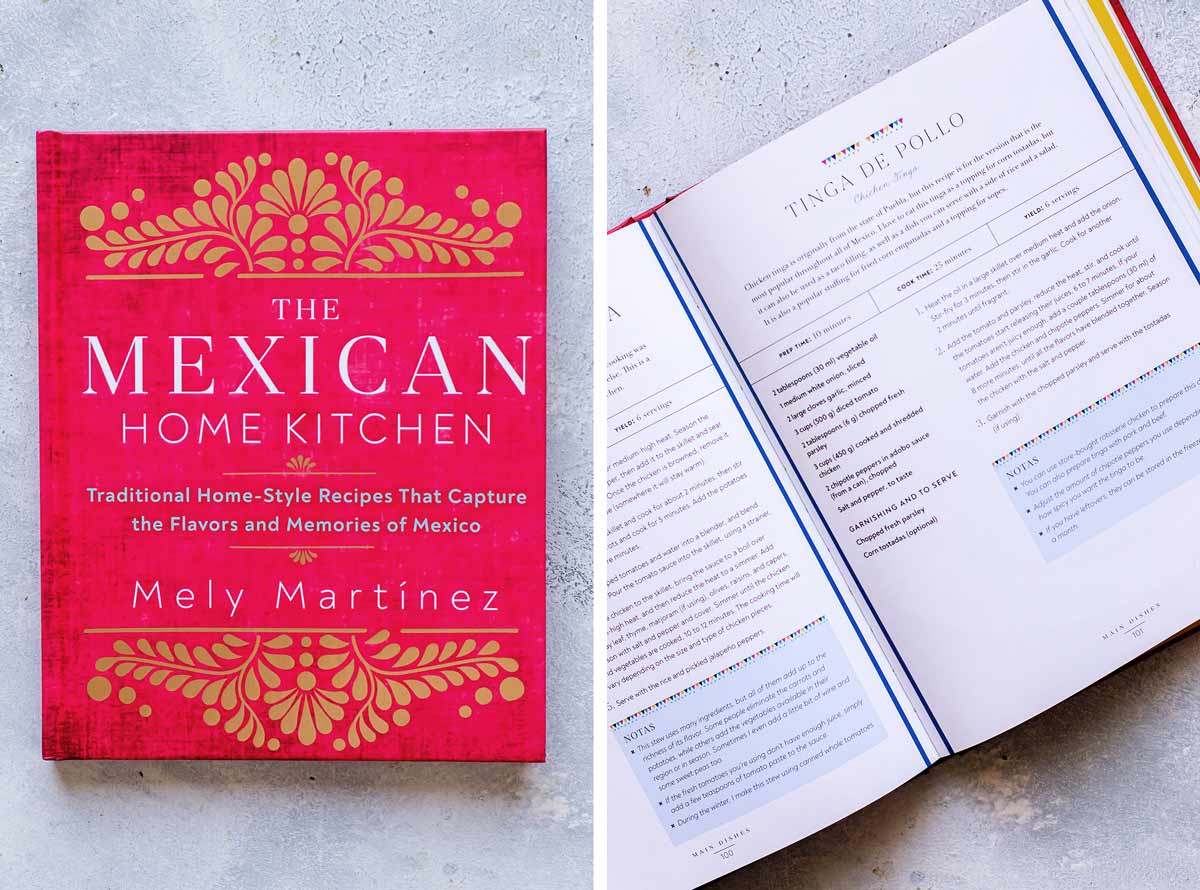 If you love Mexican food, this is a great book to add to your collection (look for it on Amazon or wherever books are sold). The recipes are simple, straightforward, and delicious. Or, check out her blog, Mexico in My Kitchen, for lots of other authentic Mexican recipes, too.
What is Chicken Tinga?
Chicken Tinga, or Pollo de Tinga, is a simple dish from the state of Puebla in Mexico. As Mely explains in the book, there are many variations depending on the region but this recipe is one that is popular across the country.
It's a simple combination of tomatoes, onions, chicken, and spicy chipotle peppers that are simmered together on the stove. You can serve chicken tinga over rice, on a tostada, and as a taco filling. I might have used it as a topping for nachos, too, and it might have been delicious.
It keeps well in the fridge making it perfect for meal prep and it's simple to make, especially if you use rotisserie chicken as Mely suggests. It's basically a weeknight cooking dream.
Ingredients You'll Need
Vegetable oil
Sliced white onion
Minced garlic
Diced tomatoes
Chopped fresh parsley
Cooked and shredded chicken
Chipotle peppers in adobo sauce
Salt and pepper
The original recipe calls for fresh tomatoes, but I subbed canned diced tomatoes because it's November. In Wyoming. Needless to say, there aren't a lot of great fresh tomatoes to be found this time of year.
Rotisserie chicken is perfect for this recipe and using it means the whole dish is ready in about 30ish minutes.
Easy Chicken Tinga Recipe
The prep time is short for this one – it only takes about ten minutes to get everything ready for the pan. Once it's all done the total time invested is about 30ish minutes.
Cook the onions and garlic in a large skillet with the oil over medium heat for a few minutes or until the onions start to soften.
Add the tomatoes and parsley. If you use fresh tomatoes, they will release their juices and break down as they cook. I used canned tomatoes and simmered them until the juices cooked down a bit.
Add the cooked chicken and chopped chipotle peppers and simmer all of it until the flavors have blended, about eight minutes or so.
Garnish with more chopped parsley and it's ready to serve.
How to Serve It
What I love best about this chicken tinga recipe is its versatility. You can pile it on tostadas, over rice, or pile it on flour tortillas for tacos. As I mentioned, I used it for nachos, and I imagine it would be delicious as an enchilada or burrito filling, too.
It goes perfectly with sour cream and guacamole as toppings along with a side of refried black beans for a complete meal. Add a cold margarita if you're feeling frisky.
A Few More Tips
You can easily adjust the heat level by adding more or less of the chipotle peppers in adobo. Chipotle peppers are just smoked jalapenos in adobo sauce made from chili powder, vinegar, and other spices.
If you love heat, add more peppers. If you prefer it mild, cut back on the peppers. I love adobo sauce and usually add a little more to the dish.
The original recipe doesn't call for it, but I add a squeeze of fresh lime juice at the end of the cooking time. You can also substitute the parsley for cilantro if you want to switch up the flavor.
I used rotisserie chicken for this recipe, but any cooked chicken will work fine.
You could cook boneless, skinless chicken breasts in the skillet first and then shred the meat. Or, cook the chicken ahead of time in your crock pot, slow cooker, or Instant Pot.
For tostadas, you can buy the crunchy store-bought ones or fry corn tortillas in a little vegetable oil until they are toasty and crunchy. If you use them for tacos or enchiladas, warm them in the microwave or oven so they don't tear when you roll them.
I love using this chicken tinga to make a bowl with cilantro-lime rice and sliced avocado. If you make the tinga ahead, just pop it in the fridge and it's perfect for easy lunches.
I hope you love this chicken tinga recipe! If you want even more ways to use shredded chicken, be sure to check out my favorite recipes with rotisserie chicken for even more ideas.
Happy Cooking,
More Easy Dinner Recipes
Looking for more easy dinner recipes? Here are a few more Mexican-inspired ones I love to make.
Print
Chicken Tinga
"Chicken tinga is originally from the state of Puebla, but this recipe is for the version that is the most popular throughout all of Mexico. I love to eat this tinga as a topping for corn tostadas, but it can also be used as a taco filling, as well as a high you can serve with a side of rice and a salad. It is also a popular stuffing for fried corn empanadas and a topping for sopes." – Mely Martinez, author of The Mexican Home Kitchen
Prep Time:

10 minutes

Cook Time:

25 minutes

Total Time:

35 minutes

Yield:

6

servings

1

x
Category:

Dinner

Method:

Simmer

Cuisine:

Mexican
2 tablespoons

vegetable oil

1

medium white onion, sliced

2

large cloves of garlic, minced

3 cups

diced tomatoes

2 tablespoons

chopped fresh parsley

3 cups

cooked and shredded chicken

2

chipotle peppers in adobo sauce, chopped
Salt and pepper, to taste
Garnishing and to Serve
Chopped fresh parsley
Corn tostadas
Instructions
Heat the oil in a large skillet over medium heat and add the onion. Stir-fry for 3 minutes, then stir in the garlic. Cook for another 2 minutes until fragrant.
Add the tomato and parsley, reduce the heat, stir, and cook until the tomatoes start releasing their juices, 6 to 7 minutes. If your tomatoes aren't juicy enough, add a couple tablespoons of water. Add the chicken and chipotle peppers. Simmer for about 8 more minutes, until all the flavors have blended together. Season the chicken with the salt and pepper.
Garnish with the chopped parsley and serve with the tostadas (if using).
Notes
Author notes: 
You can use store-bought rotisserie chicken to prepare this dish. You can also prepare tinga with pork and beef.
Adjust the amount of chipotle peppers you use depending on how spicy you want the tinga to be.
If you have leftovers, they can be stored in the freezer for about a month.
April's Notes:
If you can't find decent tomatoes, 2 (15-ounce) cans of diced tomatoes work great as a substitute!
The recipe has been reprinted with permission from the author.
Nutrition
Serving Size:

1/6 of recipe

Calories:

204

Sugar:

5.3g

Sodium:

335.9mg

Fat:

9.4g

Saturated Fat:

5g

Unsaturated Fat:

3.5g

Trans Fat:

0g

Carbohydrates:

10g

Fiber:

1.6g

Protein:

19g

Cholesterol:

52.5mg
Keywords: chicken tinga, Mexican chicken recipe, tinga de pollo